China Cuts Back on Loans to Nigeria, Other African Countries as Defaults Increase
A report by Boston University's Global China Initiative shows that Chinese sovereign credit to Africa decreased to around $1 billion last year
Between 2000 and 2022, Chinese lenders are estimated to have given Africa $170 billion
The development comes as China also struggles to revamp its economy amid challenges
Chinese sovereign credit to Africa decreased to around $1 billion last year, the lowest level in over two decades.
This highlights Beijing's turn away from a decades-long big ticket infrastructure splurge on the continent, Reuters reports.
Data from Boston University's Global China Initiative show that finance has reduced as several African nations struggle with debt issues while China also faces its own economic difficulties.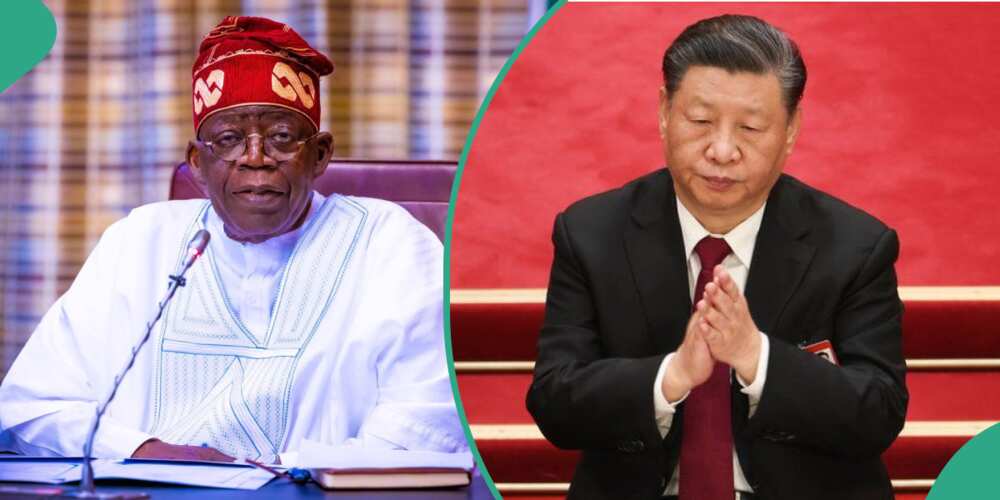 Chinese gave Africa Africa $170 billion between 2000 and 2022
Africa has been a key component of President Xi Jinping's grandiose Belt and Road Initiative (BRI).
The initiative was established in 2013 with the goals of reviving the ancient Silk Road and boosting global infrastructure development to increase China's geopolitical and economic clout.
Chinese lenders are estimated to have given Africa $170 billion between 2000 and 2022, according to Boston University's Chinese Loans to Africa Database.
But lending significantly decreased from its peak in 2016. Only seven loans totaling $1.22 billion were agreed upon in 2021. Last year, Chinese lending reached its lowest level since 2004 with nine loans totaling $994 million being approved.
While those two years also happen to be when the COVID-19 pandemic broke out, researcher Oyintarelado Moses told Reuters that there are further causes.
The amount of risk exposure, according to Moses, who runs the database and co-authored a paper made public on Tuesday, is a major factor in this.
Next month, Beijing will convene the third Belt and Road Forum for International Cooperation to commemorate the centrepiece initiative's 10th anniversary, with attendance from about 90 nations.
African governments have generally welcomed Chinese infrastructure investments and credit, but Western opponents have charged Beijing with burdening impoverished countries with unmanageable debt.
Africans having difficulty refunding
Zambia, a significant Chinese borrower, made history by becoming the first African nation to declare bankruptcy in the late 2020 COVID-19 epidemic. Other governments are also having difficulties, such as those in Ghana, Kenya, and Ethiopia.
Meanwhile, China is dealing with issues at home as officials work to bolster growth despite prolonged instability in the important real estate sector, a falling yuan, and waning demand for its manufactured goods abroad.
The two organisations responsible for the majority of the lending to Africa -- the Export-Import Bank of China and the China Development Bank -- have been redeployed to boost the domestic economy.
This means that the majority of the remaining overseas lending is going to domestic markets.
However, the decrease in loans does not necessarily signal that China's involvement in Africa is coming to an end.
The Boston University investigation discovered several trends that seemed to reflect China's professed push towards a higher-quality, greener Belt and Road Initiative.
This includes fewer loans over $500 million and a greater emphasis on social and environmental impacts.
Moses said:
"This is such a huge part of the relationship, I think there's still going to be interest from Chinese lenders. It's just that it's going to look different."
According to report, the federal government paid $1.17 billion to service foreign debt commitments in the first half of 2023.
The Debt Management Office (DMO) recently revealed that Nigeria's total external debt increased from N49.8 trillion to N87.379 as of June 30, 2023
"You Will Be Influenced": US Cautions Tinubu About China After Debt Increased by 200% Under Buhari
In an earlier report by Legit.ng, the United States government asked Nigeria to be careful about its relationship with China.
The US, in its Integrated Country Strategies document of the Department of State, noted that China could influence the Nigerian government through the loans it provides to the country.
The warning comes after an increase in Nigeria's debt by over 237.31% during Muhammadu Buhari's tenure.
Source: Legit.ng