Court Stops Shell from Selling its Nigerian Oil Assets after Company Shifts Focus, NNPC also Gives Conditions
The sale of oil assets by Shell Petroleum Development Company of Nigeria (SPDC), a Nigerian subsidiary of Shell Plc, has been delayed
Shell, like other oil firms, has been looking at shifting their company towards renewable energy in recent years
For the sale to go on a court of appeal as set conditions supporting an earlier position held by NNPC
Shell Plc has been stopped from selling any of its oil assets in Nigeria as the oil company looks to diversify from oil production.
The decision was made by a court of appeal sitting in Imo state on Monday, March 14, 2022, until it pays a $2 billion penalty appeal for an alleged oil spill.
According to a Reuters report, during the hearing, a panel of three judges said Shell is restrained from "selling, allocating, vandalising or disposing off any of its assets/properties" pending the determination of the appeal.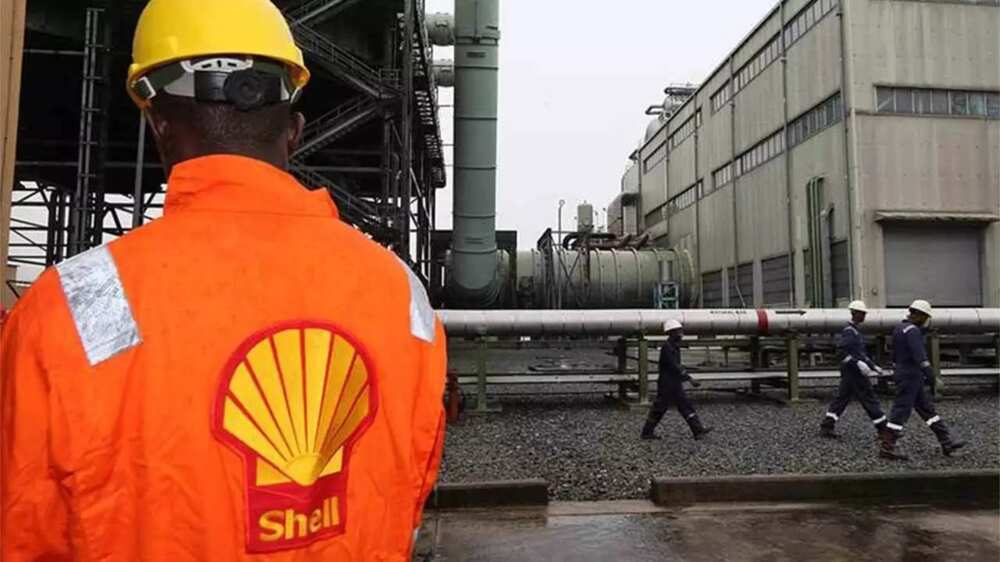 The report also quoted a copy of a court ruling issued on March 11, which shows that Shell was ordered to deposit the money in an account controlled by the court within 48 hours.
Shell reacts
A spokesperson for Shell's Nigeria unit said the company would immediately appeal the decision, with a hearing set to begin on May 5.
The spokesperson said:
"We are dissatisfied with the outcome. We are confident in the merits of our argument and will take urgent legal procedures to file an appeal and suspend the decision's implementation until the appeal is resolved."
Back story
Shell started talks with the Nigerian government last year about selling its stake in Nigeria's onshore fields, where it has been active since the 1930s, as part of a global drive to reduce its carbon emissions.
TheCable reports that about five local oil firms have indicated interest to submit bids.
In August 2021, Shell Nigeria agreed to pay the N45.9 billion awarded to the Ogoni people of Rivers state as compensation for oil spills in their communities.
NNPC gives conditions
Meanwhile, the Nigerian National Petroleum Company (NNPC) Limited has told Nigerians that it will do all possible to ensure that international oil firms (IOCs) do not commit environmental harm in their various regions of operations while pursuing their energy transformation agendas.
Mr Mele Kyari, the Chief Executive Officer of the Nigerian National Petroleum Corporation (NNPC), stated on the sidelines of the just-concluded 2022 Nigerian International Energy Summit (NIES) in Abuja that oil businesses operating in Nigeria must provide value to the environment by keeping it clean.
He said:
"The federal government will make sure that our partners don't abandon the environmental damages they caused, and we are sure our partners also agree. We have to add value to lives in our environment by keeping it clean."
Remittances to FG continues to decline
Meanwhile, Legit.ng reported that as the Nigerian government thinks of removing petrol subsidy next year, the country's National Petroleum Company (NNPC) has continued to remit less amount of money to the federation account.
The NNPC remitted the sum of N10.54 billion to the Federation Account Allocation Committee (FAAC) in November 2021 from the proceeds of sales of crude oil and gas in October.
It gave this account during a presentation to FAAC for the month of December 2021, a report by Nairametrics says.
Source: Legit.ng