Faroe Islands, Mauritania List of 9 Countries Nigeria Imported N123.8 Billion Worth of Fish in 6 Months
Nigeria is so rich in water resources with a huge potential in fisheries and aquaculture for local consumption and export
Despite this, Nigeria depended significantly on fish importation to satisfy demand in the first six months of 2021
Nigeria's current fish demand is estimated to be 3.4 million metric tons, with just 40% being fulfilled domestically.
Despite the abundance of water bodies, Nigeria in the first six months of 2021 spent N123.8 billion on fish import data from the National Bureau of Statistics (NBS) has revealed.
The data is contained in NBS Foreign Trade in Goods Statistics report published on its website.
According to the report fishes worth N48.28 billion were imported in the first quarter and another N75.44 billion was imported in the second quarter.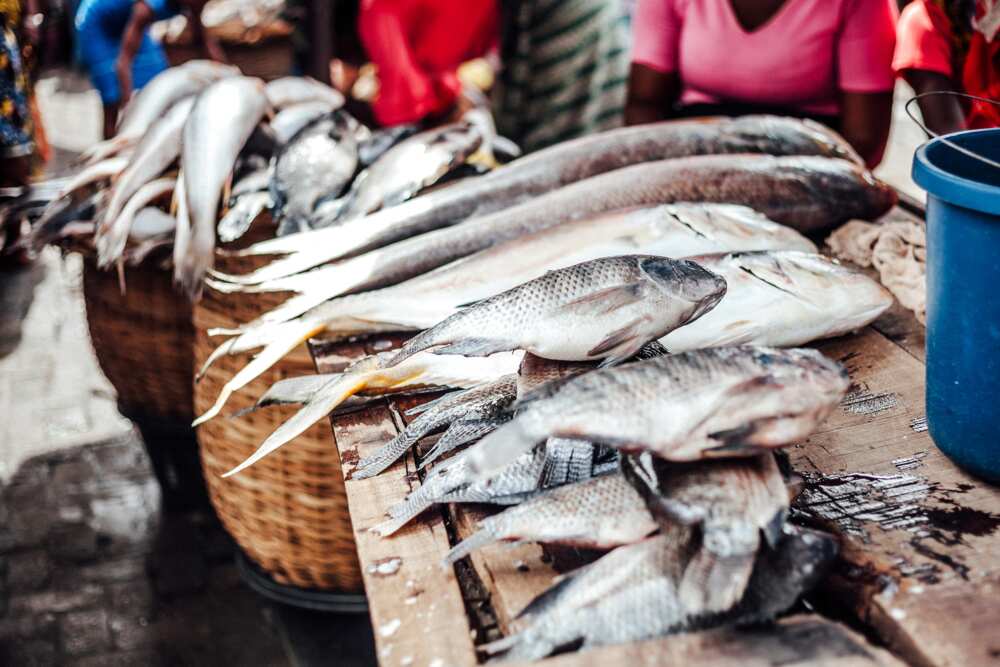 The fishes imported include Blue whitings, mackerel, Jack mackerel and Herrings.
The fishes were brought into the country from Russia, Netherlands, Irelan, Poland, Faroe Islands, Chile, Ireland, Lithuania, Mauritania, and Japan the report showed.
Blue whiting worth N62.4 billion was imported, Herrings imports amount to N35.53 billion, and Mackerel fish were imported for N25.75 billion from January to June 2021.
The biggest import was recorded in Q1 when blue whiting fishes worth N27.23 billion were imported from Russia.
Companies scramble for fish importation license
Dr. Ime Umoh a director in the department of Fisheries and Aquaculture, the Ministry of Agriculture and Rural Development has also revealed that the ministry received 200 applications from companies for fish importation licenses.
He did, however, said majority of the applications were denied, with just 39 having the necessary licenses to import fish.
Umoh said:
"151 applicants did not meet the requirements as only 39 were given licenses to import fish this year. We profile these applicants, look at their experiences as traders before we give approval and the approval process is done once a year. The next round of approval will be next year.
FG moves to reduce illegal Importation of rice through land borders
In a related story, the federal government has taken steps to reduce the illegal importation of rice through land borders in the country.
The minister of agriculture and rural development, Dr. Mohammed Abubakar made this known at a meeting in Abuja over the weekend.
According to the minister, the ban on rice importation has led to increased production of the nation's local rice and economic opportunities for rice investors in Nigeria.
Source: Legit.ng