Pilgrim travelling to Saudi Arabia excretes 76 cocaine wraps
- NDLEA nabs female pilgrim on her way to Saudi Arabia with 76 cocaine wraps after excretion
- Woman caught said she swallowed the hard drug pellets in order to grow her cosmetic business from the proceeds of the sales of the cocaine
- The 55-year-old was arrested at the Nnamdi Azikiwe International Airport on an Emirate flight on Friday, September 2
The National Drug Law Enforcement Agency (NDLEA) issued a statement revealing that a Nigerian female travelling to Medina, Saudi Arabia, in order to observe the yearly pilgrimage has tested positive to ingestion of hard drugs on Friday, September 2, at the Nnamdi Azikiwe International Airport, Abuja.
READ ALSO: NDLEA nabs 184 traffickers, seizes over 96kg of hard drugs
The woman whose name is Basira Binuyo is 55 years old.
Binuyo was nabbed while on the exit checking of passengers on an Emirate flight travelling to Medina via Dubai, United Arab Emirates (UAE).
Hamisu Lawan, NDLEA commander at the Abuja airport stated that "she has so far excreted 76 pellets of drugs that tested positive for cocaine.
"Meanwhile, she is still under observation until the drugs are completely expelled."
READ ALSO: Ezimoha who was executed for drug trafficking buried
The alleged drug trafficker is an indigene of Irepodun local government area of Kwara state, North central Nigeria and she is married with three children. She is said to be a trader at Dosumu market, Lagos state.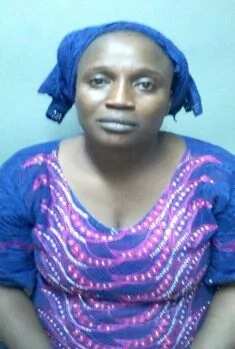 While narrating what pushed her to do what she did. Binuyo said her need to make her business grow bigger made her commit the crime.
The 55-year-old Nigerian said: "I wanted to expand my cosmetic business but I have no money. My sponsor offered to foot my expenses to Saudi on pilgrimage. I was excited until I was asked to take drugs along.
"I wanted to decline but considering the offer of a million naira, I accepted. I swallowed the drugs in Lagos and took flight to Abuja on my way to Medina but I was caught in the process."
It was the same sad tale about two weeks ago, when three Nigerians from Kwara state were arrested in Saudi Arabia for possessing cocaine
Source: Legit.ng