Did President Buhari lie about fuel subsidy in 2011?
A video has surfaced of President Muhammadu Buhari saying he knows nothing about fuel subsidy removal in December 2011.
President Buhari was in the opposition as a presidential candidate of the Congress for Progressive Change (CPC) while trying to usurp the Peoples Democratic Party (PDP) in the 2011 general election.
The video which was shared on youtube, showed the president saying that anybody who says he is subsidising anything is a fraud, but about one year into his regime as Nigeria's president, Buhari has agreed to fuel subsidy removal.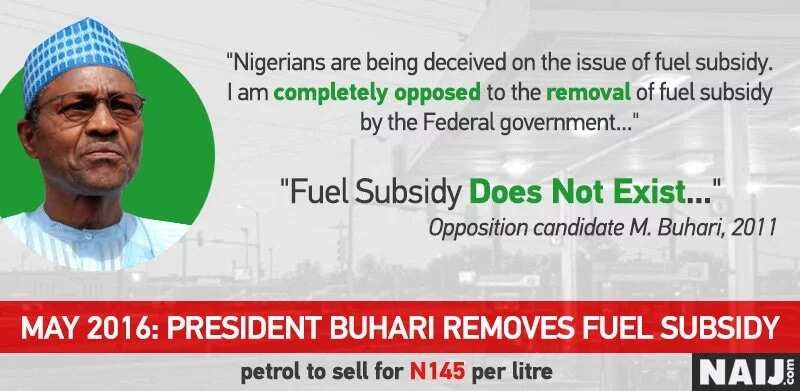 His minister of state for Petroleum Resources, Ibe Kachikwu, had on Wednesday, May 11, announced the removal of subsidy on premium motor spirit otherwise known as petrol, which automatically means that it will now be sold for N145/litre as against the former N86.50.
Nigerians have since reacted to the removal of the fuel subsidy, stating venomously that Buhari deceived them, as the previous administration of Dr Goodluck Jonathan meant well for Nigerians when he spoke about subsidy removal.
What do you make of this new development? Did President Buhari's aides do the fuel subsidy removal without his consent? Or did he remove it because he does not know what it means?
Source: Legit.ng