- Nnamdi Kanu, the embattled pro-Biafra leader, believes it will take some bloodshed to actualize the Biafran dream.
- Kanu makes a striking prediction that the death of some Biafrans is inevitable but their sacrifice will be worth it in the end when Biafra eventually becomes a reality.
The leader of the Indigenous People of Biafra and director of Radio Biafra, Nnamdi Kanu has made a striking announcement regarding the agitation for Biafra.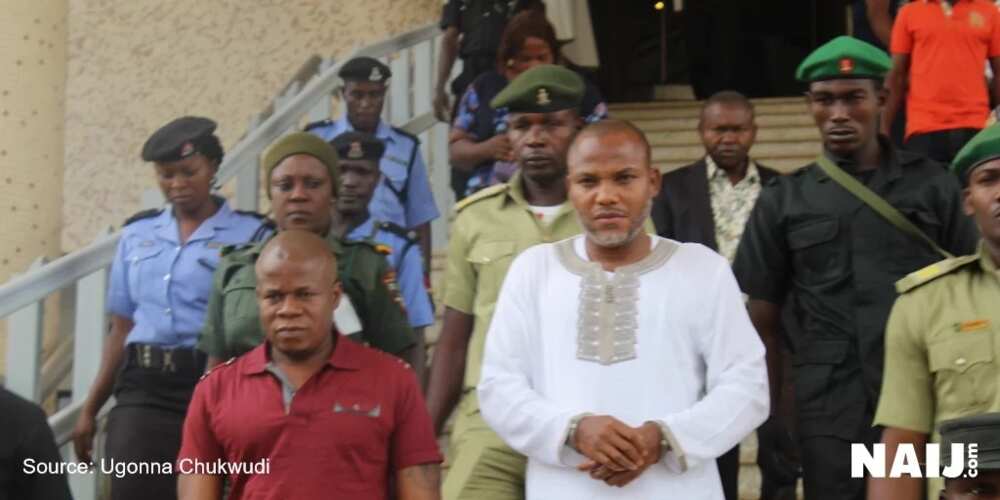 READ ALSO: Biafra under attack: OEAS rolls out Biafra self defense units
The embattled Biafran leader has claimed that some troubled times lie ahead of the cause; however, he notes that the dream must still come to fruition.
The pro-Biafra chief whose arrest sparked a wave of protests across Nigeria's southeast said he is a "prisoner of conscience" and would do all within his might to see that the dream of an independent state of Biafra comes to pass.
He told AFP from jail that "Biafra has come to stay,"
Communicating his thoughts through his brother, Prince Emmanuel Kanu, the radio Biafra director said: "They will kill us but by the end Biafra will come," the 48-year-old added: "I am a prisoner of conscience and killing unarmed Biafran protesters is a crime against humanity."
, following a protest staged by the IPOB. The supposed peaceful march which ended bloodily, was held in condemnation of the prolonged detention of Kanu.
Twenty other pro-Biafra agitators were reportedly injured in the course of a surprise attack launched by security operatives.
Following the killing, the IPOB said it will switch into a new mode in which it can defend itself against hostilities by Nigerian security agencies.
In the same vein the Ohanaeze Youth Council (OYC) has warned that it will take the security operatives to the International Court of Justice at The Hague. The OYC claims that the people of Biafra have their rights which the Nigeria security agencies are infringing upon.