Yinka Ayefele Starts Radio Station
Gospel music singer,Yinka Ayefele has gotten his hands on something new.
The gospel tungba crooner has started a new business he has been nursing and pursuing for a long time.
It took persistence and perseverance on the part of Ayefele for the National Broadcasting Commission (NBC) to approve Ayefele's request for a radio licence.
Ayefele now owns a radio station, Fresh FM transmitting from 105.9MHz, in Ibadan the Oyo State capital.
The gospel singer, Yinka Ayefele, MON, has been given the go ahead to officially commence transmission.
According to Ayefele's Director, Corporate Affairs and Promotions Mr. David Ajiboye, "the NBC has certified the newly set up radio station to commence operations."
He added further that, "The NBC, during an inspection tour of the newly-licensed station last week commended the Chairman of the media house for acquiring latest broadcast equipment acquisition and set up."
The Director General of NBC, Mr. Emeka Mba, who was represented by the Technical Director of the commission, Engineer Friday, commended the readiness of Ayefele in aspiration to impact positively in his immediate society and beyond, adding that, "Fresh FM 105.9, Ibadan is fully ready with what I have seen here today."
"The management has successfully surpassed our imagination. Most of the equipment you have here are latest and state of the art, I believe with good management of these equipment and wonderful programmes, the station will achieve its dream," he said.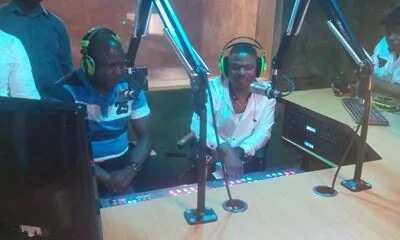 READ ALSO: 9 Nigerian Gospel Artiste You Should Listen To
Meanwhile, the station began test of transmission on Monday, July 20, 2015, in preparation to fully take off from the first week of August amid cheers and commendation from the people of the city and its environs.
The statement added that NBC granted Yinka Ayefele limited broadcast license on 30th April, 2015 with a transmitting frequency of 105.9MHz after pursuing the license for seven years.
Ayefele starting a radio station is like going back to one's first love.
Yinka Ayefele before the accident had some years back was an On Air Personality, OAP.He was a radio presenter and journalist. he had worked with the Federal Radio Corporation of Nigeria, (FRCN) Ibadan. he was also a voice over artist
He was working with the late Kolawole Olawuyi on a syndicated programme, Iriri Aye. He was driving to Abeokuta where he and his boss were supposed to go on air on the Ogun State Broadcasting Corporation (OGBC) when he had the accident that almost claimed his life.
It was after the accident that Ayefele embraced gospel music.
Source: Legit.ng