Buhari Should Stray Away From USA – Nigerians
As President Muhammadu Buhari prepares to meet with his American counterpart, Barack Obama, in the White House on July 20, Nigerians took to different social media to express their thoughts over the meeting.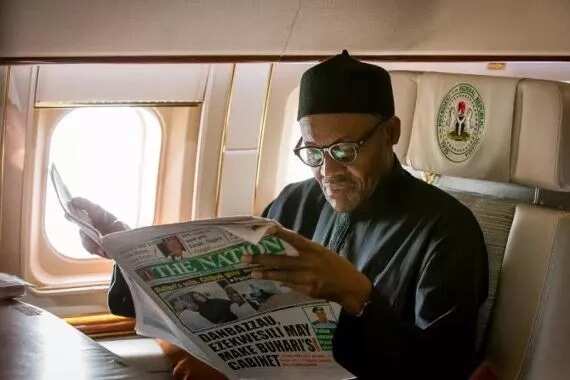 The White House announced on June 25 that Obama will host President Buhari.
According to a statement the two leaders will discuss ways to advance a "holistic, regional approach to combating Boko Haram" and important economic and political reforms in Nigeria.
The presidency has yesterday released all official details of Buhari four days stay in United States.
READ ALSO: Buhari's Visit To USA Stirs Gay Marriage Sentiments
It was also said that the American president will treat his Nigerian counterpart as a personal guest.
Nigerians in their reactions wonder why the president is leaving the country at such a tough time, with the Boko Haram insurgency increasing its attacks.
Godwin Ukie said: "I don't think that there is sense in that his trip to US. Even the insurgency issue should not take to US. Let him sit down with his service chiefs, both old and new and plan how to go about it. All these travels may mean colonizing Nigeria by US either directly or indiretly. Let's pray intensively for our country - Nigeria."
"Let him go and seek for foreign policy and new ideology on to create job boost the economic and tackling insurgency in Nigeria," said Legit.ng reader Bro Dan.
Oloye David Olabode, who works at Ondo state government, added that Buhari must be careful with the USA which wants to enforce same sex laws on Nigerians: "At this crucial time, Buhari should stray away from USA. Obama is now intoxicated with same sex law. He wants people, especially African to support his satanic same sex policy. Buhari be careful. The romance is too much. USA is not God. It is a country like Nigeria."
Ukwuoma Ezinwa, a legislator from Rivers state, asked: "Can Sai Buhari not talk to Obama on phone? Why must he go to seek for advice and solution from the people that needs our help more? Sai pray to God in this fasting period. He will answer Baba Obama has nothing to offer other than to ask you out on a date."
"This visit will be the beginning of his cold war with America, unless he is ready to be a tool in the hands of Obama and co and I trust Buhari he is not a man to romance with," Benjamin Chisimdi, a marketing manager from Lagos, added.
Aibor Matthew from Benin, said: "All I know is that USA will not support a country without getting anything from that country, because they believe on evil, Mr. Buhari should not be deceived by Obama."
Nura Shittu said that Buhari is not a local government chairman: "Why not? As long as his service chiefs are at stake and his VP, things will continue to work well."
READ ALSO: Buhari To Visit One Of The Most Respected World Leaders
"If I were him, I will visit China or France. Nothing good or unselfish will come out of America," Collins Uchenna, psychologist, advised.
Find out below some reactions from Twitter:
Source: Legit.ng