Buhari Has National Agenda - Presidency
President Muhammadu Buhari has said that he is implementing a national agenda in his appointments not northern.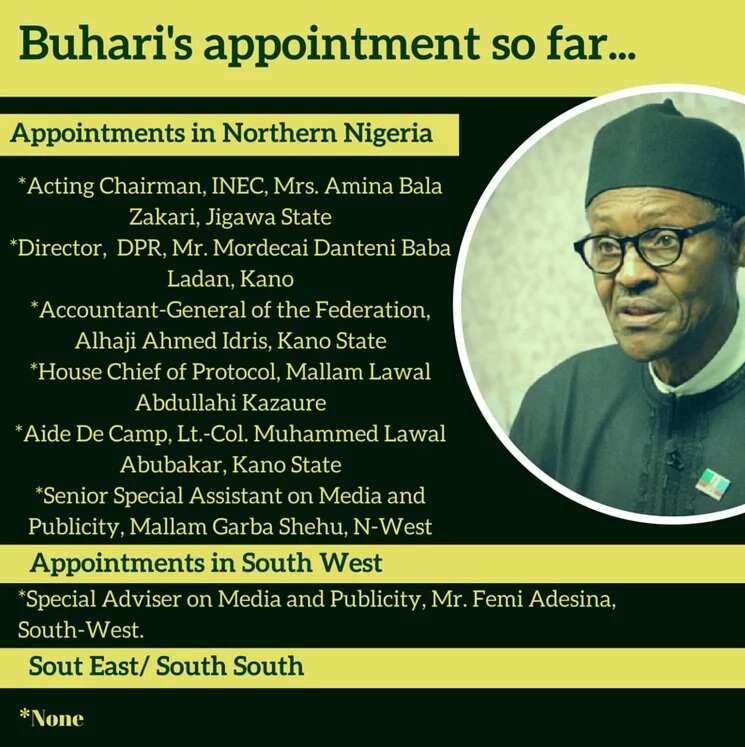 It should be noted that Buhari since being inaugurated on May 29 has, so far, made 11 appointments, out of which only one is from the South West.
While some Nigerians believed that nominations to be "unserious positions", many others criticized its supposed imbalance, saying they were indications of what to expect from the Buhari's government.
It would be recalled that former president Goodluck Jonathan, who was sworn in on May 29, 2011, the following day named Senator Anyim Pius Anyim as SGF.
READ ALSO: President Buhari's Nine Appointees So Far
Meanwhile, other key appointments took the president another five weeks. His special adviser on Media, Rueben Abati, Chief of Staff, Chief Mike Oghiadhome and other principal staff were named on July 6, 2011.
Femi Adesina, President Buhari spokesman, disproved the reports that Nigeria's leader was acting a northern script against the rest of the zones in the country.
Adesina said: "The president received a national mandate and was going to pursue it as such. The president does not have a northern agenda. He has a national agenda. He got a national mandate and that is the way he is going to exercise that mandate. I have already said it and I still maintain that."
On his own turn, Alhaji Shettima, national president of Arewa Youths Consultative Forum, said it was too early to arrive at such a conclusion.
He said: "I do not want to be in a hurry because some of us have our reservations. But then, we have not seen the ministerial list, we should not be in a hurry. That does not mean we cannot learn from the past. When someone from the Niger Delta was the president, those from the region said he was their president, a lot of appointments were given to people from the zone and that created a lot of problem for that administration."
Meanwhile, he advised Buhari government not to toe the same path.
READ ALSO: PMB Is Running A Northern Government - Southern Groups 
"I pray Buhari will not make the same mistake because Nigeria belongs to all of us. He represents Nigeria and not only the north; he must be seen to do justice to all," he added.
Source: Legit.ng