I Know Why Wike Is Fraudulently Witch-Haunting Me- Amaechi
Mr. Rotimi Amaechi, the immediate past governor of Rivers state, has explained the real reasons newly-installed governor, Chief Nyesom Wike, has been blackmailing him.
Amaechi further described the supposed probe of his administration by his successor as a sham and a fraudulent witch-hunt meant to deceive the public.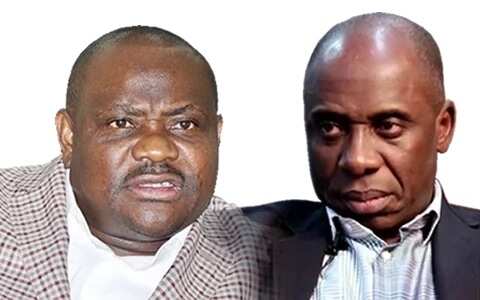 READ ALSO: Amaechi Emptied Rivers State Treasury – Wike
According to a statement released by the media office of the former governor as obtained by PM News on Sunday, June 22, the probe of Amaechi is dead on arrival.
The media aide added that all the noise Wike is making is to grab media headlines with his lies of monumental corruption against Amaechi.
"It is all drama made for the media. What is playing out is a script written and directed by Nyesom Wike. Wike should move to Nollywood where his devious skills would probably be useful.
"Even while inaugurating his yeoman commission of Inquiry, Wike could not conceal his vendetta agenda. He was clear to the panel members that their job is to indict Amaechi.
"While it's no longer in doubt what would be the report of Wike's sham probe commission. What may shock Nigerians is the extent Wike has gone and is ready to go to manufacture stories of corrupt practices, and the kind of bogus tales of corruption against Amaechi that he would soon be feeding the nation.
READ ALSO: Wike Wants Buhari Support To Probe Amaechi
"We are aware that even the Chairman of his Inquiry Commission, was shocked and protested when Wike gave him the litany of phony claims of corruption against Amaechi that the chairman would write in the panel's report. But Wike had assured him not to worry that he had since been working towards arriving at that conclusion and he would provide the commission with all the (fake) evidence needed to arrive at that report.
"Truly, since May 29, that is all Wike has been doing; cooking spurious reports of corruption against Amaechi. Wike has been intimidating, threatening, coercing and blackmailing officials of the past administration, especially civil servants into making false, phony and bogus statements that would make legitimate government transactions appear as corrupt practices.
"Permanent Secretaries, Directors of Finance and Administration (DFAs), the State bankers and even contractors are harassed, threatened and blackmailed to twist and distort, or even completely alter legitimate government transactions in his desperation to cook up, and fabricate sham cases of corruption against Amaechi. This has been the one-point agenda of the Wike government, a vendetta mission against his former boss and benefactor.
READ ALSO: Wike Slams Amaechi Again, Claims N800m Was Squandered
"Amaechi will use every constitutional and legal means available to protect his name and image from this massive smear campaign, State-sponsored onslaught against him by this directionless, purposeless Wike led government. As governor, Amaechi served his people well and the good things he did with the resources of the state are visible all over the state,"  the statement read.
Meanwhile, the All Progressives Congress has alleged that Wike has been going about the witch-haunt in a bid to prevent president Muhammadu Buhari from including the former governor as one of his cabinet members.
Source: Legit.ng