APC Explains Why Wike Is Tarnishing Amaechi's Image
The Rivers State chapter of the All Progressives Congress has reacted to claims by Governor Nyesom Wike that immediate past governor, Rotimi Amaechi will be probed. 
In a statement signed by the party chairman in the state, Dr. Davies Ikanya, the APC describe the to-be probe as a  wild goose chase.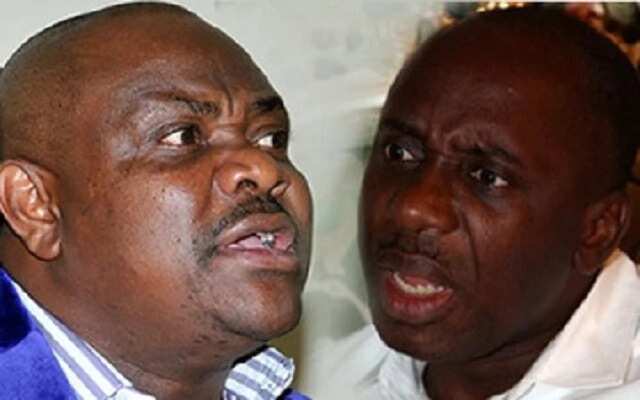 Last week Wike assigned a seven-man Judicial Commission of Inquiry with Justice George Emereji as chairman to investigate the immediate past administration.However, the party said Amaechi ran a transparent administration reminding the governor of how, his predecessor always gave account of his expenses to Rivers people on a quarterly basis during his eight years in office as governor.
The party alleged that Wike's effort to probe Amaechi and spoil his good name was to prevent the governor from being appointed a minister by President Muhammudu Buhari
The party said: "One thing Chief Wike and his collaborators fail to understand is that President Buhari knows the politics of Rivers State as he knows his fingers. President Buhari is fully aware that Amaechi and his associates are being viciously persecuted by Wike because he engineered the ouster of Dr. Goodluck Jonathan as the President of Nigeria and the election of President Buhari.
READ ALSO: Governor Wike Layoffs 344 Staff Of State Polytechnic
"Apart from the above, Chief Wike is embarking on this worthless vindictive venture knowing very well that he will soon be ignominiously sacked by the Election Petition Tribunal since he never won the election, but was imposed by Rivers INEC in collaboration with the then-ruling Peoples Democratic Party.
"Justice Emereji and co should not allow Wike to rubbish the good name they have spent decades to build.
"Deep down in him, Chief Wike is aware that if the panel he set up is to do an impartial job, the only issue they will find to be absurd throughout the administration of Rt. Hon. Amaechi will be the contracts for road construction in four local government areas of Port Harcourt, Nkwerre, Abio-Akpor and Obigbo that Chief Wike cornered for himself and his cronies, but never executed after pocketing billions of Naira.
"The other would be the contract for schools which Chief Wike also cornered without executing," the party added.
Amachi and Wike has been involved in a war of words over allegations that Amaechi looted the state government house by removing all the valuables and spending the state money to fund projects for his party and his for his personal use.
On Friday, Wike claimed  he met an empty treasury upon assumption of office on May 29.
Earlier today,Wike accused Amaechi of squandering up to N800m on Indian consultants to run the Nne Kurubo Model School at Ebubu-Eleme.
Source: Legit.ng