Whitney Scott Mathers' biography: who is Eminem's daughter?
Music fans certainly know the world-famous rapper Eminem. What some might not know is that he has three daughters, one biological and two adopted. Whitney Scott Mathers is one of Eminem's two adopted daughters. The rapper adopted Whitney when she was just three years old. What is there to know about the rapper's youngest daughter?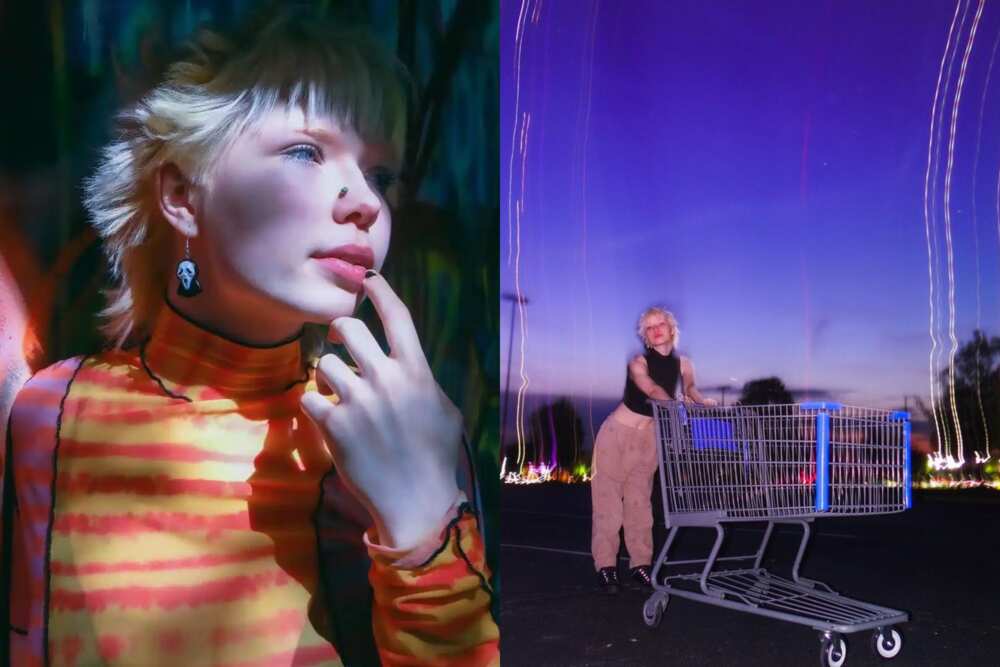 Is Whitney Scott Mathers adopted? Yes, the famous rapper adopted Whitney in 2005 when they were three years old. Eminem is one of the world's most well-known rappers. He has been in the music industry for about 20 years and has had a lot of success. He is also a dedicated father to three children. Who is Eminem's daughter Whitney? Here is a look at some quick facts about them.
Profile summary
| | |
| --- | --- |
| Full name | Whitney Scott Mathers |
| Chosen name | Stevie Laine |
| Gender | Non-binary |
| Date of birth | 16 April 2002 |
| Age | 21 years (as of 2023) |
| Zodiac | Aries |
| Place of birth | St. Joseph, Missouri, USA |
| Current residence | Rochester Hills, Detroit, USA |
| Nationality | American |
| Ethnicity | White |
| Religion | Christianity |
| Height | 5'3" (160 centimetres) |
| Weight | 128 pounds (58 kilograms) |
| Hair colour | Brown |
| Eye colour | Brown |
| Relationship status | Dating |
| Partner | Jace |
| Biological father | Eric Harter |
| Adoptive father | Marshall Bruce Mathers III (Eminem) |
| Mother | Kimberly Ann Scott |
| Siblings | 2 |
Whitney Scott Mathers' biography
How old is Eminem's daughter? Whitney Mathers' age is currently 21 years, having been born on 16 April 2002. Her zodiac sign is Aries.
Whitney Scott Mathers' parents
Who is Whitney Mathers' real dad? She was born in Missouri to parents Kimberly Anne Scott and Eric Hartter. Before Whitney's birth, Kimberly was married to Eminem.
Whitney's biological father, Eric Harter, passed away in August 2019, aged 40. His death was said to have resulted from drug overuse. After his death, Whitney's mother found his body in an abandoned house. At the time, Whitney was 17 years old.
Who are Whitney Mathers' grandparents?
Whitney Mathers has a diverse set of grandparents from various sides of the family. On their foster father's side, their grandparents are Deborah R. Nelson-Mathers and Marshall Bruce Mathers Jr., Eminem's parents.
On their mother's side, their grandparents are Casimer Sluck and Kathleen Sluck, Kimberly's parents. Additionally, from their biological father's side, they have a grandmother named Marie Hartter.
Why did Eminem adopt Stevie?
Whitney's parents had somewhat troubled lives; their mother had become a drug addict, while their father had frequent run-ins with the law.
Whitney's dad was a tattoo artist said to have been involved in criminal activities. He spent time behind bars before his death.
So why did Eminem adopt his daughters? Due to the troubled environment created by Kimberly and Hartter, Eminem chose to adopt Whitney with the aim of giving them a better life.
The rapper also had a troubled childhood due to the less-than-stellar relationship he had with his mother.
How many daughters does Eminem have?
The world-renowned rapper has three daughters; Hailie, Whitney Mathers and Alaina. How many biological kids does Eminem have? The answer is one. Hailie Jade Scott is the rapper's only biological child.
Dawn Scott, Kimberly's twin sister, is the biological mother of the rapper's eldest daughter, Alaina. Dawn, like her sister Kimberly, suffered from substance abuse, prompting Eminem to adopt her child.
Alaina is currently 30 years old, having been born on 3 May 1993. She is currently enrolled at the University of Oakland, pursuing a degree in Public Relations.
The rapper's only biological child, Hailie, was born on 25 December 1995, right before Eminem and Kimberly married. At the time, the rapper was not doing so well but vowed to give his daughter everything he never had. Of all Eminem's daughters, Hailie is the one who has featured most in the rapper's songs.
What happened to Eminem's youngest daughter?
Eminem's daughter Whitney Mathers currently came out as non-binary disclosing their identity as Stevie. In one of their posts, they wrote,
Call me Stevie (they/she/he).
Most of their fans have given them excellent feedback, and their family has also been quite supportive.
They have also posted a TikTok video that shows their transformation over the years. In the clip, Stevie showed images of themselves as "Whitney", using the pronouns she/her before transforming to "Stevie" with "all pronouns". In several posts, they used the hashtags #genderfluid, #bi, and #nonbinary.
Is Whitney Scott Mathers dating?
Eminem's daughter is currently in a relationship with Jace, who uses the username @puffinstufff on Instagram. They have both shared their photos on their respective pages, expressing their affection for each other.
Like Eminem's other daughters, Whitney Scott Mathers has kept a low profile and is rarely seen in public. They seem to be getting along swimmingly with their sisters.
Legit.ng recently published an article on the biography of Ashley Tervort. She is a model, YouTuber, and social media celebrity who's had a lot of success. She is one of the celebrities whose celebrity has grown as a result of social media.
Ashley rose to fame by sharing images of herself on social media. Learn more about her personal life and how she rose to fame.
Source: Legit.ng