After Kicking His Girlfriend Out of His 11-Bed Mansion, Here's Floyd Mayweather's Make-Up Gift to Her
- Floyd Mayweather is set for an exhibition bout against YouTuber Logan Paul next month
- He has apologised to girlfriend Anna Monroe who he earlier kicked out of his Las Vegas mansion
- Mayweather has told the fiancée to pick her perfect holiday spot for their reunion
PAY ATTENTION: Join Legit.ng Telegram channel! Never miss important updates!
Retired American boxer Floyd Mayweather who kicked his girlfriend out of their 11-bedroom mansion has reunited with her telling her to pick a perfect holiday destination.
Mirror reports that Mayweather who is billed for an exhibition bout with YouTuber Logan Paul earlier chased his lover out of his £8million mansion.
He stated that he won't be training for the fight against Paul and now he has made-up with his fiancée as they plan to move house of their home in Las Vegas to avoid distractions.
It was gathered that the pair has been living together but Anna Monroe has now returned to her old flat.
And The Sun claims that to apologise for kicking her out, Mayweather will tell her to pick a destination for their post-fight holiday.
Despite his commitment to the Paul fight, Mayweather insists he isn't taking things too seriously. Mayweather said:
"I've just got to show up and do what I do best.
"I just want to give people a good show, the show they want to see. For this one, I've just got to stay in shape."
Mayweather has given YouTuber Jake Paul a taste of what he plans to dish out to Paul Logan at Hard Rock Stadium in Miami when they face off in an exhibition fight on June 6.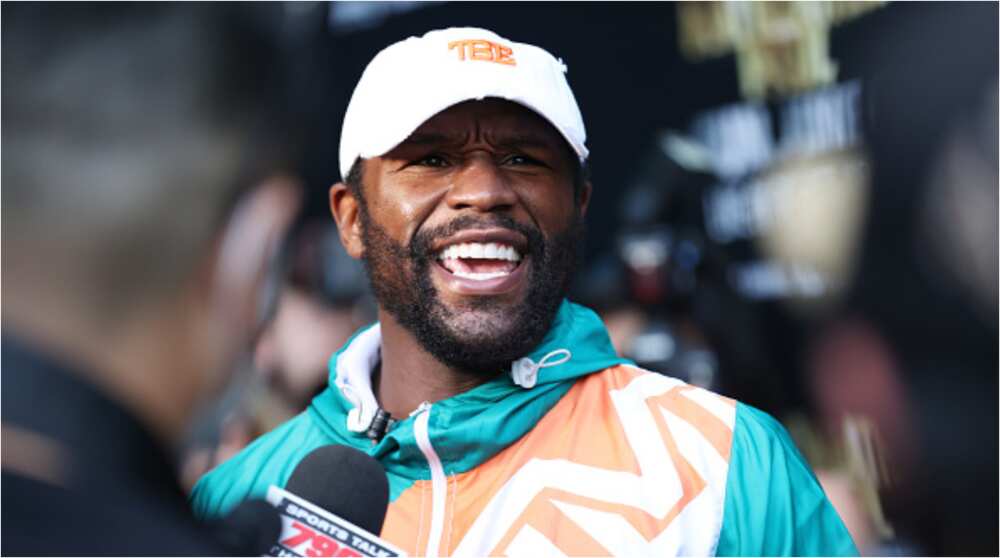 But while they were face-to-face saying nasty things to themselves, Jake escalated the situation by removing Floyd's cap ad the 44-year-old didn't take it likely as he was seen teaching him some valuable lessons.
Mayweather was said to have told Logan during the trash talk that he would beat both him and his brother on the same night.
Legit.ng earlier reported that Floyd Mayweather had a face-off with Logan Paul's brother, Jake Paul, during their pre-bout press conference and 50 Cent has continued to troll the boxer.
It was only a matter of time before taunts flew in from 50 Cent after there was a scuffle between Jake Paul and 50 Cent during the briefing.
50 Cent and Mayweather were childhood friends but they have taken to social media to potshot themselves in recent years.
Source: Legit