Ahmed Magem lists 5 steps to end Fulani herdsmen crisis in Nigeria
- The constant frictions between the Fulani's who are mainly herders and indigenous people who are mainly farmers has reached a boiling point
- In the last few years, Fulani/indigene clashes have occurred in every state of Nigeria bar none
- A prominent Nigerian has reeled out steps the authorities should take in addressing the issue
PAY ATTENTION: Join Legit.ng Telegram channel! Never miss important updates!
A Nigerian author and human rights activist, Ahmed Magem has weighed in on the current crisis over the activities of Fulani herdsmen in the southwest region of the country.
In the past few days, tension has been at an all-time high following the exit order given to herdsmen by Ondo state governor, Rotimi Akeredolu and later by a Yoruba cultural activist in Oyo state, Mr. Sunday Adeyemo, popularly called Sunday Igboho.
Magem who is also a coach, speaker, and trainer took to his Twitter page on Monday, January 25 to reel out possible solutions to the crisis.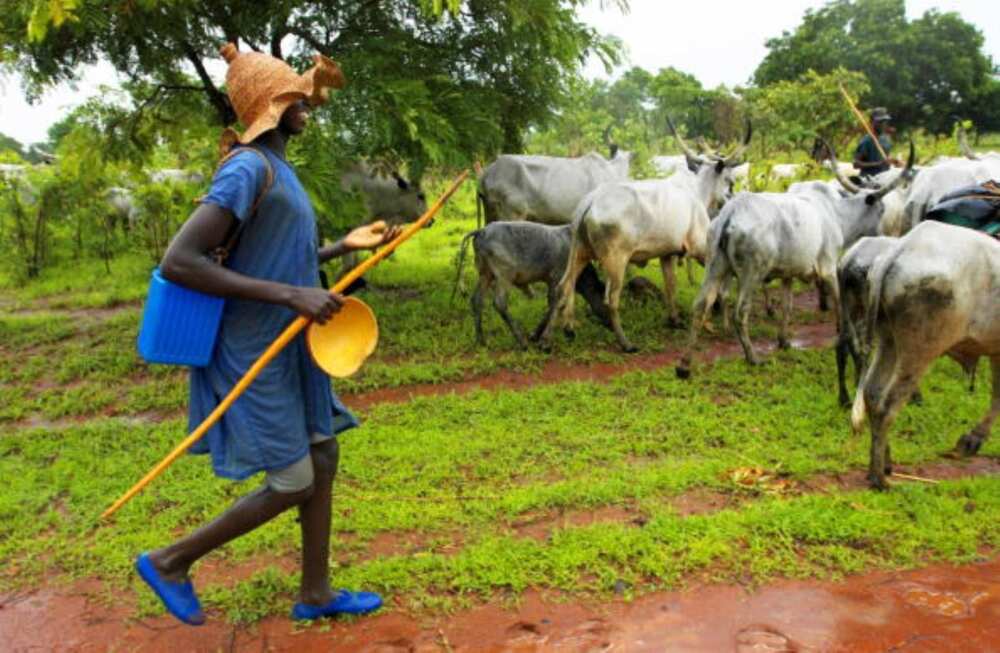 PAY ATTENTION: Join Legit.ng Telegram channel! Never miss important updates!
He counselled the federal government to take the following series of steps listed below.
1. We should restore the ancient grazing routes of Fulani pastoralists. Both the federal minister of agriculture and the federal ministry of lands should work with the apex Fulani pastoral association, Miyetti Allah Cattle Breeders Association, to revive these routes and where there have been farms or houses built on these routes, alternative routes must be found.
2. Next, the federal ministry of agriculture should give a deadline of no less than 10 years to the Miyetti Allah Cattle Breeders Association to convert from pastoral cattle rearing to the modern business of cattle ranching in which cattle are reserved, reared, and bred at a central location suitable for such purposes.
Measurable timelines should be agreed with the Miyetti Allah Cattle Breeders Association for progress towards this objective and penalties for failure to progress towards these timelines must be clearly spelt out.
3. Next, the federal ministries of finance and defence must collaborate through their agencies to monitor and ensure proper taxation of the informal cattle rearing economy and also to ensure that the government can trace the whereabouts of individual Fulani clans.
This can be done easily by identifying the cattle rearers' entry point into Nigeria and stationing mobile border posts there with armed officials of the Nigerian Customs service department of animal control.
4. Nigeria has too many intellectuals who know how to analyse problems and give angles to them. But we do not have enough minds working on solutions. We will make more progress if our public intellectualism is geared towards solving than the analysis of challenges.
Nations make more progress when their leaders are more concerned with accepting responsibility than with apportioning blame. This is the mindset of solving the Fulani/indigene and all other similar and related incidences of insecurity.
5. There is room for growth in the global market for beef exports and Nigeria can key into this by harnessing the resources of the Fulani through modern cattle ranches that will provide the domestic market with inexpensive beef and improve Nigeria's balance of trade position by exporting beef and cattle to other nations.
Meanwhile, Igboho on Monday, January 25 declared that he will soon visit all the southwest states to issue quit notices to Fulani herdsmen.
Igboho who has been in the news recently for his order to the herdsmen in his native Oyo state to leave, says it will be extended to other southwest states.
He further warned Fulani herdsmen to keep off the southwest zone saying, enough is enough on the killing of Yoruba people.
In a related development, the national president of MACBAN, Alhaji Muhammadu Kiruwa has directed Fulani herders across the southwest of the country to put an end to both night and underaged grazing with immediate effect.
Kiruwa also warned herders to desist from taking their cows to people's farms for grazing, adding that the frequent farmers/herders clash must be brought to an end.
Source: Legit