Joe Exotic bio: the real life story of America's Tiger King
Joe Exotic is a well-reputed animal breeder from the United States of America. He is also famous for being the managing director of the Garold Wayne Exotic Animal Memorial Park. This place is known as the home for the great and almost extinct big cats. He has been an ambitious businessman since he set up the Park, starting with only two tigers, a buffalo, a monkey, and a mountain lion. His work is far much commendable because he is a great American icon who appreciates nature by protecting wildlife.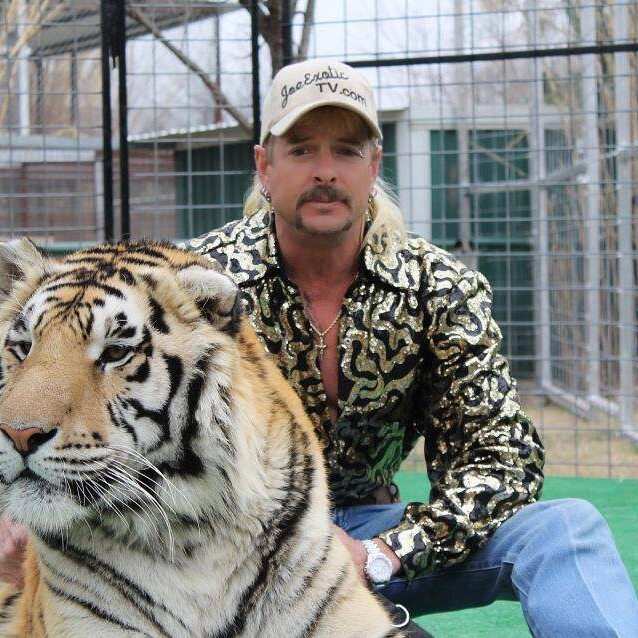 The celebrated Tiger King has also participated in some documentaries showing on famous television channels. He has been in Tiger King: Murder, Mayhem, and Madness, a documentary held in 2020. The celebrity has been a host of Louis Theroux's America's Most Dangerous Pets documentary. His Zoo has been a source of employment for most young people who were drug addicts and homeless in Oklahoma.
Profile summary
Birth name: Joe Schreibvogel
Nickname: Tiger King
Celebrated name: Joe Exotic
Date of birth: March 5, 1963
Age: 57 years
Horoscope: Pisces
Place of birth: Kansas, United States of America
Eye color: Grey
Hair color: Blonde
Weight: 78 Kgs
Height: 5 feet 11 inches
Marital status: Married
Religion: Christianity
Nationality: American
Instagram: joe_exotic
Background information
Joe was born on March 5, 1963, in Kansas City, United States of America. He was born in a family of four children and raised by parents who held a strong Christian background. However, when his father learned that Schreibvogel does not have a straight sexual orientation, he was infuriated. He forbade Joe from attending his funeral ceremony only because of his sexuality. Exotic's elder brother, Garold Wayne, accepted him and was involved in many businesses.
Career
Joe Exotic zoo, which is a 16-acre strip, started with a mountain lion, a monkey, and a buffalo. Fortunately, in 2000, he purchased two tigers whom he named Tickles and Tess. The tigers reproduced and gave life to the current Zoo. The ambitious animal breeder buys horses and feeds them alive to the tigers. His passion for wildlife has inspired most of his followers on different social media platforms. His work has been a great inspiration for most activists protecting animal life globally.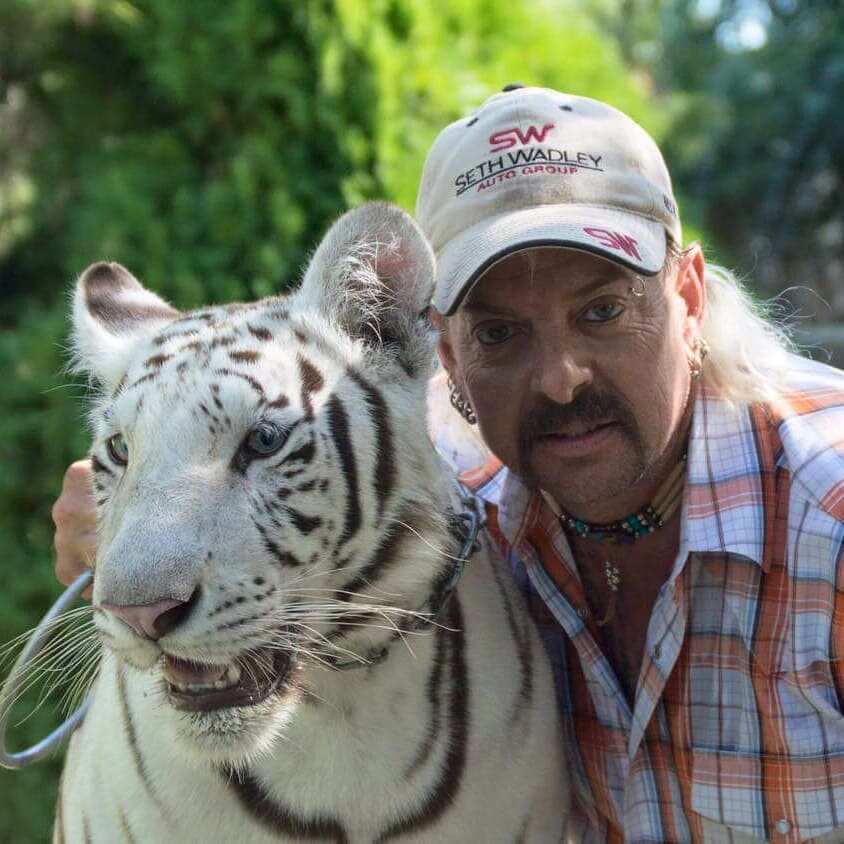 Meeting with Carole Baskin, who is well reputed as Mother Theresa of Cats, is one of the achievements in his lifetime. However, his attitude towards Carole changed when he publicly endangered her on a famous online show. Both animal rights activists continued their disagreements to the extent that Joe hired someone to kill her for three thousand dollars. Unfortunately, the celebrated Carole's death plans failed because the federal government protected her.
What about Joe Exotic music?
The G.W. zoo owner has also participated in the music industry as the Tiger King show is aired. During the show, he appears to be a country song musician. However, according to some sources, the great secret behind Joe's songs is that he is not the writer. He asked Danny Clinton and Vince Johnson to be the writers and organize everything necessary for music production.
Funny enough is that Exotic does not even know how to play guitar despite featuring in most songs holding a guitar. It is also disclosed that he is always lip-synching during the production of any song. He used Her Kitty Kitty, and I Saw A Tiger to throw insults at his rival, Baskin.
Joe Exotic for president
The celebrated Tiger King has also been an influential politician in America. He is widely recognized as Joe Exotic for his political career. In 2016, he became an independent candidate running for the presidency as a Colorado resident. However, he got only 962 votes nationwide. He continued taking part in politics and contested for a gubernatorial seat in Oklahoma in 2018. The celebrity did not win after ranking the third with 664 votes. He has not been involved in politics since then.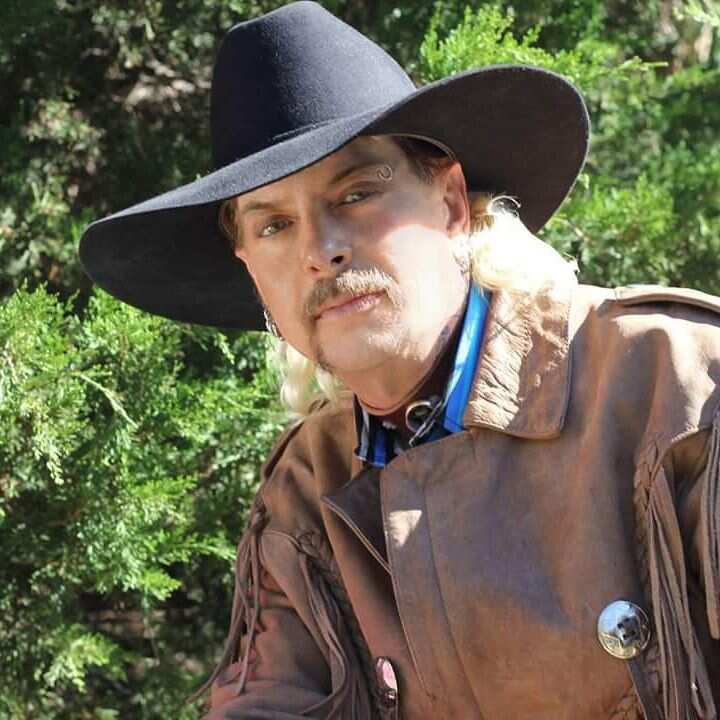 Joe Exotic husband dies
The celebrity is proud to be openly regarded as gay in America. When he was only five years, he was raped by an elder boy who created in him the desire to be sexually attractive to the same gender. He came to accept himself after realizing that it was difficult for him to rectify what had happened to him. His life has been challenging, especially after word went round that he is gay. Joe's family did not appreciate the fact that he publicized his sexuality, and they even rejected him. Living as an outcast has taught him the secrets of life in a hard way.
He was first married to Brian Rhyne, who passed away in 2001 after contracting HIV/AIDS. Exotic suffered from depression with fear of victimization from the public that he was also suffering from the disease. Years after recovering from depression, he got engaged to John Finlay. However, their relationship did not last for long before separating.
Fortunately, he got engaged to Travis Maldonado, who was involved in an accident on October 6, 2017. He did not survive the accident because some sources depict that he had carried a firearm. Joe, the animal breeder, was antagonized after the death of his second love partner. However, he overcame the situation in December 2017 after marrying Dillon Passage, his current partner. Joe Exotic wedding with Dillon was attended only by close friends and family. The couple seems to be enjoying the marriage life and managing the Zoo.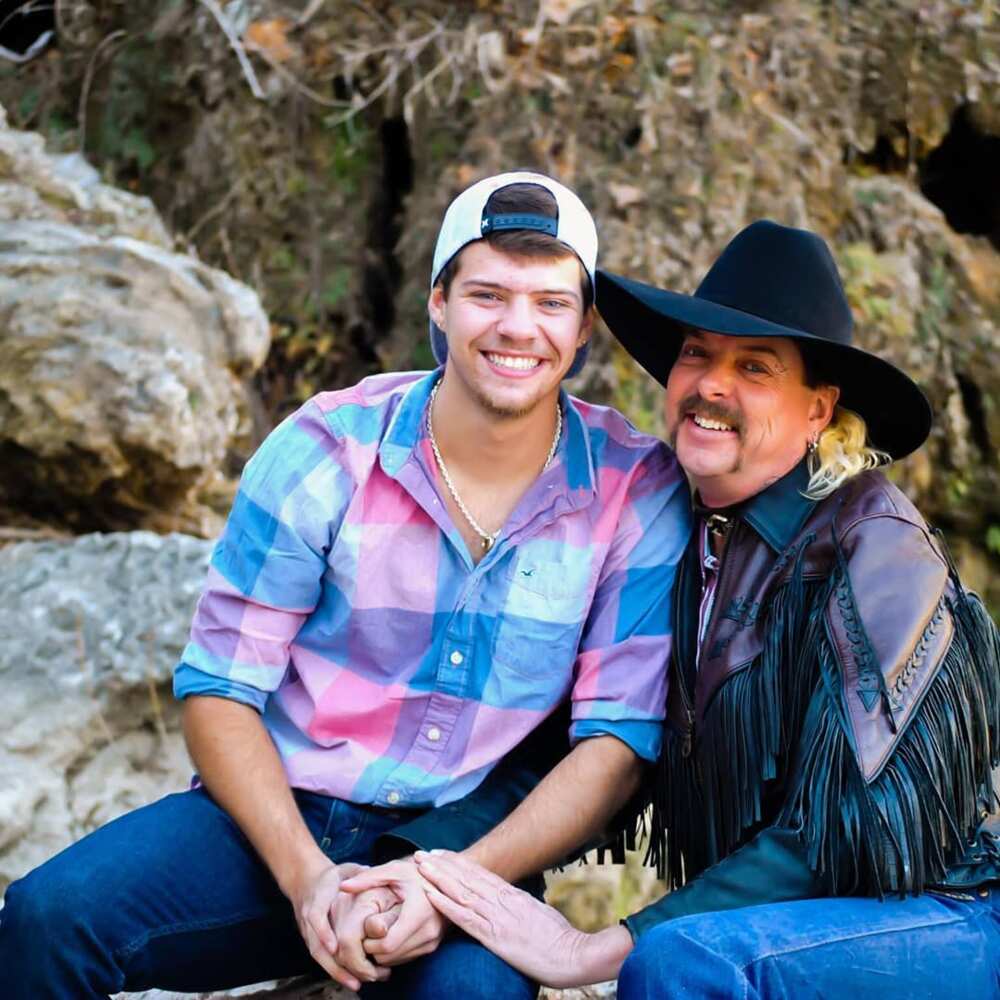 What about the Joe Schreibvogel scandal?
Tiger King's great ambition was to be more recognizable than his competitor Carole Baskin. This prompted him to change the name of his Zoo from G.W. Zoo to Big Cat Rescue Entertainment. However, Baskin was annoyed and planned to sue Joe Maldonado for his unfair competition. With the help of her spouse, they petitioned a case against Tiger King in court that cost Joe one million dollars. When he was declared bankrupt, Carole thought that it was an excellent opportunity to exploit him financially.
He had executed plans of murdering Baskin using an FBI informant who had hidden his identity. Furthermore, the informant learned that Exotic mistreated the animals by killing more than five tigers without any government permit. Hiring an FBI agent to undertake a murder case endangered his life, forcing him to suffer the consequences in court. During an interview at the Oklahoma City T.V. station, Exotic defended his decision to kill the tigers by saying:
I put five tigers to sleep because they were in pain. They were in pain. They had toenails coming out of their ankles. They had no teeth. They had exposed root canals.
Facts about the Tiger King
Joe Exotic real name is Joe Schreibvogel.
In the year 1985, he tried to commit suicide.
Joe Exotic suffered from a leg injury forcing him to use a walking stick to support his right leg.
He likes referring to himself as the gun-toting cowboy with a mullet gay to the public.
Schreibvogel's height is 5 feet 11 inches, and weight is 78kg.
The celebrity's name of the Zoo is in memorial of his long-gone brother, Garold Wayne.
He has over 14.6 thousand subscribers on his YouTube channel.
He used to wear four earrings in one year.
It is found that he shot two tigers in the head to make space for new ones.
He always used to wear a cowboy hat.
Joe loves guns, and when he was out of jail, he always carried a revolver with him. He has also been spotted shooting bullets through carbine.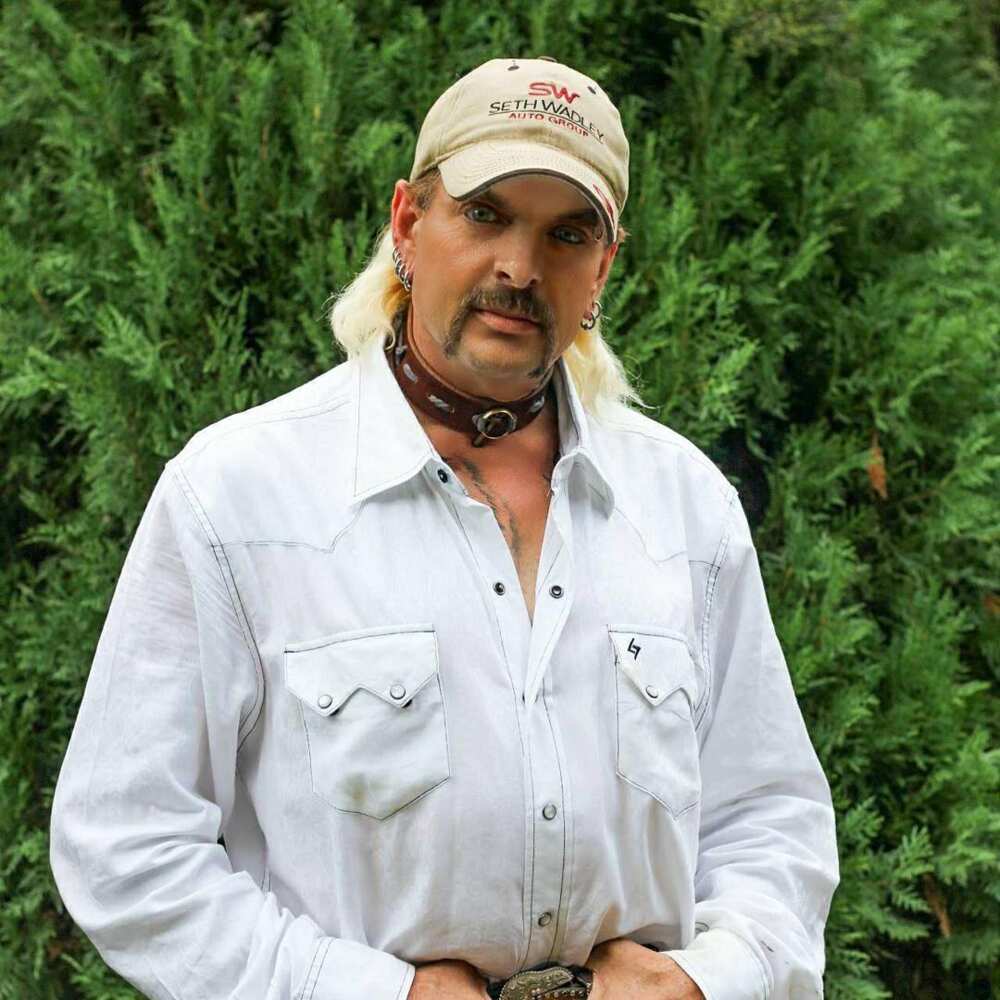 What is Joe Exotic latest news?
In January 2020, Joe Maldonado appeared in court with a fined case of mistreating wildlife and abuse of government authority. He was reported to have killed five tigers back in 2017 and sold some cubs but claiming to have donated them. The celebrity was also judged for his alleged plan to execute the murder of Carole, his business rival. The court sentenced him for 22-year imprisonment for all the crimes that he committed. However, he still accuses the government of false court proceedings and detention. Fortunately, he had previously sold his Zoo to another businessman who will be managing it.
How much is Joe Exotic net worth?
The celebrated American icon has worked hard throughout his life to ensure his family has a good life. He has been a good manager of the G.W. zoo who has managed to earn a huge amount of money. The celebrity's gross net worth is estimated to be more than 10 million dollars. He has been his own boss throughout his life before being detained in the federal jail.
Joe Exotic is a celebrated animal activist who lost his reputation in America after being disclosed to be inhuman to the tigers in his Zoo. In addition, planning to kill Carole has resulted in his imprisonment. However, he has earned a lot of wealth from his investment in the Zoo. His life has taken a different dimension after the court's sentence for him. Nevertheless, he has a lot to be emulated by the young upcoming animal breeders. His life is a great lesson and inspiration for most people globally.
Source: Legit.ng