Investigation: The menace called stillbirth by Ruth Akinwunmi-King
Editor's note: The loss of a baby due to stillbirth remains a sad reality for many families and takes a serious toll on families' health and well-being.
In this investigation sent to Legit.ng, a Lagos-based journalist and social commentator x-rays the agony associated with stilbirth and the way out.
"This experience is about five years ago. The very day I discovered that I had lost the baby, I had headache throughout that week, I had the headache from Monday through to Wednesday."
These were the words of Mrs. Adebanke Adekoya, a media practitioner, a resident of Lagos state in southwestern part of Nigeria, who at seven months into her pregnancy, discovered that her baby was already dead in her womb.
Stillbirth is typically defined as fetal death at or after 20 to 28 weeks of pregnancy. It results in a baby born without signs of life. It is also said to be the delivery, after the 20th week of pregnancy, of a baby who has died.
The loss of a baby due to stillbirth remains a sad reality for many families and takes a serious toll on families' health and well-being. Despite being one of the most common adverse outcomes of pregnancy, stillbirth has also been the least studied.
Nigeria, with a stillbirth rate of 41.7 per 1000 births, accounts for one of the highest rates in the African continent. Available figures quoted for stillbirth rates across Nigeria reveal the magnitude of this problem.
While narrating her experience, Mrs. Adekoya, explained that she had visited her gynaecologist a week earlier and was told that everything was in good condition. But to her utmost surprise, few days after, it was discovered that the baby was already dead.
Her words: "When I couldn't bear the headache, I had to go the clinic again and that was on a Thursday, I was there the previous Saturday and I was told everything was fine but when I got there to complain about the headache, the doctor said he was going to do a scan to check what the issue was and when he did the scan he realised the baby was not breathing well.
"On noticing this, the doctor asked me to take a bottle of Coca Cola and sit for a while; he did not tell anything at that moment, after I took the bottle of coke, I sat for an hour and he checked again and he said, 'sorry madam, the baby has stopped breathing'. I was about seven months gone at this time when I heard the news.
"I was very sad as seven month is not small time in a pregnant woman's life. So, I asked if I could go home and come back the next day to take the baby out and the doctor agreed. So, I went home and I prayed. When I got back there the next morning the baby was still not breathing, so I was induced to bring out; I was induced to have proper labour because the baby was like 1kg, and I pushed the baby out like pushing out properly during normal delivery, it was very sad anyway but it's five year now and it's gone."
Nigeria is said to have the second rate of stillbirth cases next to Pakistan with an estimated stillbirth rate of 42.9 per 1000 births. The country is also said to have the second highest absolute number of stillbirths, which occur as a result of birth defects or genetic problems.
Every year, about 2.6 million stillbirths occur especially in low-income countries because of factors associated with poverty and poor access to obstetric care and lack of skilled birth attendants in Nigeria.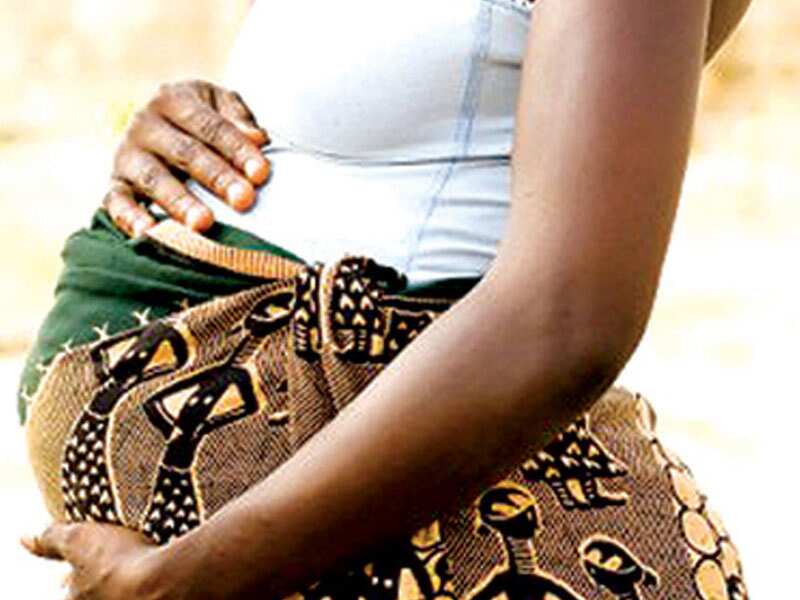 Mrs. Helen Idiaye is a mother of four who wanted a fifth child and became pregnant with great progress during the first and second trimester, while her last trimester was going well, unknown to her, the baby was dead in the womb.
"I was pregnant with my fifth child and had no issues until the ninth month. One day, I felt labour pain and went to the hospital. I was in labour for so long that all of a sudden, the labour ceased and my baby was in distress.
"When they checked the baby, she was pronounced dead in my womb. I was induced to labour to afford me push the baby out, the dead baby girl came out and I was heart-broken. But that was not all after she was out, I began to bleed profusely, blood was everywhere, and the doctor's ordered for blood. I took the blood and several injections to stop the bleeding," Idiaye explained.
She also stated that when the blood was set up, the doctors couldn't locate her veins, "for hours, they were battling and searching for my veins but to no avail. At a point, I was losing consciousness but I was praying aloud to God. At another point, the doctor said he was tired and wanted to leave, I pleaded with him not to give up on me, and the vein was later located but the blood connected was not flowing as it was clotted.
"Though, I am alive to tell the story, whereas, many women have died due to both non-challant attitude of health worker and a health system that is not working right for expectant mothers. I lost my baby but thank God for my life," she added.
Demographic and Health Surveys (DHS) in Nigeria repeatedly show large discrepancies in access to health services between the southern and northern regions of the country.
The 2013 DHS report shows that 55 per cent of pregnant women in the North-West region of Nigeria receive no antenatal care, compared to just 4 per cent in the South-East region.
Similarly, 87.5 per cent of women in the North-West region deliver their babies at home, while in the South-East region, 20 per cent of deliveries occur at home.
In the northern part of Nigeria, many women do not have access to quality healthcare and antenatal service.
Maryam Yakubu from Borno state in the northern part of Nigeria, said she was driven out of her husband's house after two experiences of stillbirth.
According to her, "I was 17 years old when I got married and I was already pregnant with my first baby, we do not have a clinic close by. We have a midwife who attends to all pregnant women when it's time for the baby to come; I was over twenty two weeks when I found out that my baby was not moving.
"I was helped to deliver the already dead baby, my stomach was pressed and massaged and it was a baby boy. When this happened, I was left alone to take care of myself. The experience was terrifying as I got pregnant again six months later and due to lack of proper care, the baby came out dead again.
"This incident led to me leaving my husband's house as I was called the mother of dead children. Many women in the north suffer a lot due to lack of proper medical attention. Though, some foreign organisations do come to the villages once in a while to help with few medications," said Maryam.
In the Nigerian context, stillbirth is still a public health problem that requires the concern of all. Ignorance is also said to play a major role among couples in addition to socio-cultural and religious beliefs.
A gynaecologist, Dr. Temidire Ewonowo listed some major causes of stillbirth to include, hypertensive disorders of pregnancy, uterine rupture, low birth weight, congenital fetal malformations, placental or foetal abnormalities including pre-eclampsia, infections, umbilical cord complications and environmental hazards.
These according to him, may affect maternal health during pregnancy and fetal development and survival.
Dr. Ewonowo noted that some of these causes are preventable once women access quality medical antenatal services with skilled assistance at birth.
"The major need for the Nigeria health sector is to get more skilled health workers, with continuous training and retraining of workers especially in rural areas in the country, expectant mothers should also be conscious of their body, eat right and follow all advice from the doctor," he added.
According to the World Health Organisation (WHO), International Classification of Diseases (ICD-10), stillbirth is the death before the complete expulsion or extraction from its mother of a product of conception, weighing at least 1000g occurring after 28 completed weeks of gestation, or at having at least 35cm body length, which is indicated by the fact that after such separation, the fetus does not show any evidence of life.
WHO estimates that worldwide, 3.3 million stillbirths occur each year, accounting for over half of all perinatal deaths, in which 98 per cent of these deaths take place in low and middle income countries.
Rates of stillbirth during pregnancy closely track the use and quality of maternal health care services, being generally higher in economically poorer communities with poor access and antenatal care services (ANC), compared with economically well-off populations with good access and high utilisation of quality ANC services, including monitoring and treatment of risk factors that arise during pregnancy
In her words, Dr. Roseline Echidinna says, proper antenatal care and good partographic monitoring during labour will largely help in detecting these risk factors and prevent stillbirth in Nigeria.
"The need for expectant mother to enroll early for antenatal is very important as this helps to monitor their body and the baby's activities from the first to the third trimester.
"It so sad that many women lose their babies between 24-28 weeks into their pregnancy. Medical workers are doing their best but the government also needs to get it right by reaching out to women in the rural areas who still deliver their babies at home and those who patronise traditional birth attendants," Dr. Echidinna added.
According to the Sustainable Development Goals (SDG) goal 3 to ensure healthy lives and promote well-being for all ages despite significant progress in maternal health, in 2017, nearly 300,000 women died from complications relating to pregnancy and childbirth, as over 90 per cent of them lived in low- and middle-income countries. Continued investment and attention are needed to reach the global target of fewer than 70 maternal deaths per 100,000 live births by 2030, which could save more than one million lives over the course of a decade.
Ensuring that all births are assisted by skilled health professionals is not only critical to reducing maternal morbidity and mortality, but also to reducing stillbirths, morbidity and death among newborns. Based on the latest data from 2013 to 2018, 81 per cent of all births globally took place in the presence of skilled health personnel, a significant increase from 69 per cent from 2006 to 2012.
In sub-Saharan Africa, where two thirds of the world's maternal deaths occur, only 60 per cent of births were assisted by skilled attendants. Projections show that substantially more resources will be required just to maintain current coverage rates in Africa, due to population growth.
Some states' governments in Nigeria are putting efforts in place to eradicate the menace called stillbirth. One of such states is the Lagos State government, which in 2017 launched a new application for notifying and reviewing maternal and perinatal deaths.
The state's Coordinator of Maternal and Perinatal Death Surveillance and Response, Dr. Victoria Omoera said, "We look at how digitising Maternal and Perinatal Death Surveillance and Response have the potential to improve clinical practice through thorough documentation of patients' histories, with approximately 555 maternal deaths per 100,000 live births in Lagos every year and even more perinatal deaths."
She added that it is vital that health authorities understand the underlying factors contributing to these deaths to prevent similar deaths happening in the future.
It is, however, hoped that the government of Nigeria will continue to work towards ensuring that medical facilities in the country are upgraded and every pregnant woman, regardless of social class, will have access to healthcare service delivery.
The views expressed in this article are the author's own and do not necessarily represent the editorial policy of Legit.ng. Your own opinion articles are welcome at info@corp.legit.ng — drop an email telling us what you want to write about and why.
More details in Legit.ng's step-by-step guide for guest contributors. We're ready to trade your news for our money: submit news and photo reports from your area using our Citizen Journalism App.
Contact us if you have any feedback, suggestions, complaints or compliments. We are also available on Facebook and Twitter. Subscribe to Legit.ng Opinion page!
PAY ATTENTION: Install our latest app for Android and read best news on Nigeria's #1 news app
NAIJ.com (naija.ng) -> Legit.ng Same great journalism, upgraded for better service!
Buhari should help us! 29-yr-old single mother of three cries out | - on Legit TV
Source: Legit.ng