50 I miss you quotes and messages (with images). Updated list
When we miss loved ones, we look for ways to contact them and let them know about it. Fortunately, in our information age, there is such a pleasant trifle as I miss you quotes that allow us to write about our feelings at any time. What do you do if you cannot put words together but want them to be perfect? Our article will be handy in such a case.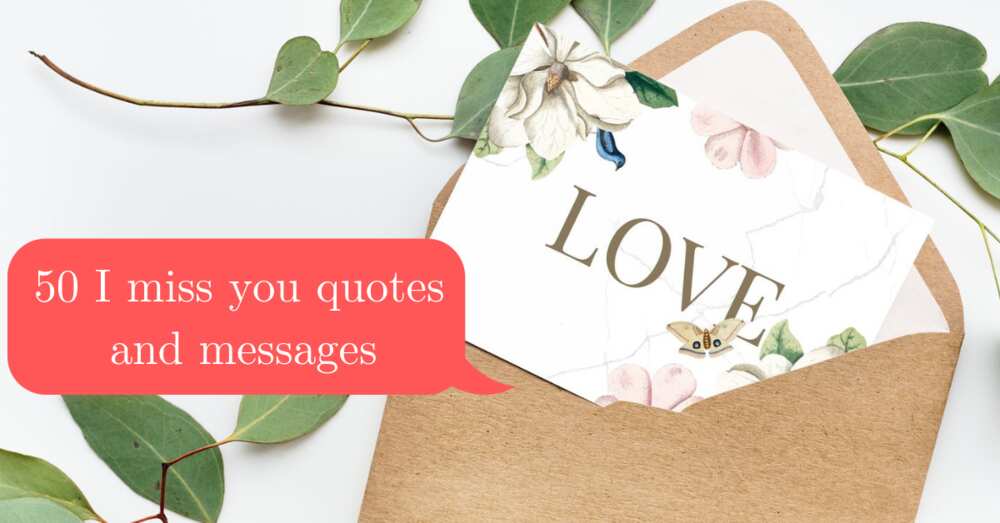 In our piece you can easily find the phrases you need, allowing you to convey as accurately as possible all those feelings that you have during separation. Cute and romantic, funny and humorous, serious and sad — no matter what these missing you messages are, the recipient will always know how much you miss him or her and how much you care about them.
I miss you quotes
Probably everyone in love is familiar with the feeling when the dearest person is far away, and you want to be with him or her, hug and kiss. So far it remains only to miss and hope for his or her speedy return! Although you can remind of yourself, just sending a pleasant missing you message. If you do not know what words to choose, the quotes of famous people may help you.
"The scary thing about distance is you don't know whether they`ll miss you or forget you." – Nicolas Sparks
"A hug for you means I need you. A kiss for you means I love you. A call for you means I'm missing you." – Beth Obedoza
"Where you used to be, there is a hole in the world, which I find myself constantly walking around in the daytime, and falling in at night. I miss you like hell." — Edna St Vincent Millay
"Sometimes, when one person is missing, the whole world seems depopulated." – Lamarti
"You left, and my heart is a ceaseless sermon of loneliness." — Jaesse Tyler
"It's hard when you miss people. But you know if you miss them, that means you're lucky. It means you had someone special in your life, someone worth missing." — Nikki Schiefelbein
"Absence from whom we love is worse than death, and frustrates hope severer than despair." – William Cowper
"When you are missing someone, time seems to move slower, and when I'm falling in love with someone, time seems to be moving faster." — Taylor Swift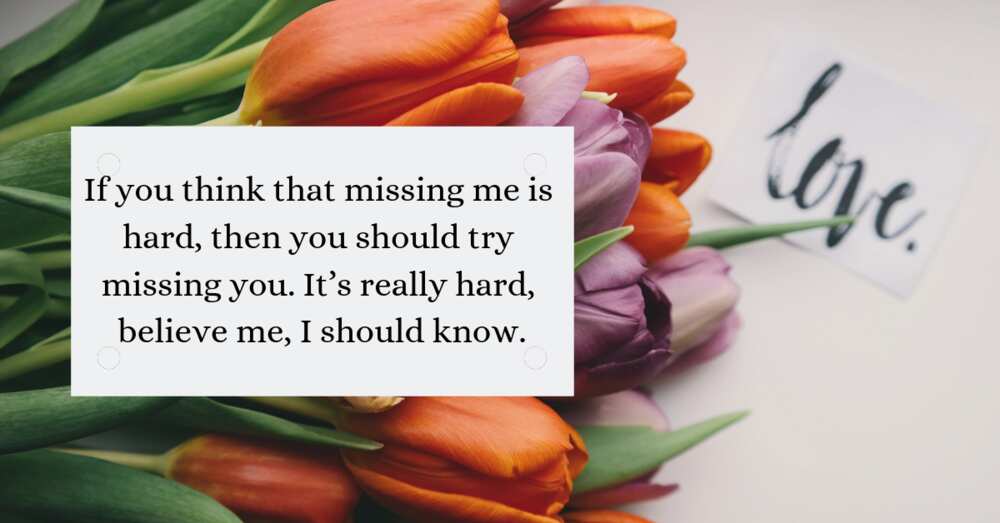 "I miss you deeply, unfathomably, senselessly, terribly." — Franz Kafka
"Love is missing someone whenever you're apart, but somehow feeling warm inside because you're close in heart." – Kay Knudsen.
"My eyes hurt from crying, my heart hurts from trying. I look so tired & worn out because inside I'm dying. I miss you, I need you, but I'm better off without you. Days will have to drag on longer, but eventually I will stop thinking about you. I wish I knew. I feel broken & unwanted, like it was easy for you to let me go. I trusted you with everything, I let my feelings show. Someday I hope I can look back at this & say I was strong. But only I know I'm not…" — Mahmoud El Hallab
"I've been holding out so long. I've been sleeping all alone. Lord I miss you. I've been hanging on the phone. I've been sleeping all alone. I want to kiss you." — The Rolling Stones
READ ALSO: Top 25 love quotes for him from the heart
"When you miss someone…it's weird…your body doesn't function normally…as it should. Because I miss you, and my heart…it's not steady…my soul it sings numb. Fingers are cold…like you…your soul." — Coco J. Ginger
"If I had a single flower for every time I think of you, I could walk forever in my garden." — Claudia Adrienne Grandi
"My world is a million shattered pieces put together, glued by my tears, where each piece is nothing but a reflection of you." — Sanhita Baruah
"Every parting is a form of death, as every reunion is a type of heaven." — Tryon Edwards
"You can love someone so much, but you can never love people as much as you can miss them." — John Green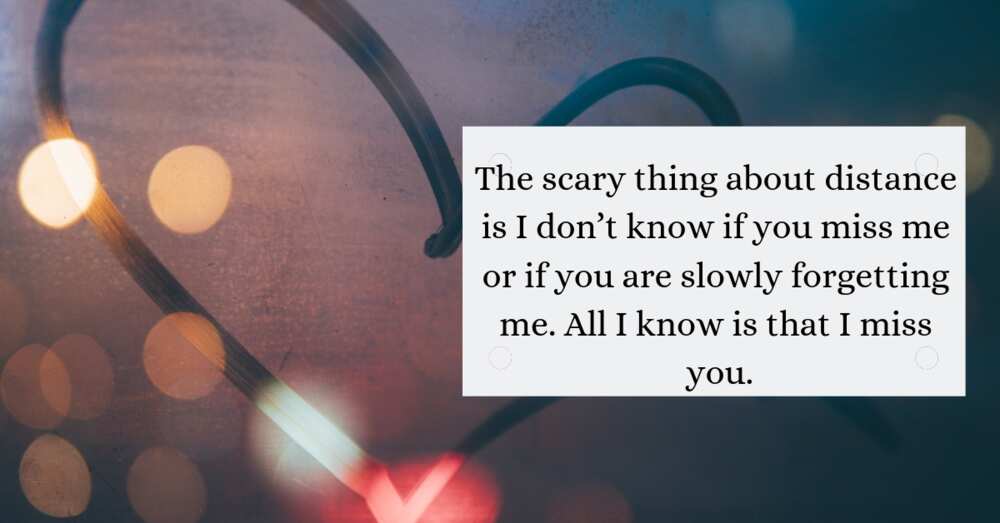 "When I go away from you/The world beats dead/Like a slackened drum…." — Amy Lowell
"And they can't understand, what hurts more—missing the other person, or pretending not to." — Khadija Rupa
"Thou art gone from my gaze like a beautiful dream. And I seek thee in vain by the meadow and stream." — George Linley
"My world is a million shattered pieces put together, glued by my tears, where each piece is nothing but a reflection of YOU." — Sanhita Baruah
"I deleted your number. Although I know the tired digits by heart, Scout's honor, pinky promise. I am trying to talk myself out of every emotion I'm having, and of course, it is failing to a fault. I'm still sad, I'm still mad, I'm still heartbroken, I miss you." — Elizabeth Brooks
"Rise up, wise up, say it loud. Soul, I will not lie to you. I'm all alone. I'm still missing you, missing you, missing you." — Tegan Quin
"I miss your voice because it is a symphony; your scent because it is a treasure; your smile because it is a jewel; your hug because it is a masterpiece; and your kiss because it is a miracle." — Matshona Dhliwayo
"He kisses me like he misses me, even before I have to go." – C.J. Carlyon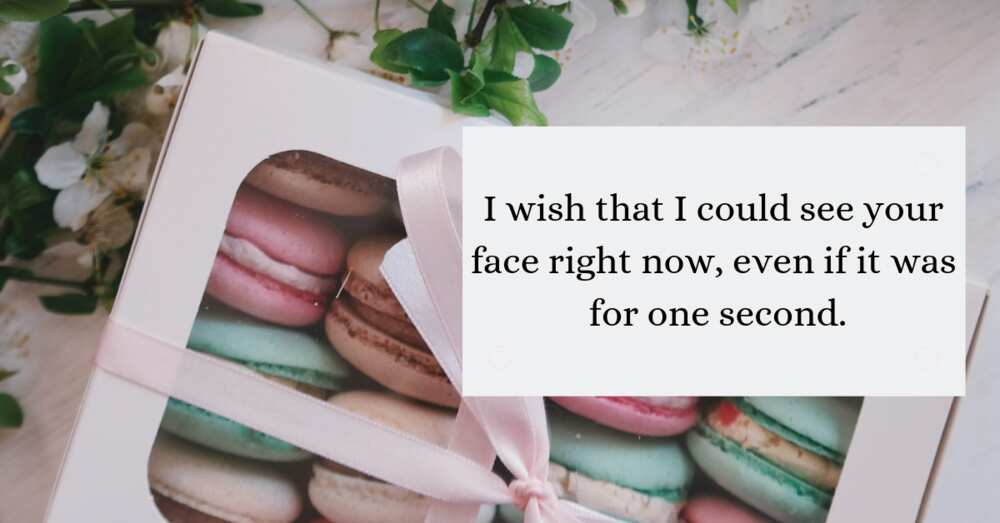 When people love each other, they want to spend as much time as possible with the better half. Of course, it is always better never to be apart, but, unfortunately, separation is inevitable. At those moments when you are not together, are separated by hundreds or even thousands of kilometres, you can call or write an email or SMS using a beautiful missing you quote.
Miss you messages
When we miss someone, sometimes it is challenging to express emotions and convey feelings of anxiety with the help of I miss you message, which may be devoted to a beloved one. There are a lot of warm words, pleasant epithets and comparisons.
I miss you, and your smile is always on my mind. I miss your warm hugs and tender words so much, and my heart beats faster. There are no such words and emotions in the world to describe how much I miss you. Distance does not conquer my love. Hugs and kisses.
It seems like just a bit of time has passed without you, but I was already tired of counting the minutes spent apart. All my thoughts are connected exclusively to you. I want to touch, hug and kiss you immediately. You know, it seems to me, the Universe has frozen and time has stopped. How else can I explain my long-term waiting? I miss you. It is almost impossible to describe with words those feelings that now overwhelm me, because without you there is only a part of my soul, and one half is not entirely comfortable without the other.
I miss you so much. I miss your tender words and warm smile, kind eyes and faithful support, strong hugs and sincere conversations. I look forward to our meeting, which, I hope, will come very soon.
I miss you like crazy. My heart is crying, and my soul is silent. When you are not nearby, I just want to close my eyes and see us together. I look forward to meeting you, but for now, I miss you.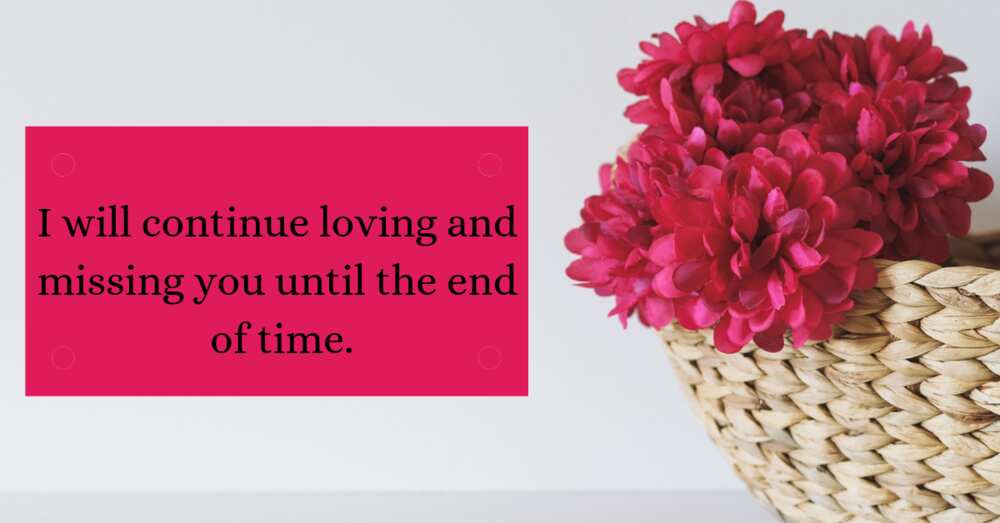 I really miss you. It is not enough for me of your kind smile, your bright eyes, your sincere hugs, your gentle touch. Everything is in a daze without you. I look forward to seeing you soon and continue our story.
When you are not here, time seems to stop, all sounds, animals, people, everything freeze in the world. My heart is beating lonely and calling for you. When you are far away, the sky is not so starry, and the sun is not so bright, the wind is cold, and the heat burns. I miss you.
Talking with friends, favourite work, and pleasant memories cannot distract me from thinking about you and fill the inner emptiness. After all, a piece of the heart cannot be replaced. I miss you very much.
Where are you, my mysterious happiness? Where are you, my everlasting love? I feel terrible without your light. Everything is different without you. The sun is not the sun, but a light bulb, the wind is not the wind, but a fan. There is only deep, unstoppable longing without you near me.
READ ALSO: Top 50 I love you messages and wishes
For me, separation from you is the most painful and horrible time. After all, when you are not with me, I immediately feel uneasy. There is a feeling of fear without you. You cannot even imagine how I miss you. I want time to pass unnoticed when we are apart, and pass very slowly when we are together!
You know, when I heard the expression "I miss you 60 seconds a minute," before we have met, I wondered how can we always think of only one person, how can we love someone more than life! After meeting you, everything changed. Now I understand that one second may seem the longest time without you. A day is not a day without you!
I always miss you, my love, and I cannot imagine how can I live without you, and wake up without you! I want to see your smile. I want the time not to be so cruel to us, and gave us more opportunities to be together! I think you are my soul mate.
I do not know in which latitudes our next meeting will occur, but I know that I will be the happiest person at that moment.
Our souls are like charges that collide during a thunderstorm. My love, tell me when it will rain. I really miss you.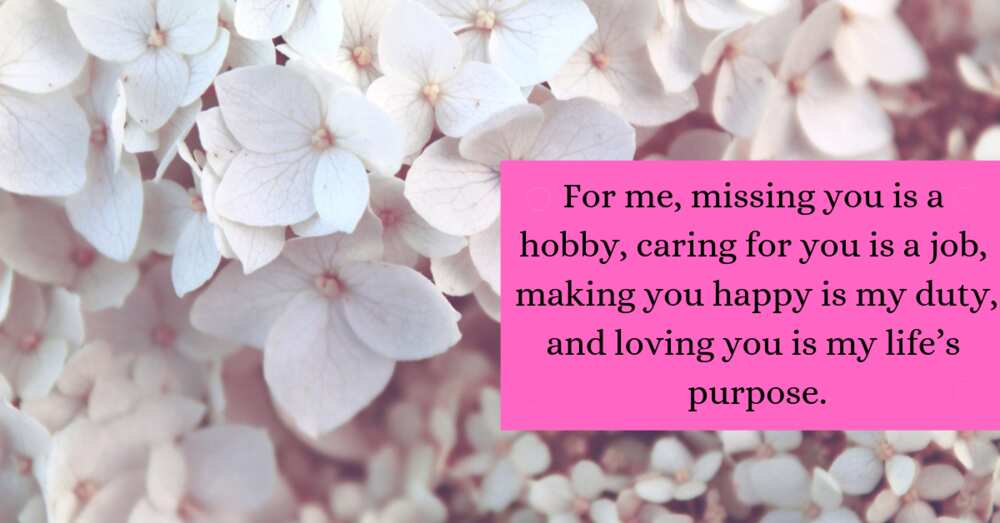 With each minute of our separation, the temperature of my soul drops by one degree. Thank God, I have your photo, which helps me at least somehow to withstand this parting.
I miss you to hoarse, colic, sleepless nights, loss of appetite. You are the air that I breathe. You are the sky above my head. You are the rays of the sun, warming and hugging me every day. You are everything that surrounds me, that I see, hear, perceive. I hope now understand how much I need you to be with me.
Since you left, every second seems to be an eternity. I see how a second is born, matures and dies, then another appears, completely different from the previous one, then the third, and so on to infinity. I know the name of each of the seconds and the story of their lives. I see how slowly and monotonous time passes. It seeps through the fingers, goes into the ground, sprouts grass and trees. I know how time tastes. I feel its warmth and at the same time repellent and stinging cold. Please, come back to me.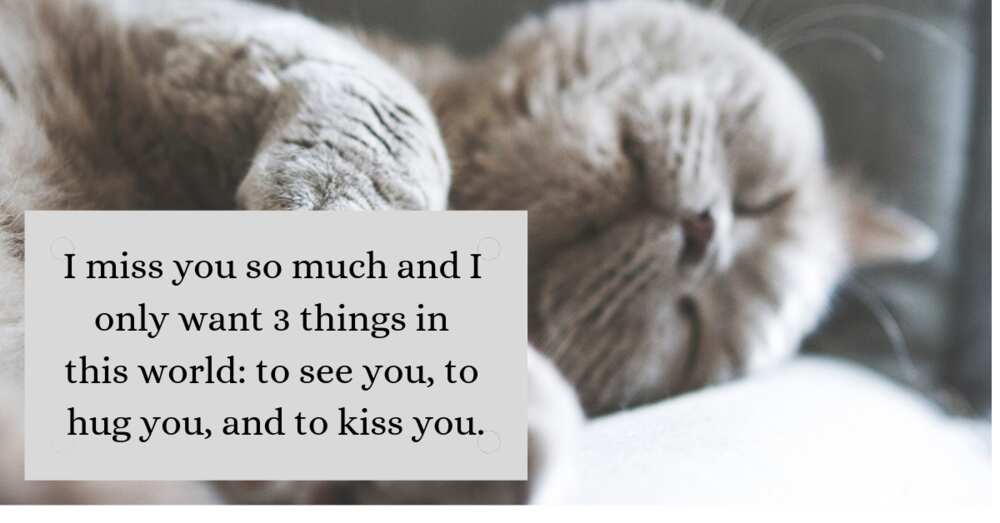 I miss you and count the days. 20 ... 19 ... 18 ... Days before our meeting and days before our life together. Until the moment when I can breathe calmly and freely with the understanding that you are here. It costs a lifetime and an eternity of waiting. There is an eternity in every second without you. It descended upon me with all its weight at the moment when the door closed behind you. It settled in our house and sleeps on your pillow. It sounds inside me as your voice.
I taste your name as a rare and valuable oriental sweetness. I inhale and exhale, dissolve in it without residue all the time. I love your name. It is best for me. Come back, because I miss you.
I miss your voice, and every time you talk to me, I absorb it even by my skin. Do you hear it? Your voice pulses in the veins and fills with warmth every cell of my consciousness. Your voice is like a drug, sweet, magical, intoxicating drug. It is already impossible to get rid of or recover from it.
I have never missed anyone so much. I have never even felt with my fingertips the need of someone's presence, warmth, and breathing. Save me from the pain being without you.
I miss you. I see you now, between these words and lines. I love your smiling eyes. Oh no, this is not the notorious hazel! This is the colour of languid and robust coffee made with love. I miss your gentle and warm look, especially in the morning.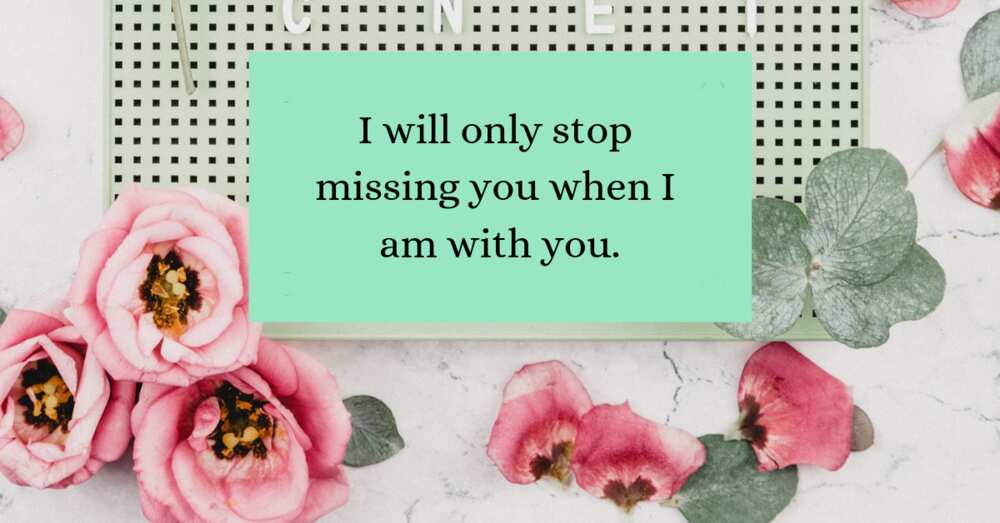 I miss our every morning, filled with special quivering magic. I miss the velvety touch, glances, words. I miss our leisurely, blissful, quiet and touching velvety of time; for the loud silence that is born in moments of secret and confidential conversation of our souls.
I miss you. I love your strength, character, your extraordinary and magical, soft, enveloping care without unnecessary words. I feel it not only with my heart but also with my whole being, every moment of my life. When you are far from me, I feel your thoughts turn to me, your emotions, fatigue and even more and brighter, I feel that you are also waiting for our meeting.
My bright sun! You left me and took away the light and desire for existence. Everything is not lovely, and nothing makes sense without you. I simply exist, without any joy and enthusiasm! Come back to me and give me your love and smile! I want to see your eyes and your beautiful face as soon as possible!
Tonight I had a dream, and of course, it was about you, my dear! It was so real that when I woke up and did not find you nearby, it was painful. I so endlessly miss you that I cannot convey this in words. I want to see and kiss you so much, that I will do everything to get back to you as soon as possible and save you and myself from this separation!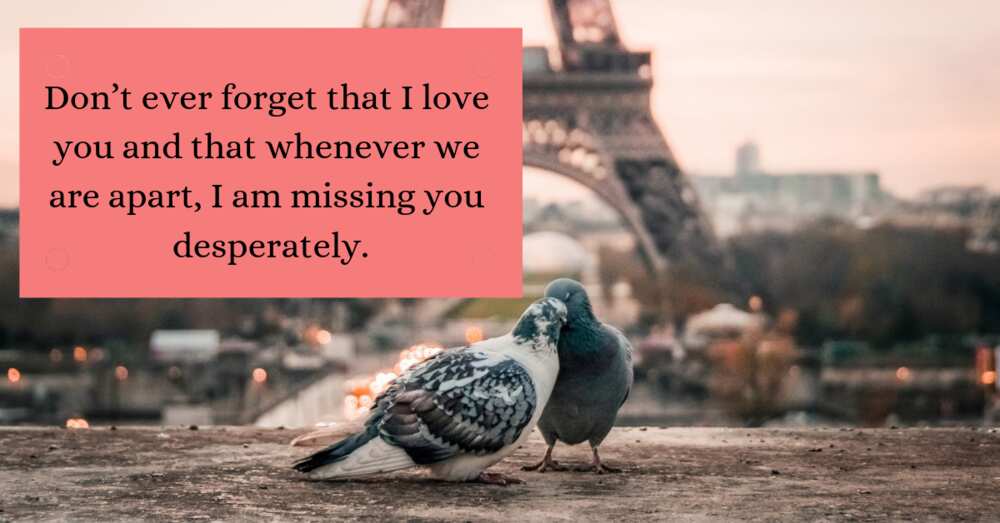 It is enough to choose a suitable message and send it to your loved one by mail, a mobile phone or just read it, calling again. Such words do not have to be sad, because you do not want the object of your adoration to be worried. In this case, the funny lines, as well as kind words about your feelings and desires, will be a perfect decision.
Most likely, you have repeatedly sent your loved ones I miss you quotes. Situations are different, and temporary separation sometimes is even good, so you just need to have a few messages in the sleeve. They should be special messages filled with your love and tenderness.
READ ALSO: Short love quotes for him
Source: Legit.ng