Life and times of late mystery man Kolawole Olawuyi in 5 facts
Ha Nnkan N Be! Anyone who was a fan of Nigerian television programmes during the early years of the 21st century would be very well familiar with this phrase which captures the strange but true happenings that occur on earth. Even more, the name Kolawole Olawuyi which is very closely knitted to this phrase would definitely also come to mind.
Nnkan N be was a television programme that showcased scary strange events that occurred in the Nigerian society at the time. From events about witches, wizards, destiny snatchers, creepy items found in strange locations to revelations about kidnappers, ritualists, robbers and evil landlords known to harm their tenants, Nnkan N Be depicted it all.
While this show is a big subject of interest, its anchor and presenter Kolawole Olawuyi is even of more greater importance. This is because this man, who died in 2007, brought to the open events and secrets that were meant to stay in the dark.
The background of Kolawole, his journey through life and his death are quite intriguing details that have awed many people over time. To preserve the memory of this man who braced all challenges to expose the works of darkness, Legit.ng has detailed several things that should be known about him.
READ ALSO: RETRO: The Life and times of Ajala, the first Nigerian to travel round the world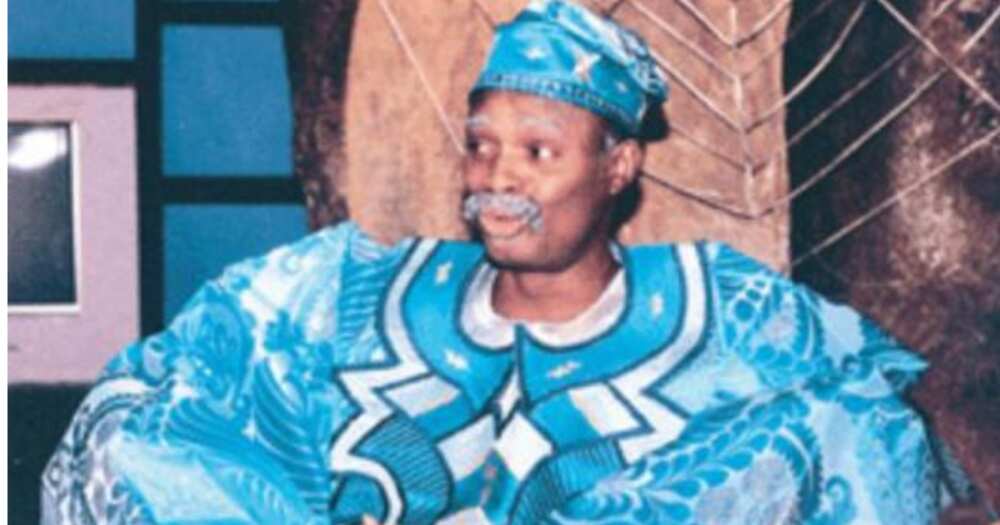 1. His background
Late Kolawole Olawuyi was born to Williams Inaolaji Olawuyi who was a pastor. However, his mother was was said to be a Muslim. He was born in Ibadan, Oyo State. During an interview, the late Kola Olawuyi revealed that he was very incorrigible when he was young. Due to his stubborn behaviours, there were times when his father beat him. Some of the offences he committed included leaving behind household chores to play football or table tennis.
But despite his rebellion, as a child, Kola had always wanted to be a journalist. But then, he had mistaken journalism to mean travelling. For him, being involved in journalism was a divine responsibility bestowed on him by God for the purpose of changing his world for the better. It was because of this he joined a charity programme for widows in his later life.
During his lifetime, Kola Olawuyi was said to be a shy person who avoided talking to the press. In between the lines of his words, many denoted that he only wanted to talk about himself and his ministry when the time was ripe.
2. His career
It has been gathered that the late Kolawole Olawuyi had an HND in Mass Communication from The Polytechnic, Ibadan. He was about finishing his Masters programme in Communication Arts at the University of Ibadan when he died.
Kolawole Olawuyi had his big break in his profession when he created the popular radio programme, Iriri Aye, in 1992. This talk show presented a whole new perspective on human stories and challenges.
This radio programme ran on the Federal Radio Corporation of Nigeria (FRCN), Ibadan. At the time, he only had 30 minutes to talk and do the show. But in the late 90's, things changed. What happened was that he ran a programme on Okorocha, the teacher.
At the time, Okorocha was the man who claimed to be a prophet. He usually used black eggs to perform several miracles. After publicising the news of this man, many got interested in his story. Due to this, threats started coming from undisclosed listeners who warned Kolawole not to air the programme or be punished for it.
But then, several people wanted to badly hear the story of the fake prophet. Because of this, Kolawole went ahead and presented the programme. The story generated a lot of buzz among Nigerians and this shot up the fame of Iriri Aye on FRCN.
However, despite the popularity of the programme, the radio station was harassed with several threats and petitions. This made the station very uncomfortable. Thus, they left him to himself in a very cunning way. This made Kolawole stop his show in Ibadan and move it to Ogun. This time, he named his unusual show Nnkan Nbe.
READ ALSO: NAIJ.com upgrades to Legit.ng: a letter from our Editor-in-Chief Bayo Olupohunda
3. Nnkan N Be
Olawuyi's Nnkan N Be was the highlight of his career and life. He depicted shrilling and heart-rending stories that were so deep and audience-amassing. He became so successful that he was able to lease a floor at the prestigious Femi Johnson Tower in Dugbe, Ibadan.
Even more, he registered a corporate corporation company and he also diversified into television and magazine production. Despite claims that his show was successful due to this occultic associations, the ace presenter claimed he was not fetish but that he only relied on God only.
Kolawole was the late member of the Marvelous Tabernacle, the LASU-Igando road branch of The Redeemed Christian Church of God, Lagos. Although he has been offered a lot of charms which he collected, Kolawole said he never used any.
4. His family
Kolawole Olawuyi had a fulfilling relationship with wife Mrs. Abimbola Olawuyi. He also had children, one of which is a popular saxophonist.
PAY ATTENTION: Get your daily relationship tips and advice on Africa Love Aid group
5. His Death
This great mystery man died on March 3, 2007. His death shook everyone who knew and heard about it. It was gathered that the sickness which killed him had been besetting him three months before his death.
Many have inferred that the strange ailment which defied treatments up till the time he died was inflicted on him due to his mystery programmes. From unveiling the atrocities and evil works of wicked people in the society, Kolawole had courted many enemies.
However, the greatest of all his enemies was said to have been within the rented apartment comprising of other five buildings where he lived.
The great media presenter lived around Okunola bus stop, Idimu road, Egbeda, Lagos State, Chief Olawuyi's death and many have associated his death with the felling of a mysterious tree in the compound.
According to the reporters of Sunday Tribune, the strange tree was felled and totally uprooted three months before the death of the presenter. It was cut down on the instructions of Olawuyi despite strong danger warning from former occupants of one of the buildings in the compound that nobody should do anything to the tree.
As the story goes, these occupants and tree owners were white people who had, in the past, raised strong agitations against the felling of the tree. In fact, the owner of the house had tried severally to send the white dwellers packing so as to cut down the tree, all to no avail. The tree continued to be in the house for five years even after the foreign tenants were eventually forced to leave.
Kolawole Olawuyi then came to the picture. He complained that the branches of the tree were causing great havoc to his house. Then, he pushed for people to cut it down. Upon his intervention, the tree was finally cut down despite severe warnings. It was from this moment that the illness of the man started. This sickness troubled him up on till the time he died.
PAY ATTENTION: Read best news on Nigeria's #1 news app
This is admittedly a very intriguing story. Despite his strange death, many have continued to regard Kolawole Olawuyi as the greatest mystery man that ever lived. Recently, Legit.ng wrote a post on 15 fantastic facts about Nigerian history.
NAIJ.com (naija.ng) -> Legit.ng We have upgraded to serve you better
Top 5 unusual facts about the Yoruba (you had no idea about!) - on Legit.ng TV
Source: Legit.ng