Pink lips balm: find out how to make one at home easily
Not all store balms contain only natural ingredients, which often causes allergic reactions. This problem can be solved quite simply. You need to prepare a lip balm by yourself, and it will be much better and safer than its store counterpart. How to make pink lips balm at home? We offer you many interesting recipes for the homemade balm.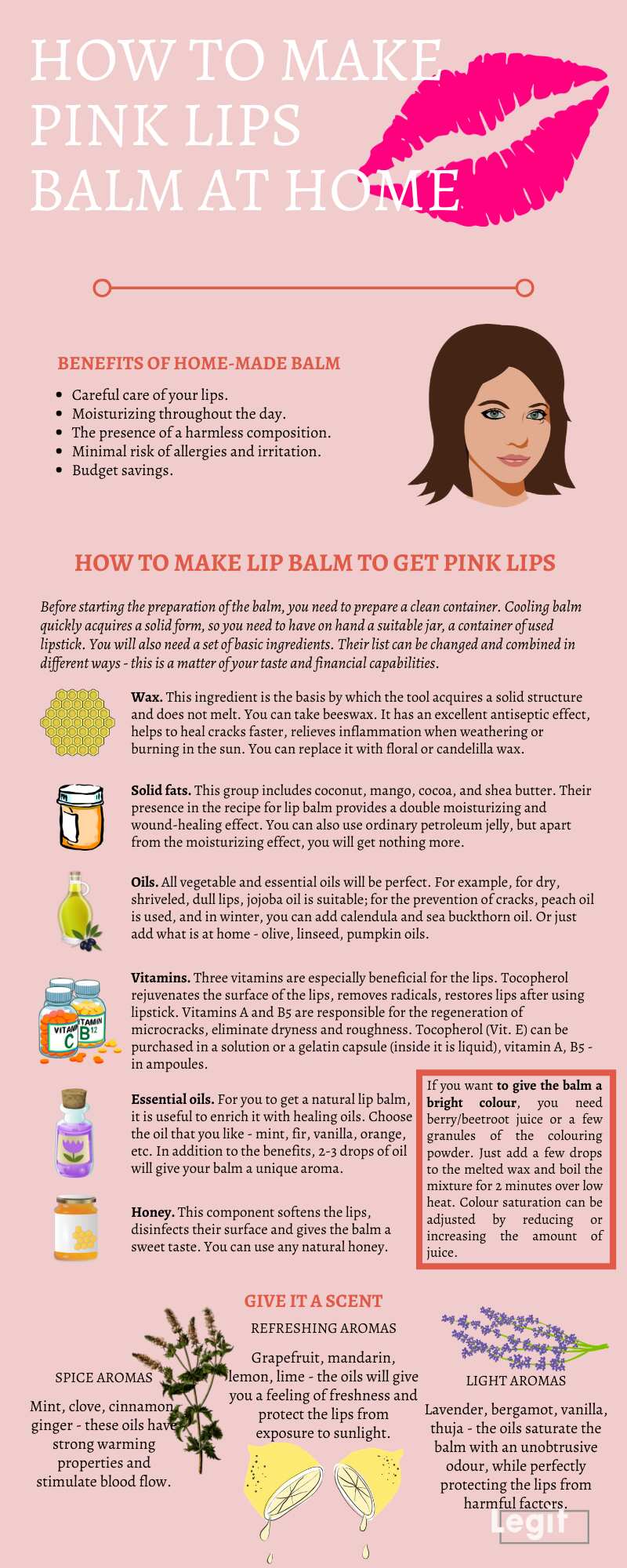 Probably no balm purchased in the store can boast of 100% natural ingredients. It is easy to justify because the manufacturer must produce a product that will have an attractive appearance and could be stored for a long time. Aromatic compounds and, of course, preservatives are used for this purpose.
Taking into account the above information, it is rather difficult to talk about the benefits of the store product. Of course, there are special shops where you can buy eco-cosmetics on the plant basis without the "chemistry," but the price will be very high.
Quite another thing is homemade pink lips balm. Making with your own hands, you choose the high-quality components, control the preparation and monitor the shelf life. Besides, you get the following benefits:
Careful care of your lips.
Moisturizing throughout the day.
The presence of a harmless composition.
Minimal risk of allergies and irritation.
Budget savings.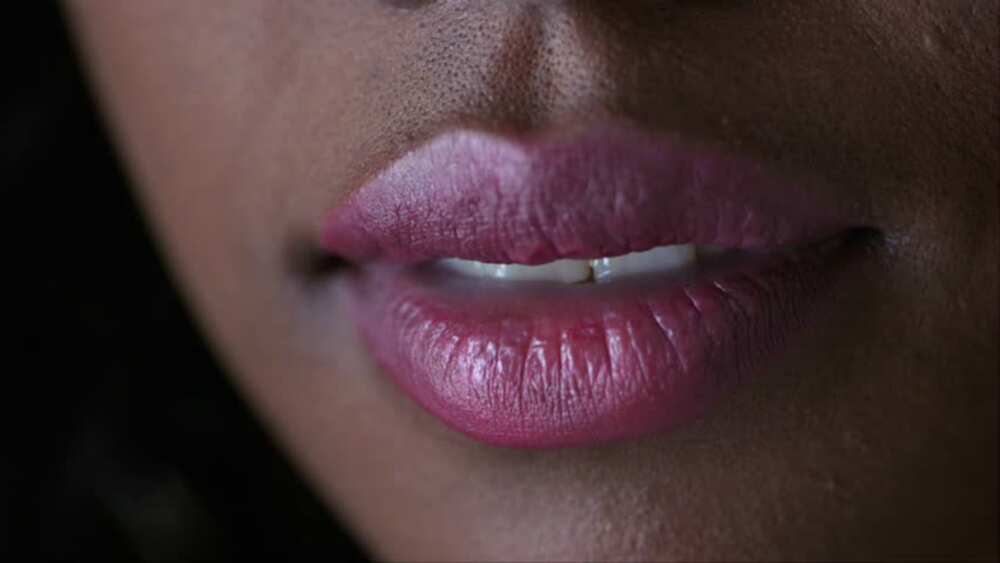 How to make lip balm to get pink lips
Before starting the preparation of the balm, you need to prepare a clean container. Cooling balm quickly acquires a solid form, so you need to have on hand a suitable jar, a container of used lipstick. You will also need a set of basic ingredients. Their list can be changed and combined in different ways - this is a matter of your taste and financial capabilities.
Lips balm is made of such ingredients:
Wax. This ingredient is the basis by which the tool acquires a solid structure and does not melt. You can take beeswax. It has an excellent antiseptic effect, helps to heal cracks faster, relieves inflammation when weathering or burning in the sun. You can buy it in the markets from beekeepers or in stores with bee products. You can replace it with floral or candelilla wax, which can be found in stores with products for soap making.
Solid fats. This group includes coconut, mango, cocoa, and shea butter. Their presence in the recipe for lip balm provides a double moisturizing and wound-healing effect. You can also use ordinary petroleum jelly, but apart from the moisturizing effect, you will get nothing more.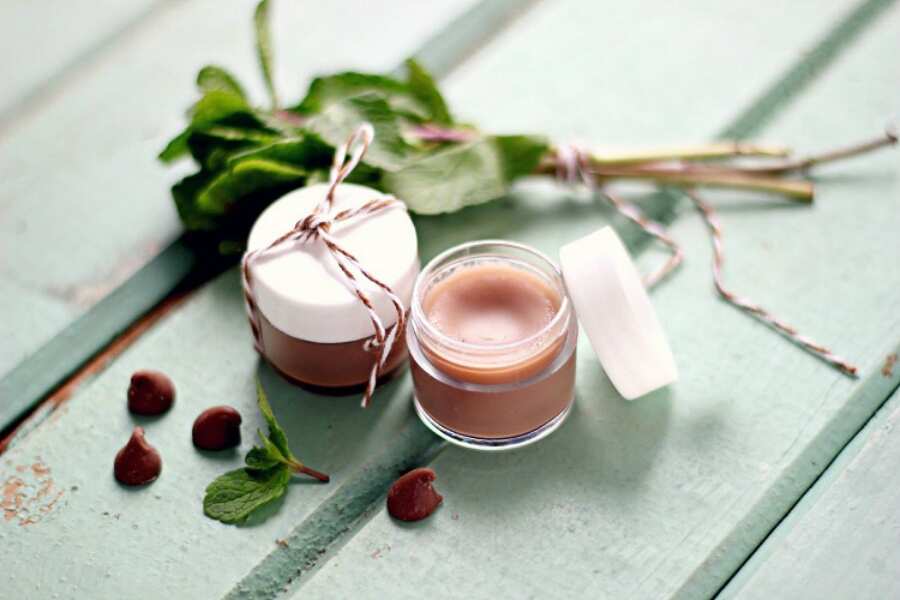 Oils. All vegetable and essential oils will be perfect. For example, for dry, shriveled, dull lips, jojoba oil is suitable; for the prevention of cracks, peach oil is used, and in winter, you can add calendula and sea buckthorn oil. Or just add what is at home - olive, linseed, pumpkin oils.
Vitamins. Three vitamins are especially beneficial for the lips. Tocopherol rejuvenates the surface of the lips, removes radicals, restores lips after using lipstick. Vitamins A and B5 are responsible for the regeneration of microcracks, eliminate dryness and roughness. Tocopherol (Vit. E) can be purchased in a solution or a gelatin capsule (inside it is liquid), vitamin A, B5 - in ampoules.
Essential oils. For you to get a natural lip balm, it is useful to enrich it with healing oils. Choose the oil that you like - mint, fir, vanilla, orange, etc. In addition to the benefits, 2-3 drops of oil will give your balm a unique aroma.
Honey. This component softens the lips, disinfects their surface and gives the balm a sweet taste. You can use any natural honey.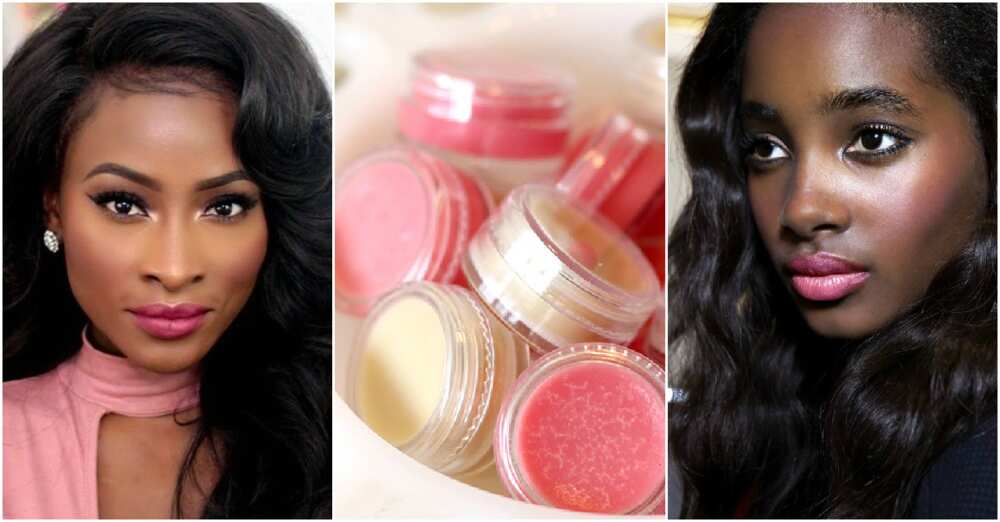 How to make a lip balm pink and give it fragrance
Preparing a balm only on the basis of wax or vaseline, you get a colourless tool. If you want to give the balm a bright colour, you can add the following natural products to it:
Berry or beetroot juice. Make a pink lip balm with a few drops of red berries juice - raspberries, cranberries, cherries. Of course, do not forget that beetroot juice has a very nice color and can be used as a natural colouring. It is necessary to add the juice to the melted wax and boil the mixture for 2 minutes over low heat. Colour saturation can be adjusted by reducing or increasing the amount of juice.
Food colourings. This is a simpler, but less useful option. You need to add a few granules of the colouring powder to the wax.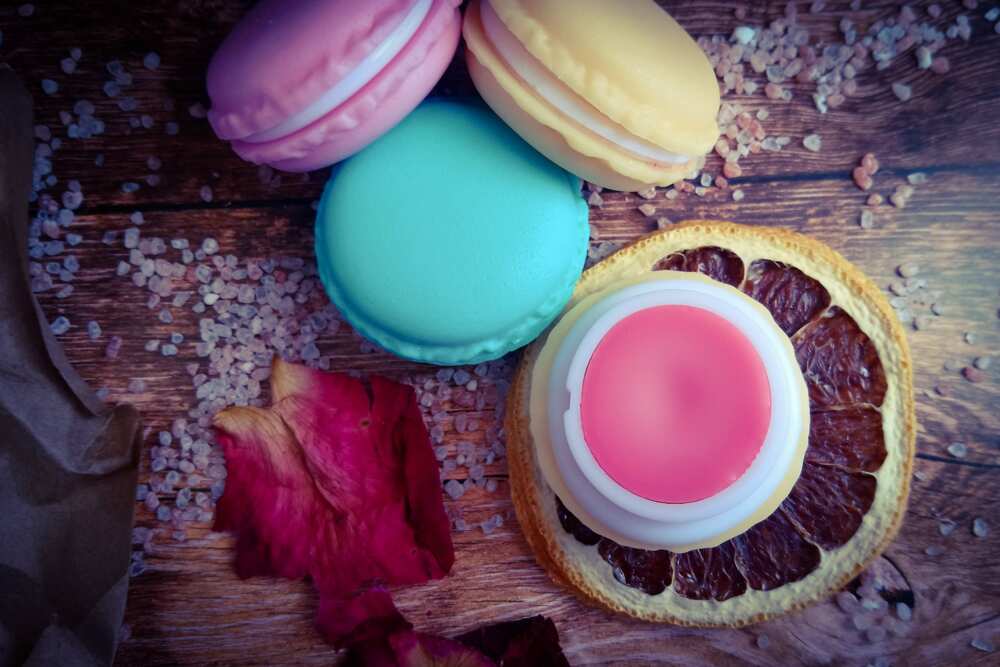 Well, to bring the balm to full perfection, you will need to give it a scent. For this, 4-7 drops of essential oil are suitable:
Spice aromas - mint, clove, cinnamon, ginger. These oils have strong warming properties and stimulate blood flow. This gives brightness to the natural colour of the lips and significantly increases their volume. Therefore, these oils are often added to the lip balm.
Refreshing aromas - grapefruit, mandarin, lemon, lime. The oils are not easy to provide a feeling of freshness but also protect the lips from exposure to sunlight.
Light aromas - lavender, bergamot, vanilla, thuja. The oils saturate the balm with an unobtrusive odour, while perfectly protecting the lips from harmful factors.
Using these simple ingredients, you will get amazing lips balm.
Important! Use essential oils carefully if you are allergic or pregnant. Take a sensitivity test - put a drop on your hand and wait two hours. If there are no manifestations, you can use them.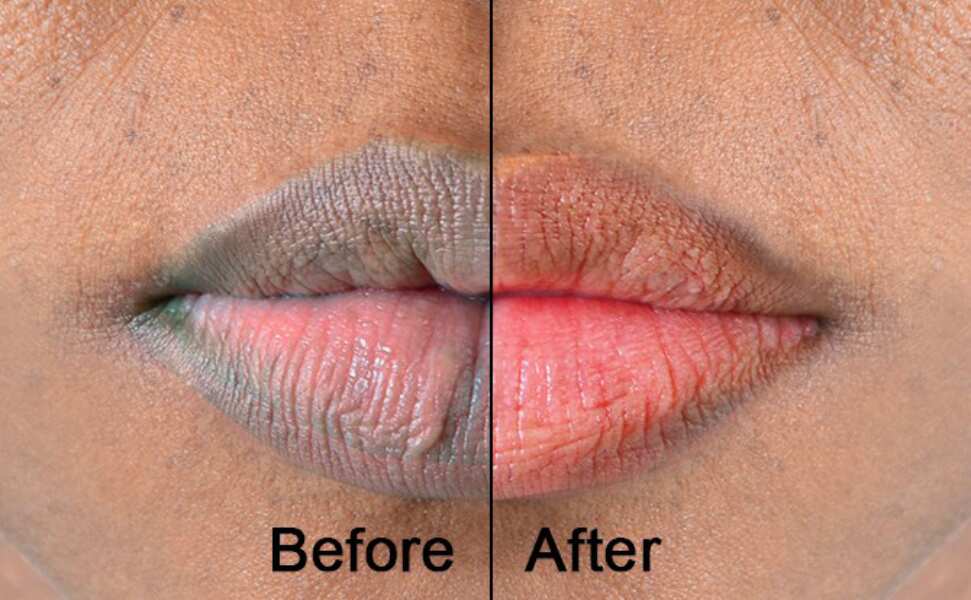 How to make nourishing pink lip balm
Lips always suffer from the hot sun, harmful substances in the lipstick, and even from the common deficiency of vitamins in the body. Make your lips attractive, pink, juicy, and well-groomed will help balm with nutritional composition.
Honey rose lip balm recipe
List of ingredients:
Beeswax - 35 g.
Essential rose oil - 3-5 drops.
Flower honey - 1 tsp.
Avocado oil - 20 ml.
Pink powder - 1 g.
Preparation of the balm:
Melt the wax, pour in the avocado oil and hold the mixture for a couple of 1.5 minutes.
Now add honey with rose oil, powder.
Pour the mixture into an empty block of old lipstick and let it harden. Thus, you get an excellent 2in1 nutrient - lipstick and lip balm.

Fruit lip balm recipe
If you want not only to moisten the lips but also to make them bright and unique, then fruit lip balms will be more relevant than ever.
List of ingredients:
Beeswax - 15 g.
Jojoba oil - 10 ml.
Coconut oil - 15 g.
Crystal menthol - 20 g.
Wit. E - ½ tsp.
Sea buckthorn oil - ½ tsp.
Cranberry/beetroot juice - ½ tsp
Preparation of balm:
In the heated wax, add menthol powder and coconut oil.
Then add a little jojoba and vitamin E.
Add cranberry or beetroot juice for pink colour.
Allow the balsam to cool and harden.

How to make a restorative pink lip balm
If the lips are strongly cracked, dried, inflamed and have lost the pink shine, they need to be "reanimated" immediately, you can make a balm with enhanced regenerating properties.
Honey olive lip balm recipe
List of ingredients:
Flower wax - 3 tsp.
Olive oil - 10 ml
White honey - 1 tbsp.
Cherry or beetroot juice - ½ tsp
Preparation of balm:
Melt the wax on the steam, pour in the oil and add honey.
Additionally, you can add ¼ tsp of a liquid solution of tocopherol and essential oil for odour.
It is better to use cherry or beetroot juice for pink colour.
When heating, make sure that the mixture does not boil, otherwise, the honey will lose its usefulness.
pour the balm in a small jar with a lid and send it in the fridge.

How to make a moisturizing pink lip balm
An important step in the care of lips is their moisturizing. Balm, prepared by you, will handle this task the best.
Glycerin lip balm recipe
List of ingredients:
Jojoba oil - 50 ml.
Wax chips - 1 tbsp.
Glycerin - 20 ml.
Tangerine oil - 6 drops.
Beetroot juice - ½ tsp
Preparation of balm:
Add all ingredients to the softened wax.
For pink colour add beetroot juice.
Allow the balm to cool completely and use.

So you can easily make a lot of delicious, fragrant, colourful and, most importantly, healthy lip balms. You can use different products, so feel free to change the ingredients to your taste. And then with such a balm, your lips will look gorgeous. Preparation of the balm does not require expensive components or specific skills. The main thing is that all the ingredients are natural and fresh, and their proportions are maintained correctly. You can safely experiment with the components, inventing your own unique recipes. One small jar of the balm is enough for 4-5 months.
Source: Legit.ng