Nigerian dishes and snacks everyone should taste
There are so many amazing meals that represent Nigerian cuisine to the fullest, that you can always find a new recipe to prepare something extra delicious and unique. Let us look at the top Nigerian dishes and snacks that are must-try in 2018 and 2019. You will love the taste, we promise!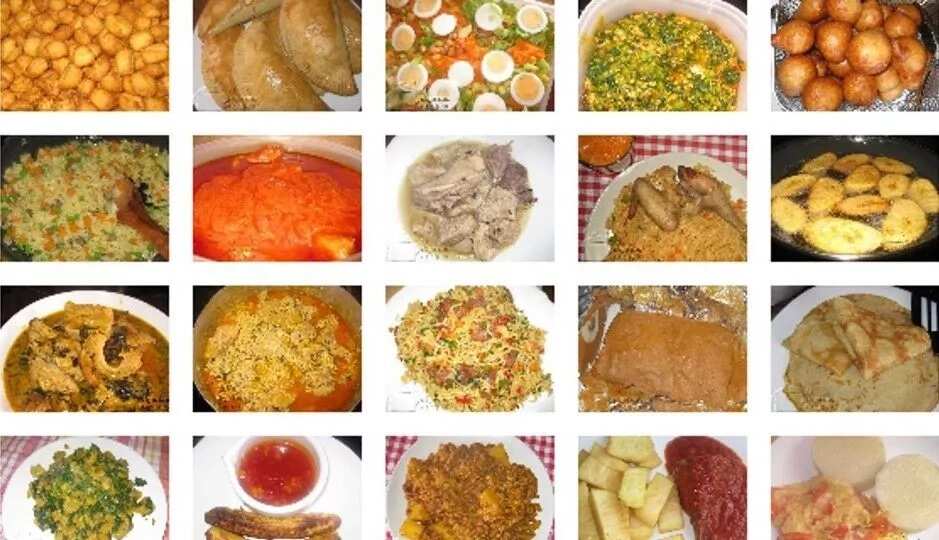 Top dishes and snacks from Nigerian cuisine
Any day of the week can become a holiday if you spend some time in the kitchen and try one of the Nigerian cuisine recipes.
Our country boasts so many different dishes and snacks that you can spend years discovering and testing new ideas for impressive Nigerian meals.
What are the main foods you have to try even if you are not a big foodie? What are all those different types of snacks and meals you can discover?
We should note that the traditional Nigerian cuisine can be virtually divided into several major types of food:
Main dishes (for dinner)
Different types of snacks (to eat with other meals or alone)
Nigerian soups
Sweet meals (desserts)
Below you will find some of the tastiest Nigerian dishes and snacks listed by the categories mentioned above.
READ ALSO: Top 10 Nigerian snacks and how to make them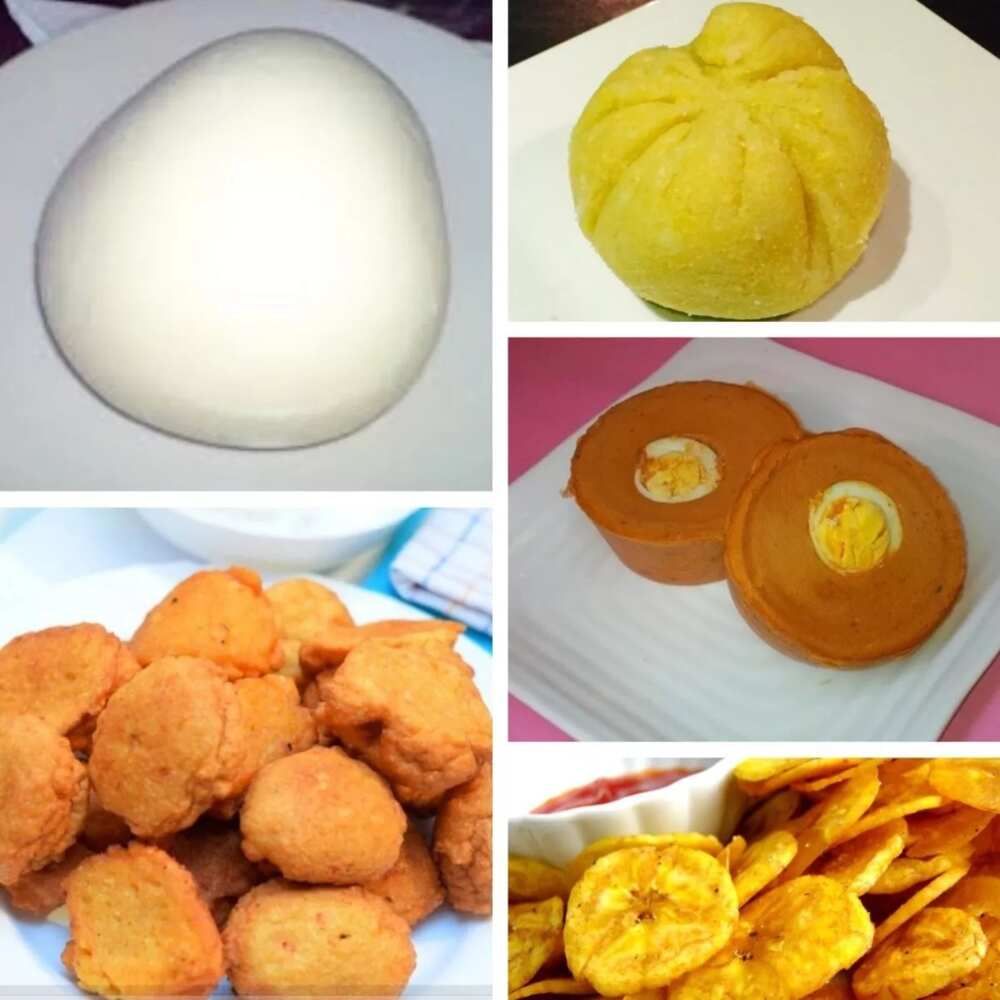 Nigerian snacks: Top 5
Some of the snacks loved by Nigerians can be eaten for breakfast or between main meals, and others can be easily served with soups and dinner dishes as an additional garnish.
1. Pounded Yam
This is a very popular Nigerian snack that tastes even better when you serve it with a soup (Okro, Egusi, with vegetables or another type). You can find yam in your local market and boil it to turn into a nice mash state. You will love the original taste of pounded yam, as many people from Yoruba and Igbo communities cannot image their lives without this snack.
2. Akara
These snack cakes are delicious. If you are not in love with cooking and your kitchen, you can easily get some Akara at the local market in Nigeria. However, all types of snacks taste way better when they are homemade. Do you agree? The recipe is simple, and you can find it online and follow the quick steps to fry your own bean cake to enjoy with family or friends.
3. Garri
Many Nigerian families love this snack. It is made from cassava tubers that are turned into a mash and then become flour you can easily bake. You can eat Garri in the morning and even turn it into garnish by adding some hot water. Such garnish tastes wonderful if you have it with stew, soup or another dish.
4. Moi moi
This is the pudding-like snack that is made from eggs, onion, crayfish, beans, and often corned beef. You can prepare Moi Moi (some people call it Moin Moin) on the weekend and enjoy for breakfast, or you can eat your steamed beans snack with different types of Nigerian meals like soups or stews.
5. Plantain chips
Children love this snack, so if you have kids in your family, you are highly advised to prepare some plantain chips for them. All you'll need for this dish are some unripe plantains and oil. The chips are cooked similar to French fries, however, they taste even better when made from plantain.
READ ALSO: How to make Nigerian meat pie with stove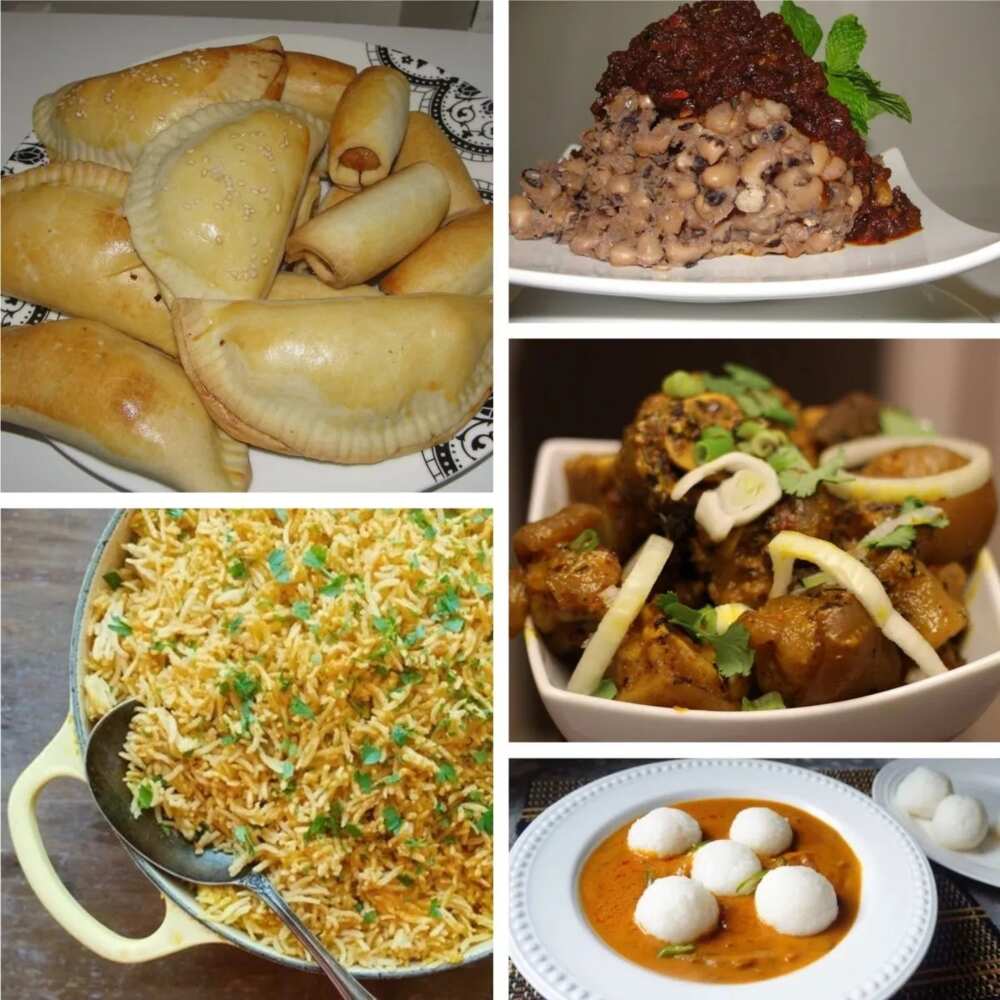 Nigerian dishes: 5 most popular
Different nations love to base their cuisine on a similar product basket. For example, when you look at the dishes enjoyed in Nigeria, you will see that many of them include rice, meat, and spices as main ingredients.
1. Jollof rice
People who live in Nigeria or are visiting our country can easily cook Jollof rice for dinner. This rice tastes delicious with fried chicken. It is nutritious and very tasty. Rice and chicken are cooked in the same pot, and this stew becomes complete when you add pepper, tomatoes, palm oil, and other popular ingredients.
2. Tuwo shinkafa
This food can become your holiday dish. You can make it for Christmas, birthday party or a happy weekend. Tuwo Shinkafa is made from white rice that is formed into cute balls. The meal can be more nutritious if you add spicy sauce (with or without meat) to your rice.
3. Ewa Aganyin stew
If you enjoy eating beans for dinner you should cook Ewa Aganyin. Being one of the top Nigerian dishes, this meal is made from pepper and beans. The taste will be soft and unique, and you'll surprise people you love with this incredible traditional food.
4. Meat pie
While some people refer to meat pie as to a snack, this dish can be made for breakfast or dinner, or for the long weekends and holidays. You can include meat and vegetables into the recipe and make meat pies with a different filling. Besides, you can make your meat pies of different shapes (stars, hearts, flowers) and organize a delicious celebration.
5. Nkwobi
If you happen to have a cow leg in your refrigerator, you can make a party and cook Nkwobi. This Nigerian dish is usually served as a delicacy at restaurants, but families who wish to celebrate something important can also make the cow meal at their home.
READ ALSO: Top Nigerian soups & stews recipes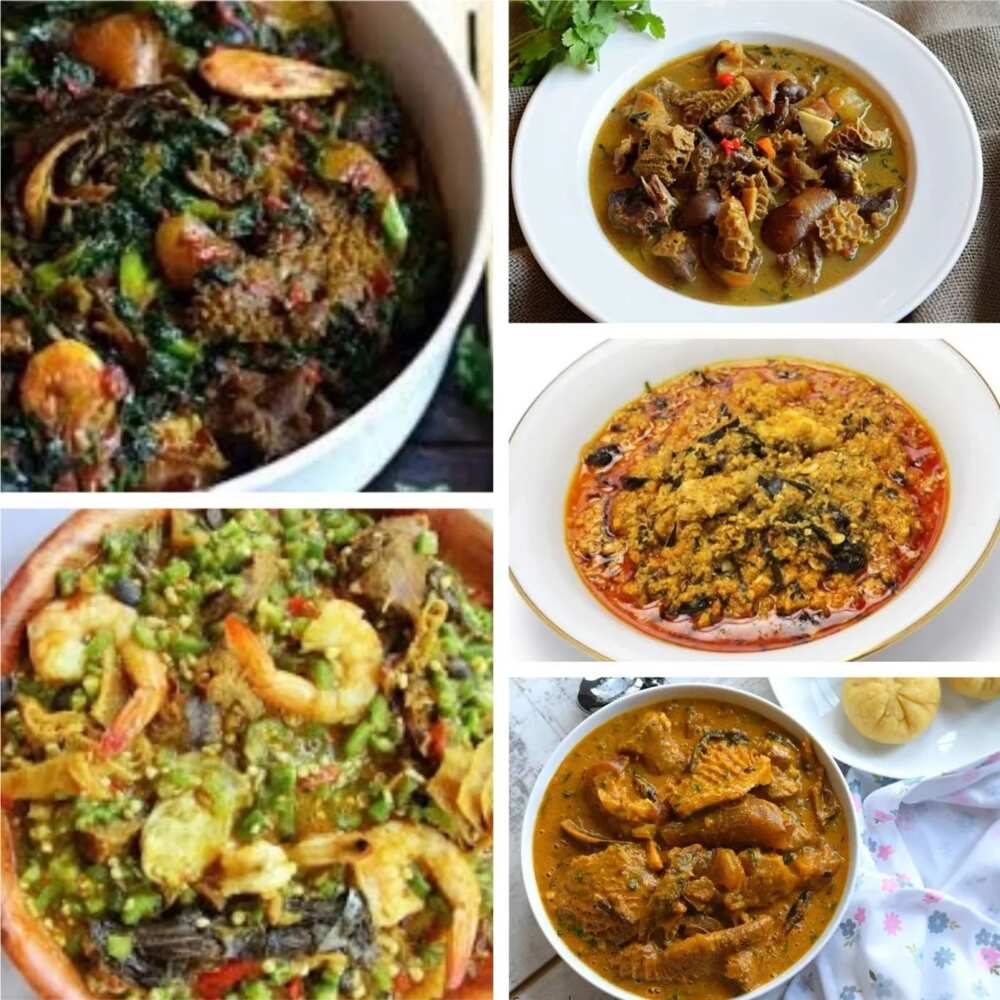 Nigerian soups: best 5
Millions of citizens of Nigeria love to prepare soups for dinner. Take a look at the nation's most favorite soup ideas in 2018.
1. Okro soup
This is an excellent idea for a spring meal. Add green vegetables to your Okro soup, and it will be delicious and extra healthy. Add some fish (some people prefer making it with cow meat), palm oil, pepper, and the result will be very tasty.
2. Egusi soup
This dish is based on vegetables and ground melon seeds. Different communities in Nigeria like to add different types of meat to their Egusi Soup. You can make it with shellfish or use goat meat (beef, any fish) to play with flavors and make it unique.
3. Ogbono soup
You should base this soup on Ogbono seeds. It is up to you whether to add vegetables or find a recipe without them. It is also up to you which meat or fish to add to your dish. Use your favorite stock cubes, pepper, crayfish, onions along with the meat/vegetables and you'll cook the most delicious Ogbono Soup ever.
4. Vegetable soup
This is one of the most delicious soups that can be made in the fall. You can use leaves from pumpkin, your favorite meat or fish, add pepper, onion, several seasoning cubes, crayfish, salt, and palm oil. Many Nigerians prefer cooking their vegetable soup with water leaves instead of pumpkin ones. The result will be amazing no matter which leaves you will use because this dish is healthy and very nutritious.
5. Pepper soup
Pepper soup is one of the favorite soups in the country. Nigerians always enjoyed spicy foods, but this particular meal is very popular for dinners. The soup is cooked from any meat (beef, chicken, fish, etc.), peppers, spicy vegetables (onion, garlic, ginger) and additional seasonings of your choice. The taste is superb. Every true Nigerian should eat pepper soup several times a month.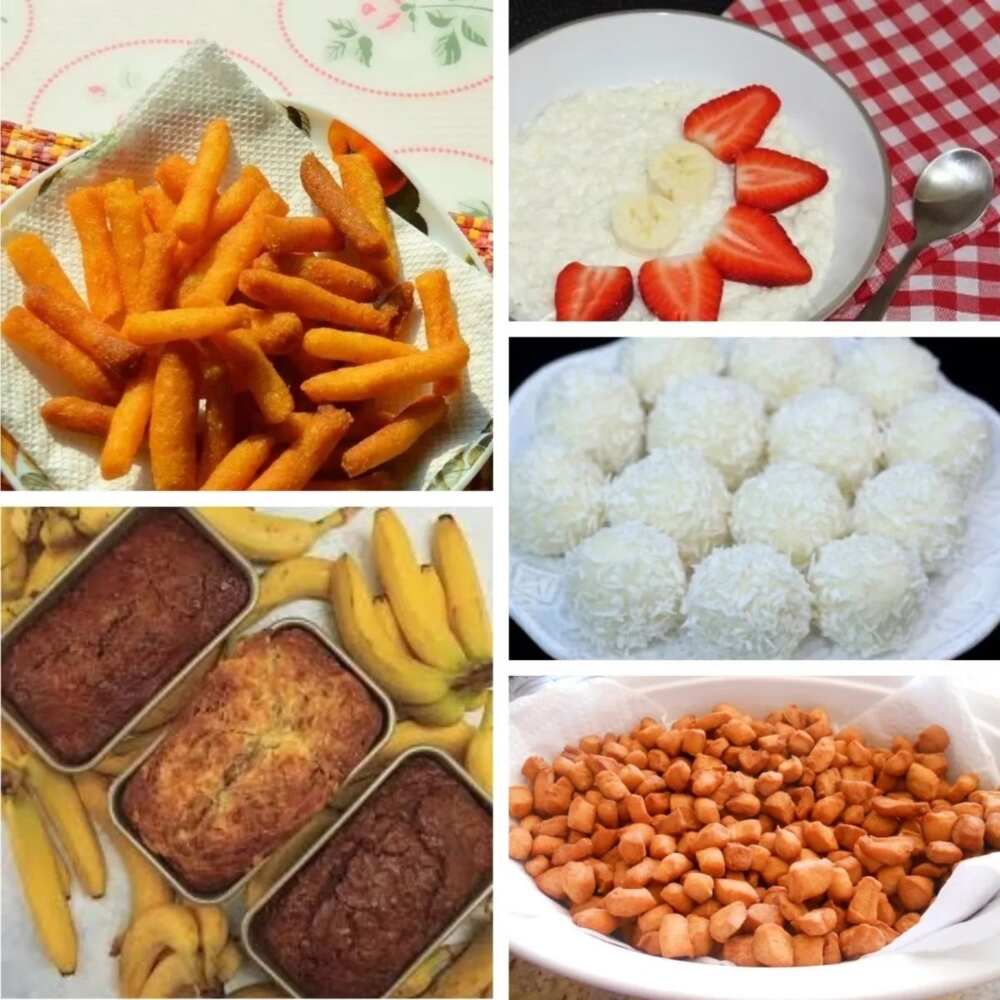 Nigerian meals for the sweet tooth: Top 5
Sometimes we all have cravings for sweets. Luckily, there are many awesome snacks and desserts all Nigerians should know about.
1. Coconut candy
These candies are sweet and delicious. They are made from coconuts that are caramelized into chewable and tasty dessert. You can make this meal for your children or beloved husband. Coconut candies can be stored in a cool place and eaten as treats after the main meal.
2. Milky rice
This tasty dish can be made for breakfast. You can make it sweet by adding some sugar and fruits. Boil rice, mix it with milk or milk powder, add sweetener to your taste. Your milky rice will look like pudding, and you can easily decorate it with pieces of ripe plantain, strawberries or a different fruit.
3. Chin chin
Made from the dough, this snack can be made sweet, or you can use delicious chocolate and coconut toppings after you deep fry your Chin Chin. Make them of any shape (balls, hearts, stars, etc.) and enjoy with tea, juice or milk.
4. Banana bread
This snack can be used as your breakfast dessert because you can eat tasty banana bread with jam and butter. The meal takes some time to prepare, so it is better to bake your bread in the weekend and enjoy throughout the week. Kids love sandwiches made from this type of Nigerian bread.
5. Kokoro
This popular Nigerian snack can also become your daily dessert or treat. It is made from cornmeal and sweeteners. Some people like to make their Kokoro spicy, but you can make it sweet and delicious, perfect for breakfast.
These are the most popular Nigerian dishes and snacks that are loved by millions of families from all over the country. You can prepare different meals every day of the week and make every day special, delicious, and unusual.
READ ALSO: Nigerian snacks - Top 10 street foods you should taste
Source: Legit.ng