Best site to sell iTunes and Amazon gift cards in Nigeria - Cardtonic
Are you looking for where to sell iTunes and Amazon Gift Card at good Naira rates? So was John. John searched every corner of the internet for where to exchange his iTunes gift card, Amazon gift card, steam gift card, google play gift card but no luck. Till he found Cardtonic.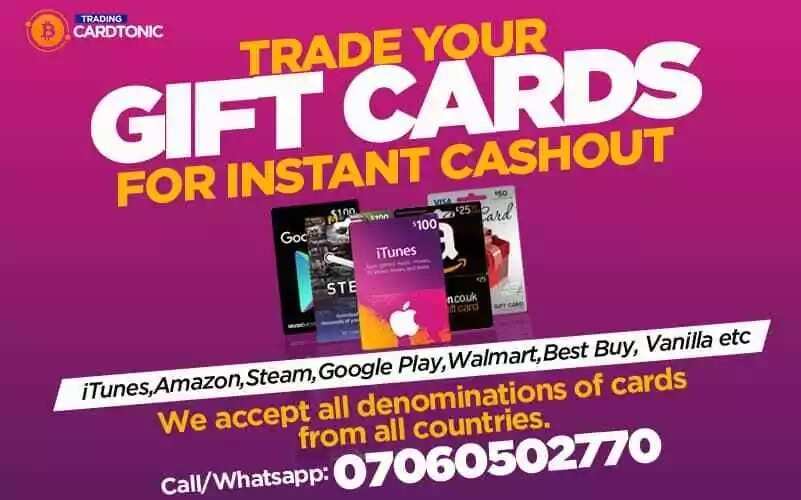 But before we talk about how John made money by selling his gift cards to Cardtonic, we must begin with the problems he encountered. It's probably why you're here, reading this article.
There are three types of buyers you are likely to encounter when searching for a website to sell gift cards like amazon gift cards, steam gift cards, googleplay gift card and iTunes gift card in Nigeria. These include;
● The Middlemen Vendors
● The Short Con Artists
● The Long Con Artists
Let's delve a little deeper, shall we?
3 Vendors You Shouldn't Sell iTunes and Amazon Gift Card To
Outlined below are two types of gift card vendors you must avoid at all cost.
1. The Middlemen Vendors
These are legitimate buyers of gift cards (or at times, not). But often times, it's alright for you to sell your gift cards to them, right? No, it isn't. Not if you want a better rate.
Think of the gift card vendors in this category as middlemen. They're all over the internet and on WhatsApp groups looking to make some profit by purchasing iTunes, Amazon, steam wallet, googleplay and any other major brand of a gift card from gullible sellers. In turn, they sell to direct loaders such as Cardtonic to turn in a tidy profit.
To get a better rate for your iTunes and Amazon cards, stay away from these categories of buyers. There's just one little question, how can you spot a middleman?
Middlemen are difficult to spot, especially if you have no experience selling gift cards in Nigeria. However, knowing the best rate before you sell iTunes and Amazon gift card to a guy you met on Facebook helps.
Also, it takes middlemen a great deal of time to convert itunes gift cards to naira, same as amazon and others. Because they are not using directly, they are brokering it.
2. The Short Con Artists
These are people that intend to scam you out of your gift card. You'll recognize them by the too-good-to-be-true rates they offer. That's how they rope in their victims to cheat them out of their gift cards.
The short con artists are easy to spot. You'll find them on every social networking site, Facebook, Twitter, Instagram, Telegram and WhatsApp groups, preaching about the high return you'll get for your gift card.
After sending your gift card, they're gone. You won't hear a word from them again. If it sounds too good to be true, it probably is.
3. The Long Con Artists
Like the short con artists, these guys also have the intention of scamming you. But unlike the short con, they are in it for the long haul. So, they set up a website and social media pages to gain a semblance of legitimacy.
Like a Ponzi scheme, they run this website for a while, and slowly gaining people's trust. The long con artists will offer you a great rate and make good on this promise. But make no mistake, they'll disappear with your gift card when you least expect it.
Now you're wondering how to spot them. Unfortunately, they are impossible to spot. It could be the website you wanted to use before reading this article or the website you're currently using.
This begs an important question, where can you sell iTunes and Amazon gift card at good Naira rates without getting cheated? Relax, we're almost there.
Cardtonic; The Best Site to Sell iTunes and Amazon Gift Card
Rather than trying to differentiate a scammer from a middleman, why not use a verified exchange? That's right, we're talking about Cardtonic. That was what John did.
Not only would you be enjoying a great rate, you'll also enjoy a fast transaction. Most importantly, you'll have peace of mind, knowing that you're using a legitimate exchange.
So, how can you sell your gift card on this exchange, you ask?
The process is quite simple. In fact, so easy that we have summarized it into five bullet points. Here they are;
1. Visit Cardtonic.com or Contact us directly on Whatsapp by clicking HERE.
2. Request for gift card rates
3. Make contact with a Cardtonic sales agent
4. Send your unredeemed gift card to the sales agent
5. Get Paid within 5 minutes
Now, giving a summary of ow you can sell varieties of gift cards on this platform:
1. Sell ITunes Card For Naira Cash
On Cardtonic, you can sell iTunes gift cards for cash in Nigeria. They buy various countries (IUSA, AUD, CAD, UK, EURO), iTunes ecodes, and big single denominations (150 Single, 200 Single e.t.c).
2. Exchange Amazon Gift Cards For Naira
Sell Amazon Gift Cards For Cash fast with receipt or without receipt. They also buy Amazon ecodes, credit card receipts and various countries.
3. Sell Steam Wallet Gift Cards In Nigeria
On Cardtonic, you can trade your steam gift cards for naira the easiest way.
It doesn't matter what the denomination of gift card you intend to sell it, or the form. Cardtonic accepts all major denominations, currencies and forms. Snap it or text is, just as long as you send it.
Please note that you won't get paid for gift cards that have already been redeemed. So, to avoid super stories, check the validity of your gift card before making any contact.
On a Final Note
Knowing the best site to exchange iTunes and Amazon gift card is just as important as knowing where not to. So, to save yourself the headache of wondering which site is a fraud and which is legit, simply use an already verified site. Loads of testimonials speak for them. Even better, you would be getting a great rate.
What are you waiting for? Be like John and use Cardtonic today.
Contact Info;
Website: Cardtonic.com
Call: +2347060502770
WhatsApp: +2347060502770
Email: info@cardtonic.com
[Sponsored]
Source: Legit.ng