Have you been looking for jobs in Nigeria, but to no avail? Then you must have been looking in the wrong places! Let us share with you the list of free job posting sites in Nigeria, so that you can finally find the job of your dreams, and for free. Check it out!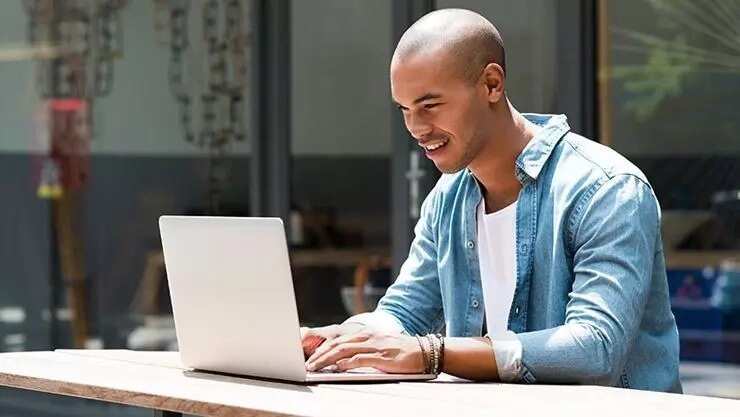 If you have been looking for a job for quite a while, you are probably aware that there are a lot of job sites in Nigeria. And we mean a lot. However, not all of them offer the same quality services, and some even ask you to pay them to find you some job vacancies in Nigeria. That said, we were still able to compile a list of 10 free job posting sites in Nigeria just for you. You can also see the websites' rank in Nigeria (April 2018), according to Alexa.
Hot Nigerian Jobs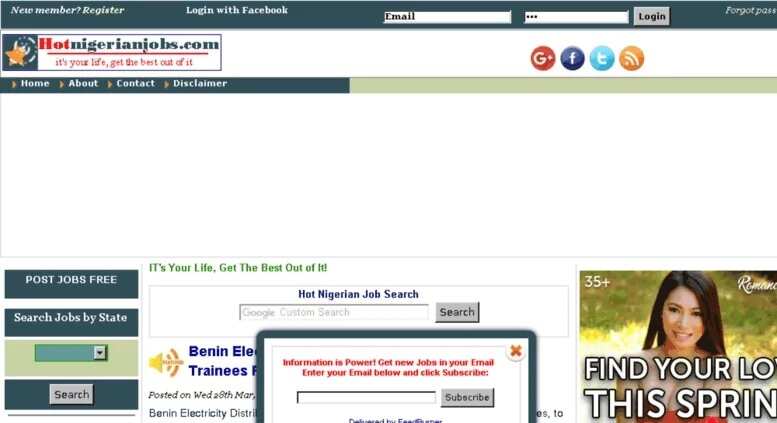 Address: www.hotnigerianjobs.com
Rank in Nigeria: 66
Hot Nigerian Jobs is free to use for both employers and potential employees. You can browse through hundreds of job postings and use a whole array of different filters to tailor your search to your liking. It also offers various articles on the latest job opportunities.
This website is one of the oldest ones of its kind in Nigeria, and it is well-known among Nigerian graduates. You can find your own hot Nigeria job with this great website.
myJobMag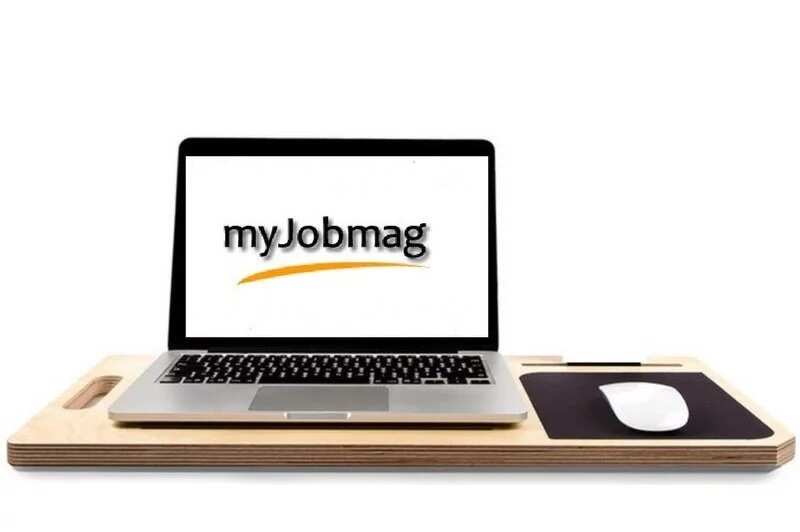 Address: www.myjobmag.com
Rank in Nigeria: 81
Since 2010, myJobMag has been providing a platform that connects employers with their potential employees. If you are an employer, you can post for free or get your job ad to the top for a little cash. If you are an employee, you can browse the job offers free of charge.
Over the course of its relatively short existence, myJobMag has managed to become one of the leading platforms for job seekers in Nigeria. All job adverts on the website are verified, and they even offer some jobs that are otherwise unadvertised anywhere else, so check it out.
NG Careers

Address: www.ngcareers.com
Rank in Nigeria: 98
Similarly to the rest of the websites on this list, NG Careers claims to be Nigeria's top website for job searching, recruitment and starting a career. It is free to use for job seekers, but job posters have to pay a price for their job advertisement.
On the website, you can find hundreds of job ads, along with company reviews, CV templates, scholarships, trainings and more. For a certain price, you can even have your resume rewritten by professionals to make it more appealing for employers.
JobGurus

Address: jobgurus.com.ng
Rank in Nigeria: 165
JobGurus offers an online portal, where employers and job seekers can find each other. On this website, you can find job ads from companies big and small from all across Nigeria. Job searching is free for potential employees, but employers have to pay to use this platform.
You can browse available offers by industry, specialisation, location or even salary, depending on which factor is most important to you. JobGurus also provides a free aptitude test practice with questions and answers.
Jobberman

Address: www.jobberman.com
Rank in Nigeria: 171
Positioning themselves as Nigeria's №1 website with job offers, Jobberman helps employers find their employees and vice versa. However, while it is free to use for people that are looking for jobs, people that are looking for workers have to pay for their job advertisements.
The website was created by Ayodeji Adewunmi, Olalekan Olude and Opeyemi Awoyemi. Apart from giving you the opportunity to browse available job offers, it also offers career advice, as well as advice on CVs or job interviews to help you along the way.
Careers24

READ ALSO: How to write a good CV for fresh graduate in Nigeria?
Address: www.careers24.com.ng
Rank in Nigeria: 334
Careers24 allows both employers and people searching for jobs to achieve their respective goals free of charge. Hundreds of employers and thousands of job openings are available on this website. This platform provides the safest job searching environment, so that you do not get into the hands of scammers.
If you do not want to visit the website every single day in hopes of finding the right job, you can use their e-mail notification service, or job alert, to be notified when a job offer based on your personal preference becomes available. You can have multiple alerts, too.
Jobzilla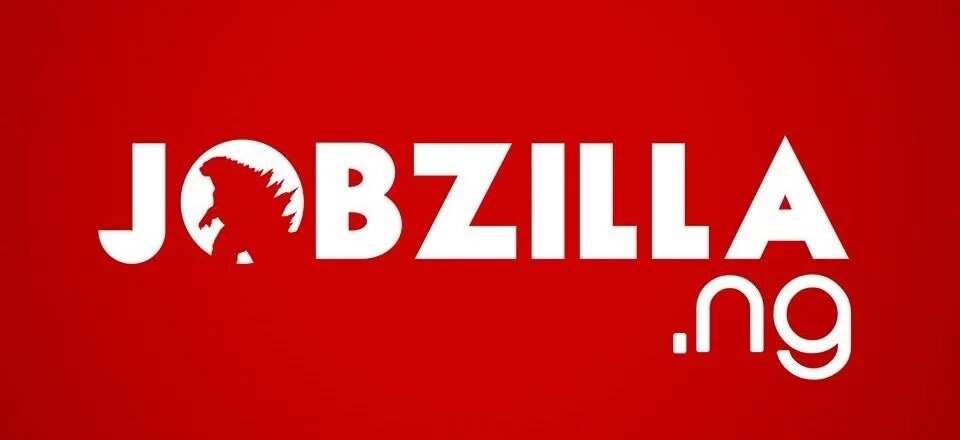 Address: www.jobzilla.ng
Rank in Nigeria: 374
Jobzilla provides people who are looking for a job with the latest job offers on the market in Nigeria. Sometimes, employees of Jobzilla go undercover to find scamming employers, so that you will not get tricked by them. The website also offers resources that should help people in their job search.
The main mission of Jobzilla is to crush unemployment in Nigeria, and that is exactly what they are trying to do by offering great job opportunities, exposing scammers and offering advice and useful materials for job seekers.
JustJobs NG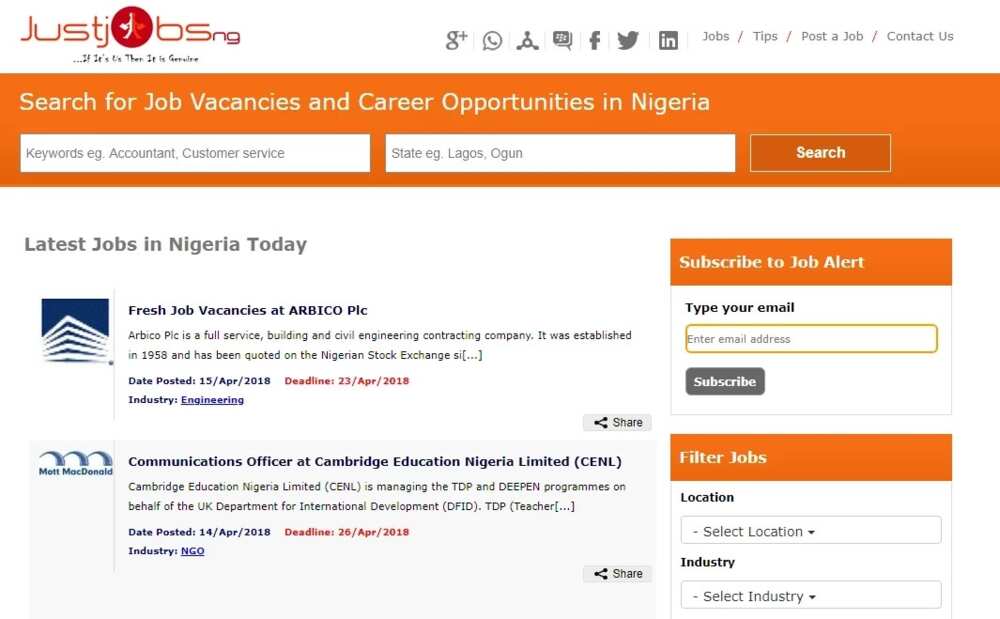 Address: www.justjobsng.com
Rank in Nigeria: 482
This website is focuses on job advertisement, shortlisting and recruitment of qualified personnel for clients from various sectors of economy. JustJobs NG takes job seeking very seriously, so you can be sure that you are browsing only genuine job offers.
The website's main mission is to remove the challenges all job seekers have to face in their search for a job and just make searching for jobs in Nigeria much easier.
Joblist Nigeria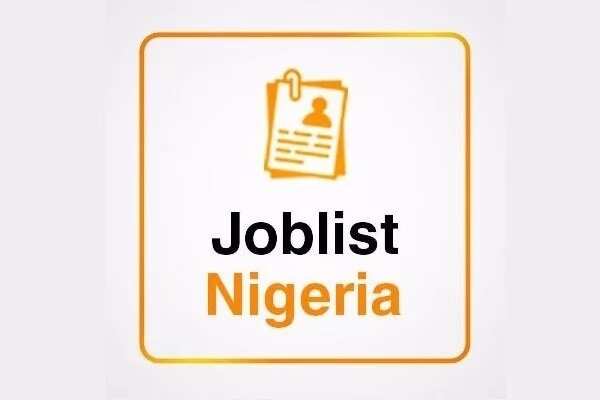 Address: www.joblistnigeria.com
Rank in Nigeria: 506
Here we have another leading website that offers a connection between employers and their potential employees. With its help, you can find a job that is just right for you, and their database is updated 24/7, so that you can see all the latest job ads. However, we have not been able to find out how employers can post their advertisements on the site.
With Joblist Nigeria, you can browse jobs by categories or companies and find the right fit for yourself. Alternatively, you can see the latest job offers right on the main page.
Naija Hot Jobs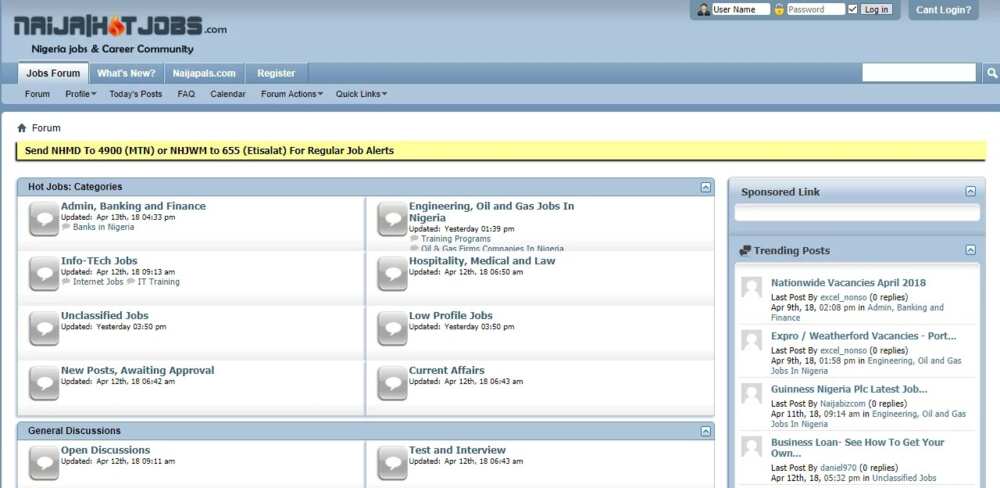 Address: www.naijahotjobs.com
Rank in Nigeria: 2,826
Unlike most of the websites on this list, this one provides a unique opportunity for employers and job seekers to communicate directly. It is a forum, where people can look for jobs, talk about jobs and do all kinds of job search-related things. One of its best features is a thread of known job fraudsters, so you can find out whether the job offer you have found is literally too good to be true.
The forum has over 300,000 topics and almost as many users. Apart from finding a job, you can also find some new friends on this website. So do not mind the relatively low rating, just give it a try!
Now you can find the latest jobs in Nigeria, and who knows, maybe you will finally be able to find the job that is right for you. Good luck!
READ ALSO: 10 online jobs for students in Nigeria