Igbo traditional attire for children
Traditional clothes are in high esteem among Nigerians. They buy or sew it not only for themselves but also for their children. We have gathered the best designs beautiful Igbo traditional attire for children for your cute little gentlemen and sweet little princesses.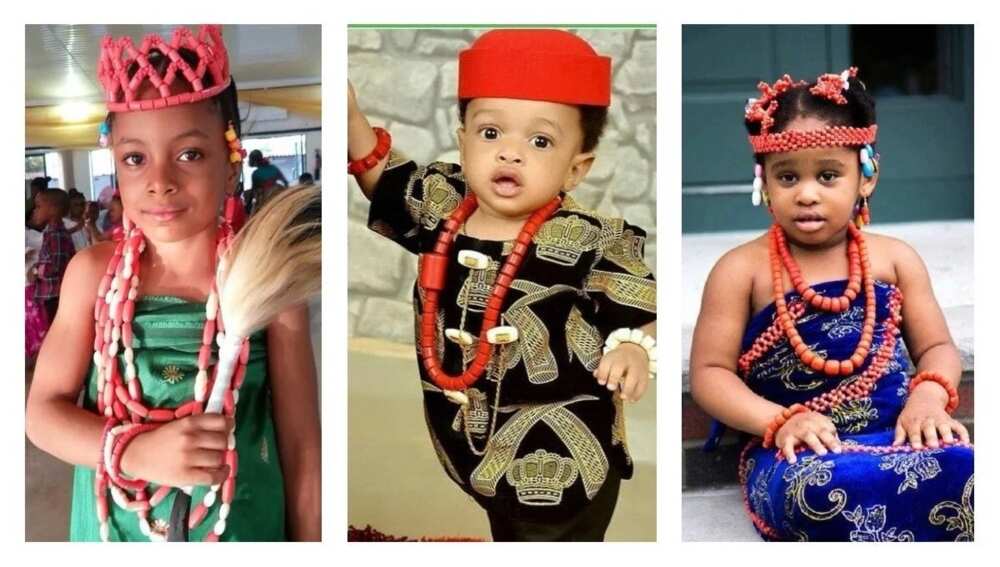 Traditional wears are bright and look very elegant. Children are especially adorable in their native styles. Love for their roots and traditions are instilled to kids from an early age with the help of Nigerian native wears, as well as a sense of ethnic belonging to a particular group or nationality.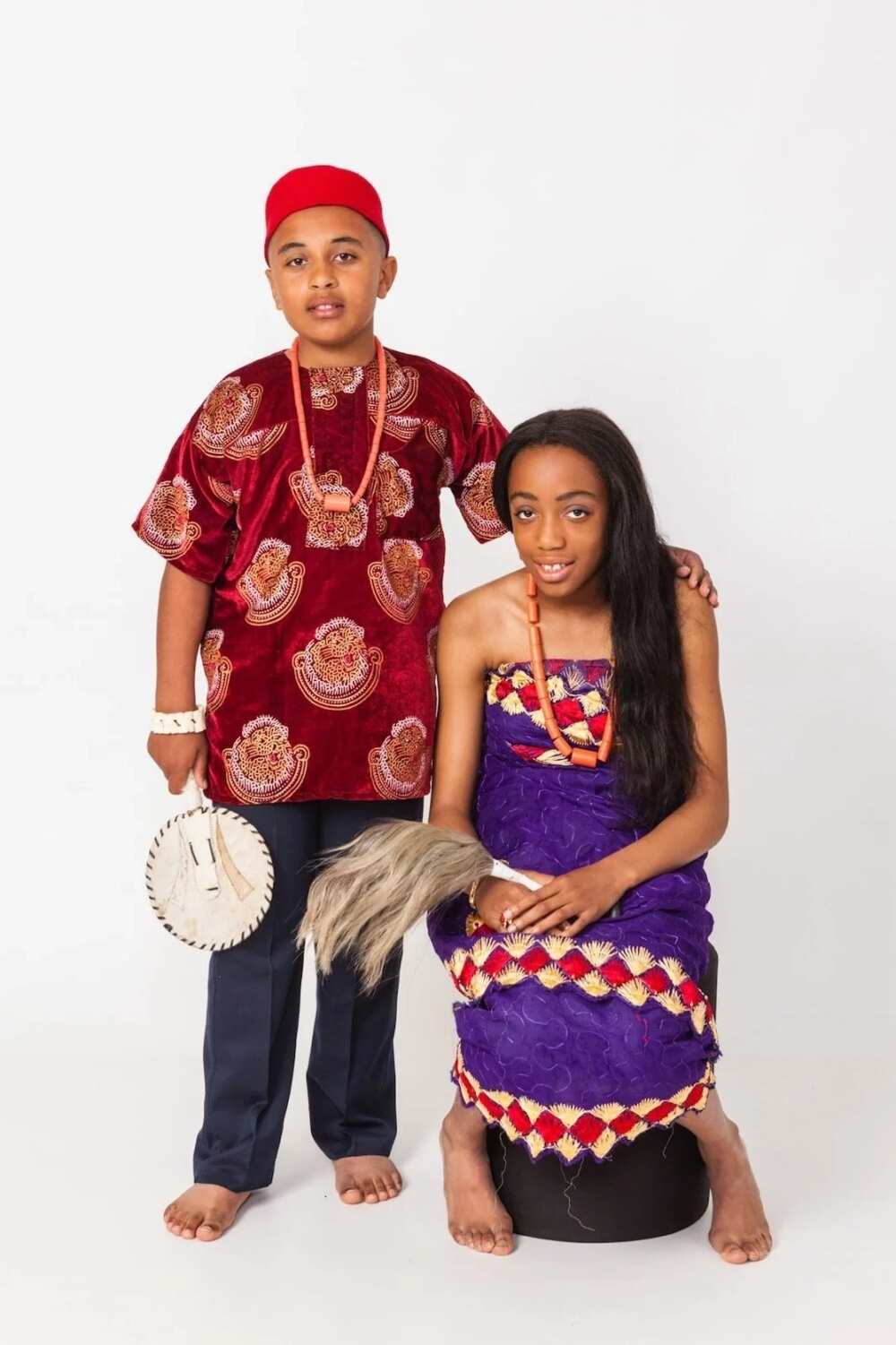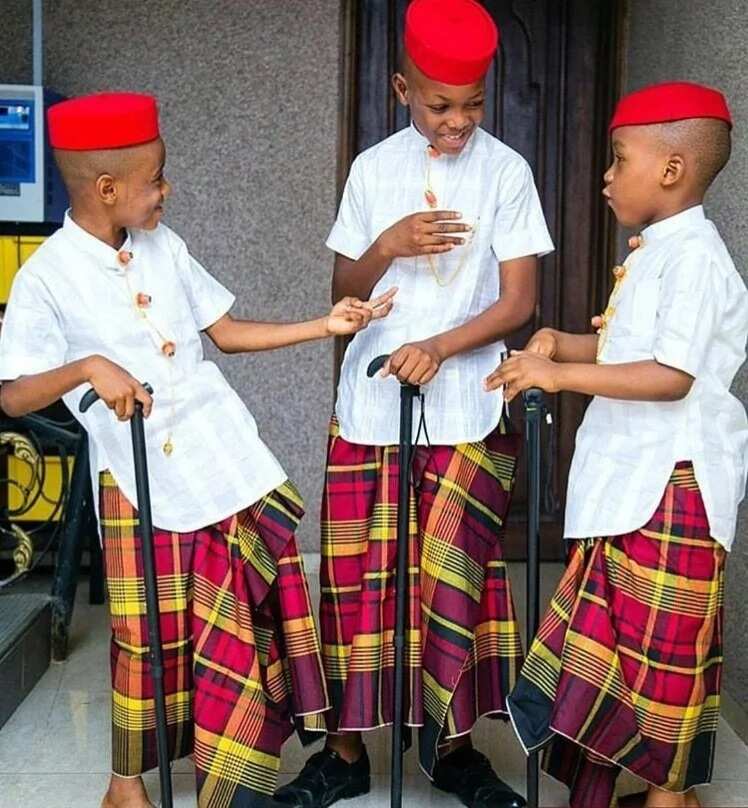 Igbo cultural dressing for boys
A traditional Igbo outfit for a boy usually consists of a wrapper twisted around the waist or trousers and tunic with short sleeves.
The wrapper is usually red, white or golden, it's tied on the side with the decorative node. In this case, you get a beautiful drapery. Also, the wrapper can be twisted neatly around the waist, and its tips are hidden inward.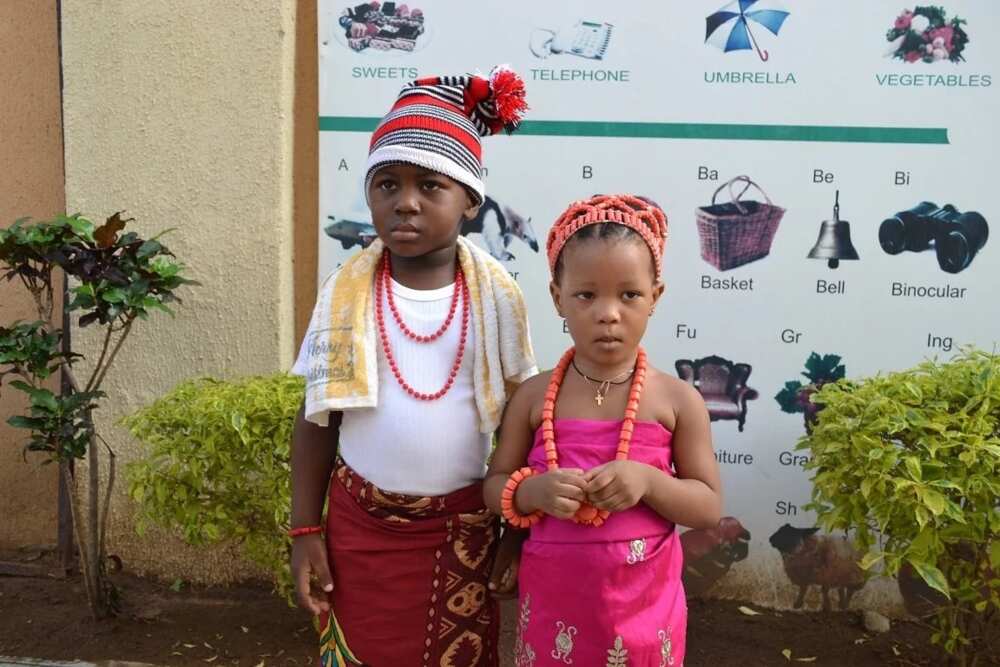 As for the pattern of the wrapper, it's often made in a traditional style. It's a geometric or floral ornament. It also may have animal patterns.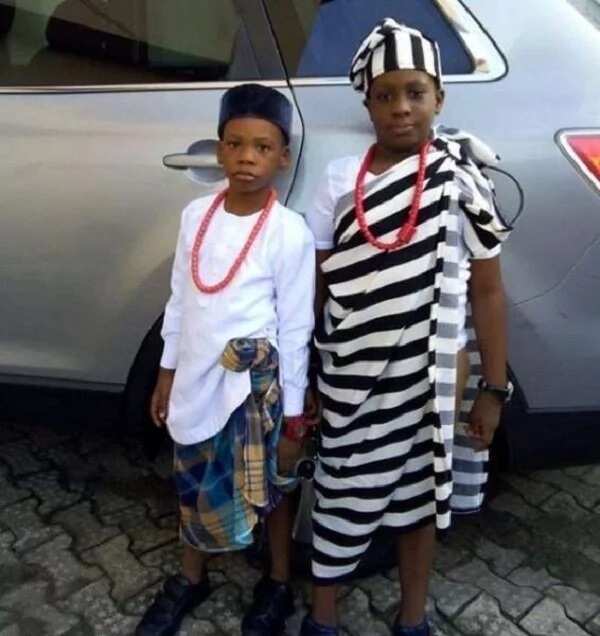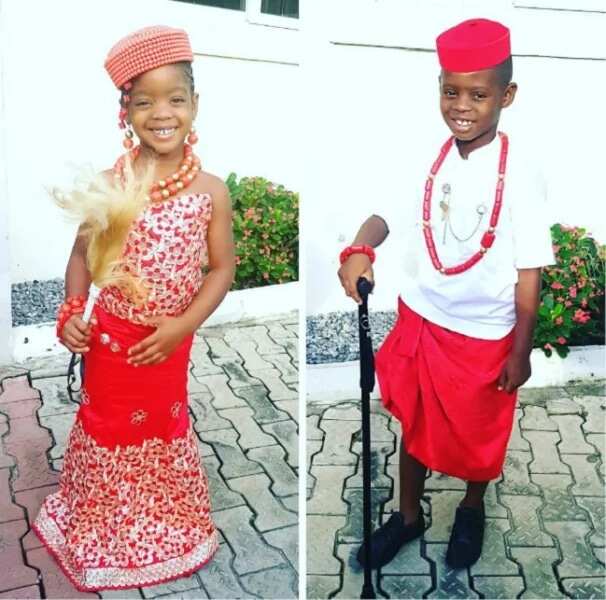 With bright wrapper, a white tunic or shirt is good. Such tunics are made straight with the length to the middle of the thigh or slightly shorter. On the sides, there are small slits. The tunic has a collar-stand and short or elbow-long sleeves. On the chest, you can see an embroidery or decorative trim with buttons and thin chains. The embroidery on an Igbo tunic or shirt usually looks like an ornate pattern. The elegant variant of the white tunic has white embroidery.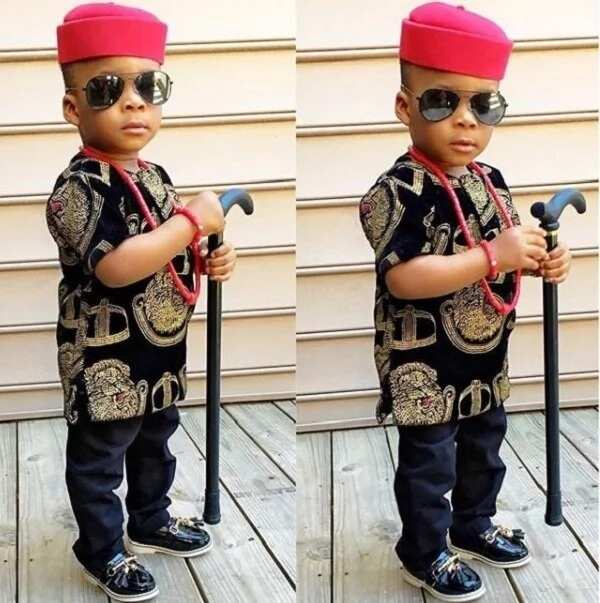 In addition to the white options, in traditional attires for boys, the colorful tunics are also used. They are usually red, burgundy or black with golden ornaments.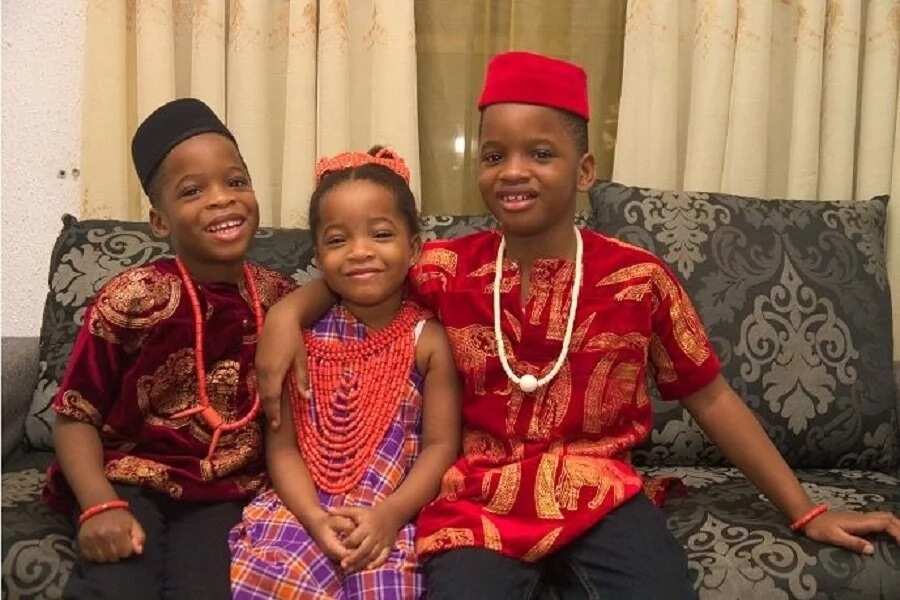 A necessary element of Igbo attire is a rather long necklace made of large corals. Also, many boys, like adult men, wear a red or black Igbo cap.
READ ALSO: Latest Ankara styles for children to wear in 2018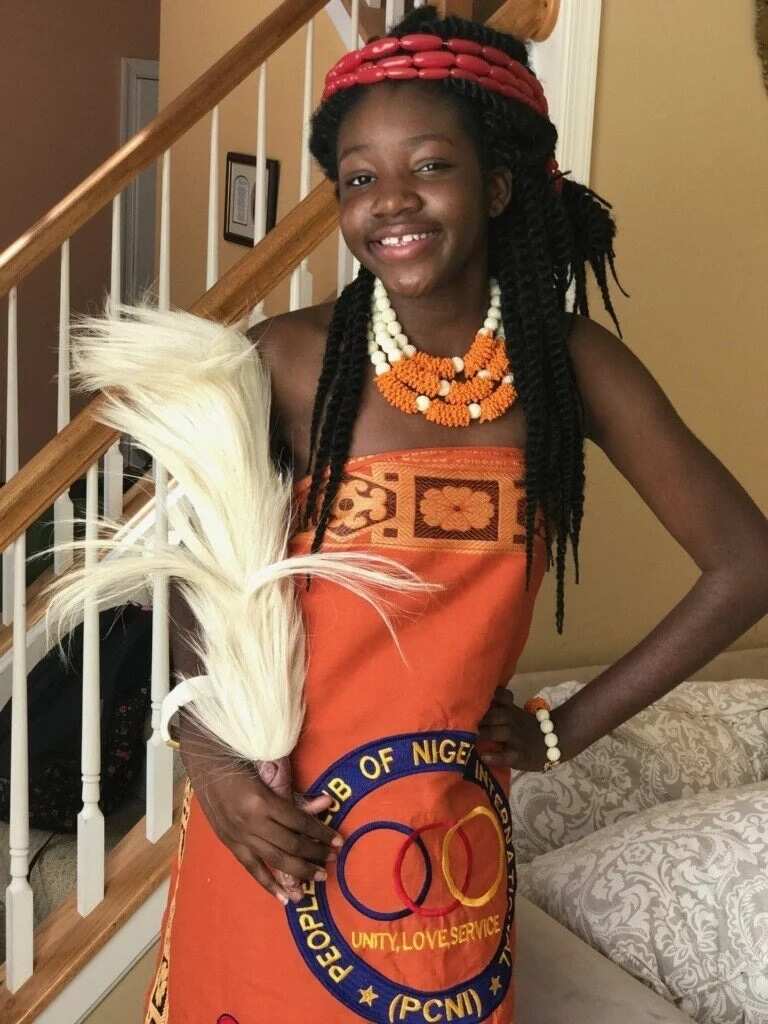 Igbo traditional attire for girls
Igbo outfits for girls consist of a wrapper or a straight dress with sleeves or without them. For girls, the wrapper makes the function of a dress. It's twisted around the and under the arms, completely covering the chest and creating a straight silhouette. The wrapper's length is up to the floor or below the knees. In this outfit, the shoulders of a girl stay opened.
The traditional gown is made straight too. The neckline in such dress is usually round. Also, there are options and with open shoulders.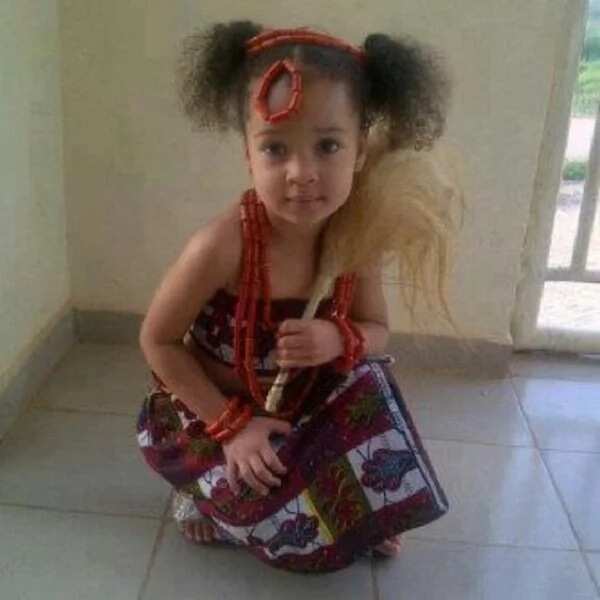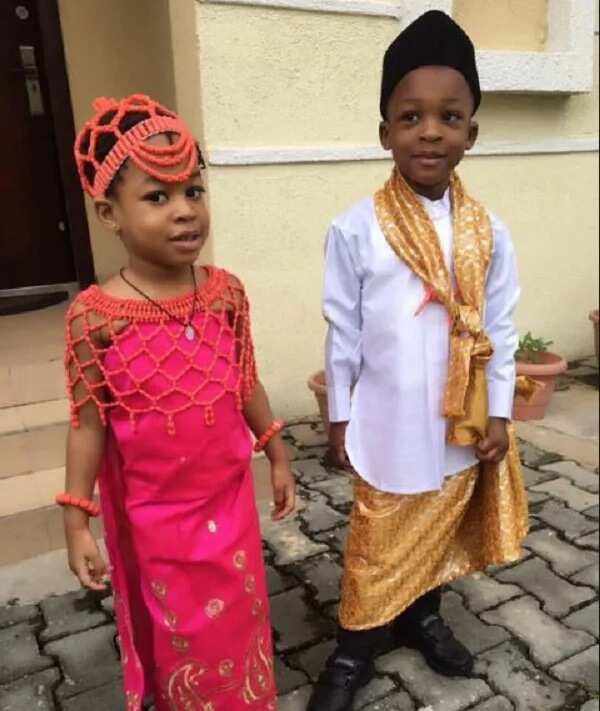 As for the color palette of the girls' outfits, all the varieties of red are predominant too. The range is from bright red to burgundy and crimson. Also, there are blue, green, and sandy colors. The textile's pattern is usually golden or silver.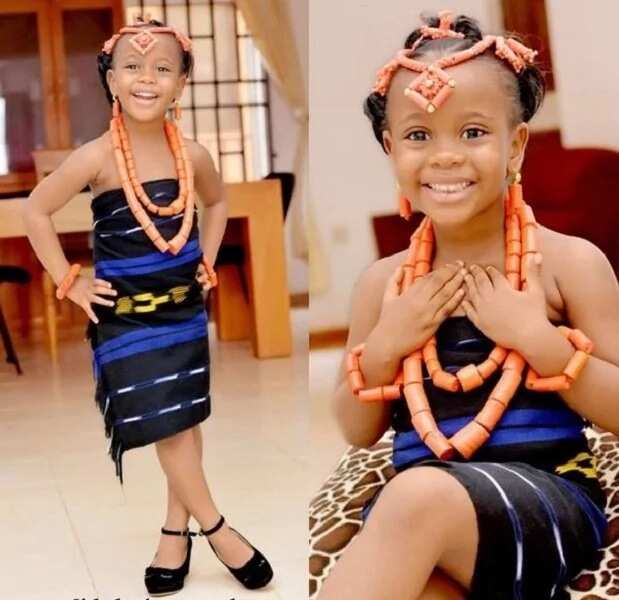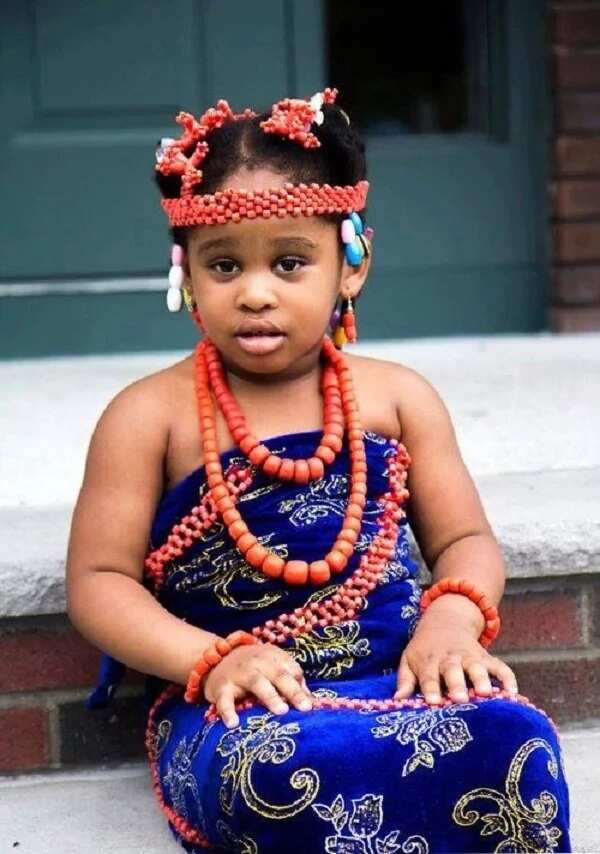 Jewelry with corals is also a mandatory attribute of the Igbo outfit for a girl. Young ladies wear not only coral beads and necklaces but also bracelets, earrings, and jewelry for the head. Among them, there are all kinds of hairpins, diadems, and even hats. Also, the clothes can be embroidered with corals too.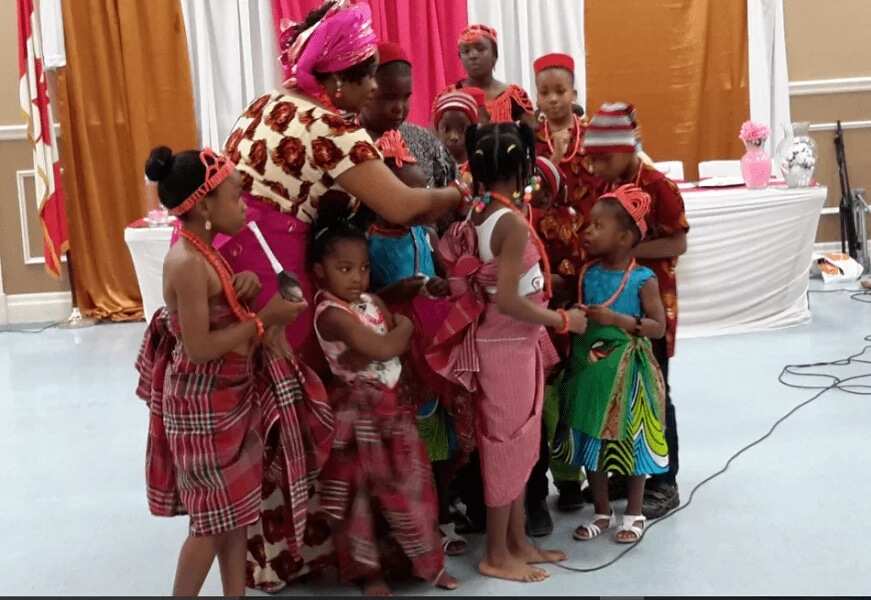 As you can see from the photos, Igbo outfits for children can be very original and colorful. Feel free to use Nigerian traditional fashion for special occasions, and your children will look absolutely adorable.
READ ALSO: IGBO traditional attire
Source: Legit.ng