Big braids hairstyles to rock in 2019
When you start thinking of the hairstyles that would look stunning on African ladies, the big braids is the first thing that will come to your mind, and this is not surprising. Big and rich braided hairstyles are what symbolizes the spirit and uniqueness of black women. Here, we will give you some interesting ideas for big braids hairstyles, which you can always use in everyday life. Hop on the braids train!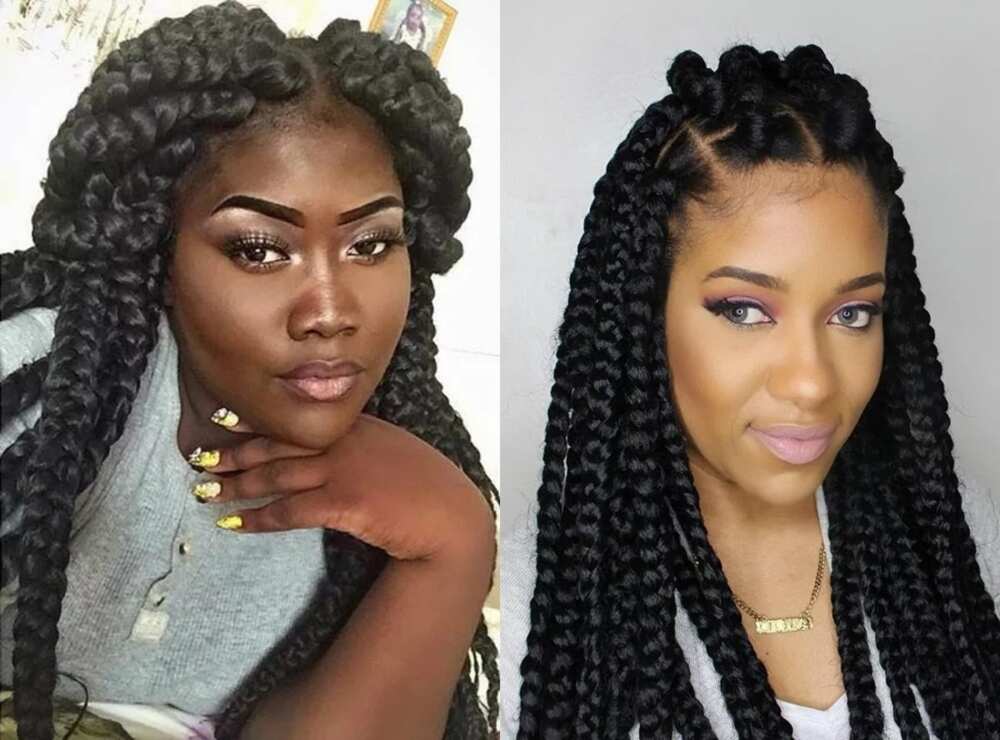 Big box braids: why are they so timeless?
First of all, large braids are one of the original African hairstyles that gained huge popularity, and to this day many women choose them as their number one when it comes to styling their hair. Some people might argue and say that the big box braids are in the past and they remind of the 90s, but there is nothing bad about it – some fashion trends remain forever. Many African and African-American celebrities enjoy cornrow styles and always pick them when they need a gorgeous new look. For example, Beyonce is a big fan of braids.
There are so many different ways to style your big box braids, and they are all awesome. In the meantime, we will give you a few interesting ideas for big braided hairstyles. Depending on your own preferences, you can pick the ones you love the most and try them yourself. Ready to see all the amazing ideas for big box braids?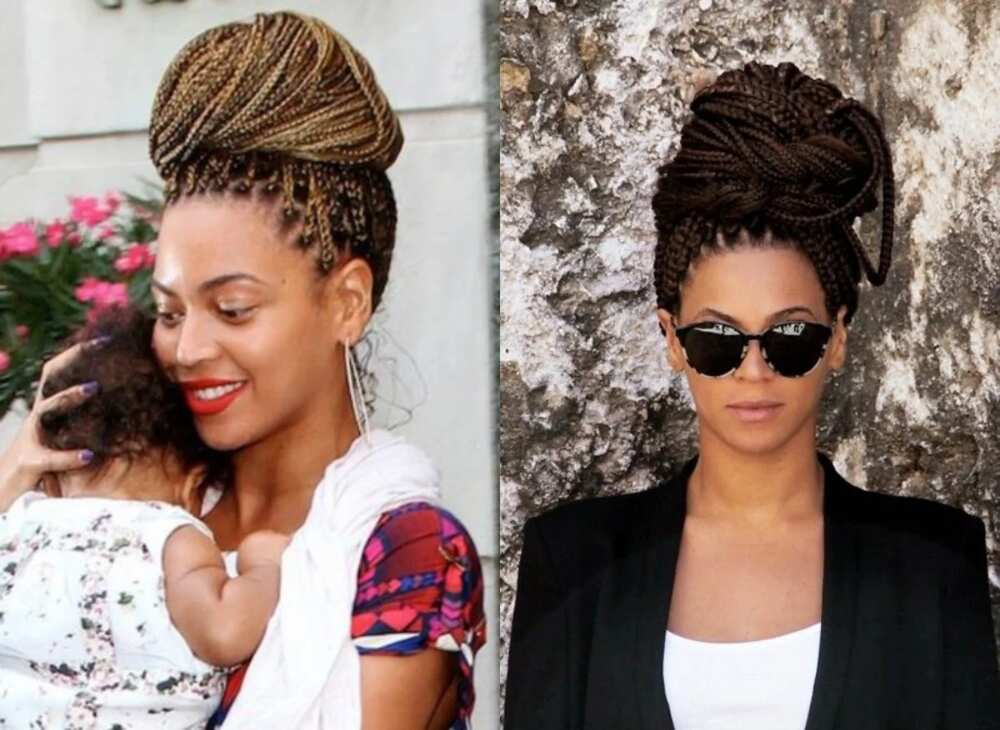 1. Braids with beads
The classic box braid hairstyle can be easily decorated with lovely beads, which will save you a lot of time and make your hair look as eye-catching as possible. If you weave some beaded accessories in your long or short braids, you will not only make your look fun and fresh, but there is a large chance you will captivate everyone's attention and receive compliments!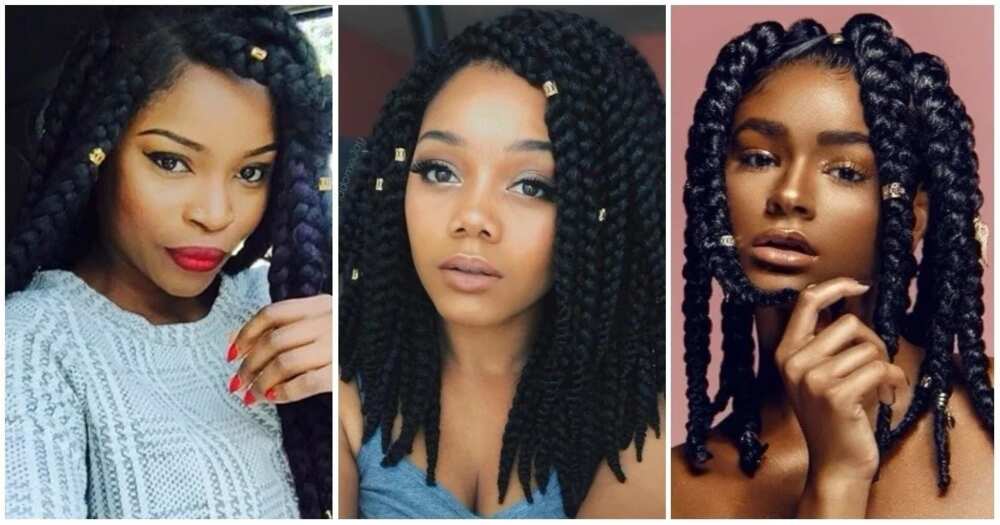 2. All back braids
Many people love all back braided hairstyles because they are not only minimalistic, simple and convenient but also very cute and lovely. You can show off your beautiful face shape if you make all back braids. You can also try half back braids, which are extremely easy – just pull half of the braids from aside and then tie them in a ponytail. As you can see, you can do plenty of experimenting with braids, which shows why they are forever down written in fashion history!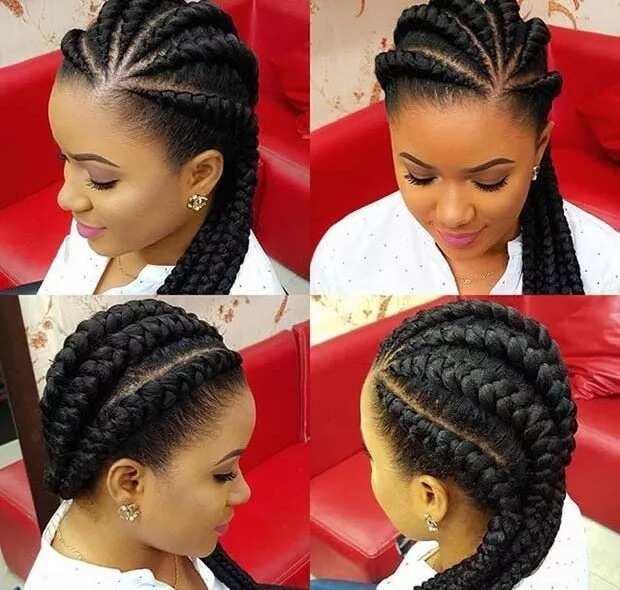 3. Big bob braids
It is not necessary to wear the long braids – some people like shorter ones better, and they are actually right. Short chopped braids are the latest trend, and they really look nice on most ladies. The short braided hairstyles are convenient because they will not require as much attention as long braids and they are light to wear. You can wear bob braids in many different ways – style them in buns, try out the fringe, pick them up in ponytails. You can also decorate them with beads, just like long hairstyles.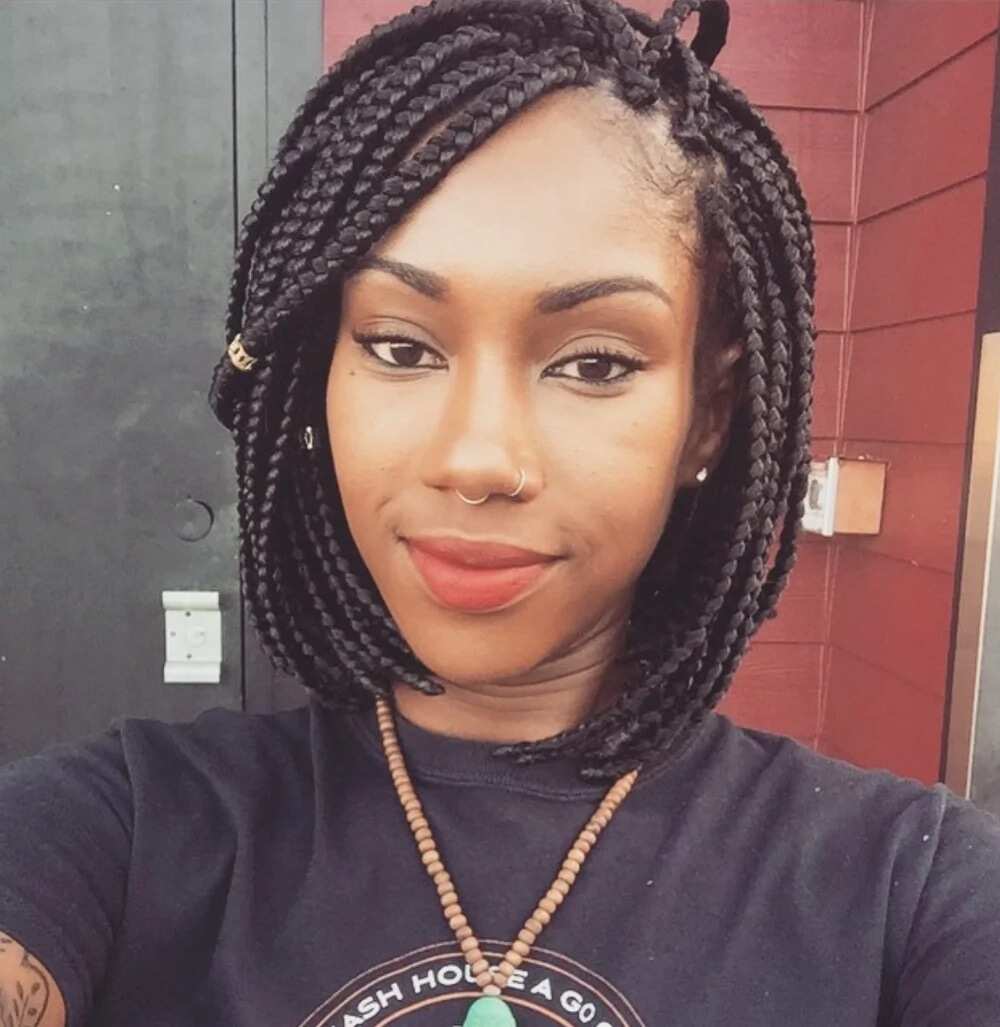 4. Braids pulled back
This look will show your uniqueness. To style your hair this way, you will have to pull back some braids near the face and then weave them through each other on top of your head. To spice up the look and make it even more interesting, you can use the timeless beads.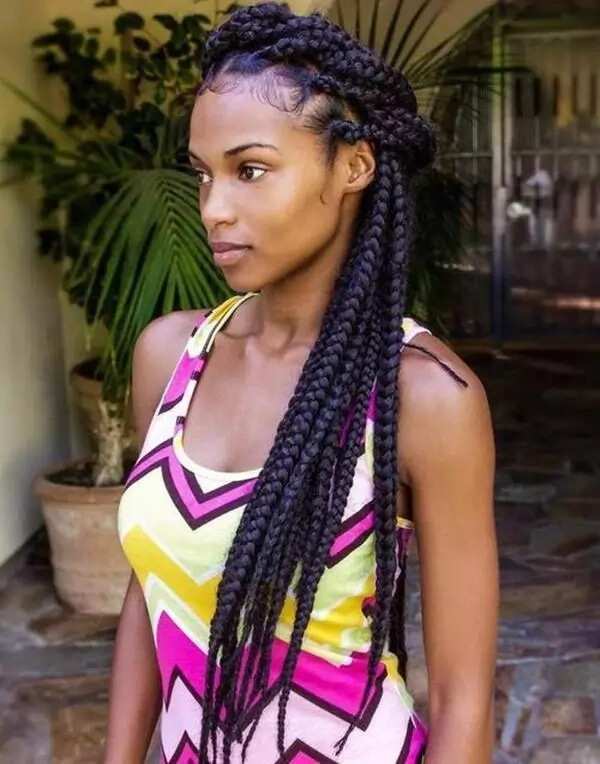 5. Blonde braids
While all the other girls have black and brown-colored braids, you will have a chance to make your hairstyle more personal and exciting by adding the golden blonde! The blonde braids are a huge trend among celebrities and women who are interested in fashion. Besides, it is really simple to dye your hair in this color, and it will look amazing with your dark skin.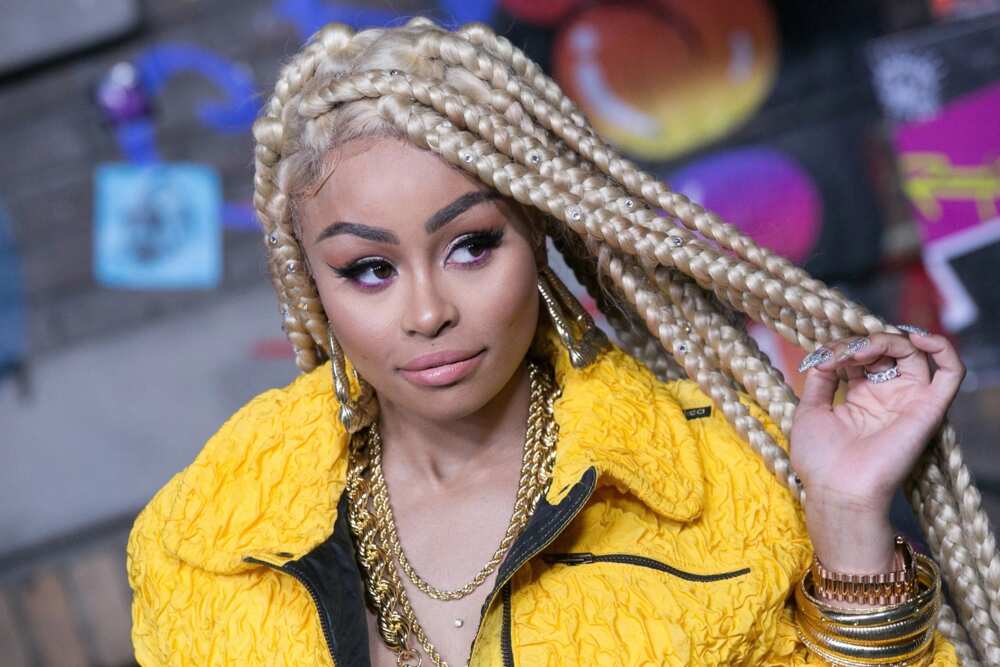 6. Two-toned k braids
You are not required to do all your braids in one color – you can always dye them in a few different tones! For example, the red and black braids are very trendy and fashionable among African girls, because they make you look cool and outstanding. Many people also dye their braids in the unnatural colors to personalize their look even more.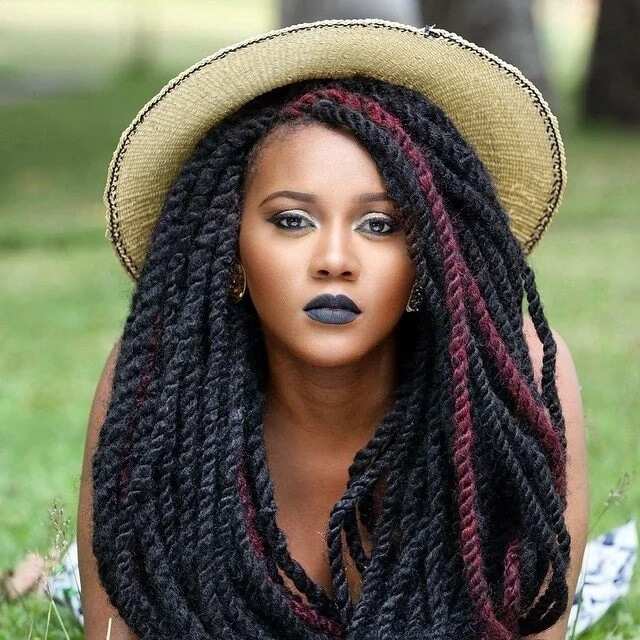 7. Half-up bun
There is a huge number of ways you can make big box braids look interesting. A half-up bun is a perfect if you like to try something that will definitely attract everyone's attention. To do this hairstyle, you will have to grab the upper half of your hair in the bun and let the lower part loose. Looks really cool!
READ ALSO: How to style short box braids: Step-by-step guide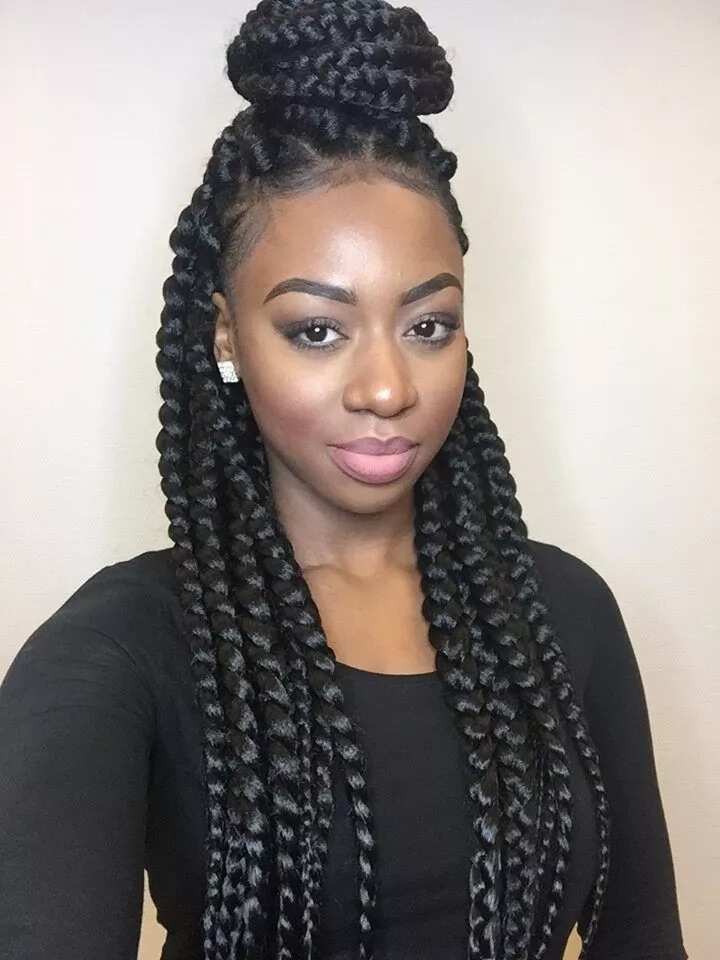 8. Ombre braids
As everyone knows, ombre is really popular among all the hairstyle enthusiasts because it looks chic and stylish, and is definitely a new hair trend.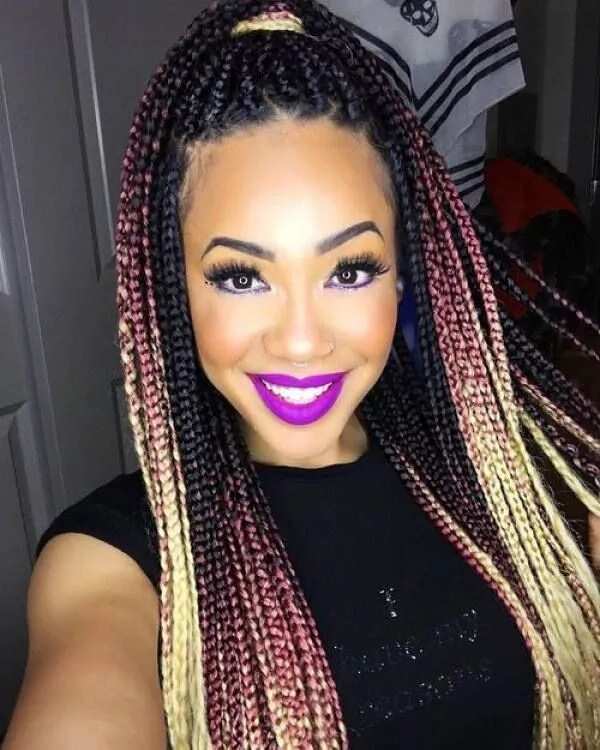 9. Hip-length braids
If you have been dreaming about long beautiful braids, here is your chance – hip-length braids are a great solution, and they will always be a center of attention. The long box braids will always protect your natural hair, and you can add some interesting touches to your new hairstyle – little pins, beads, hair bands.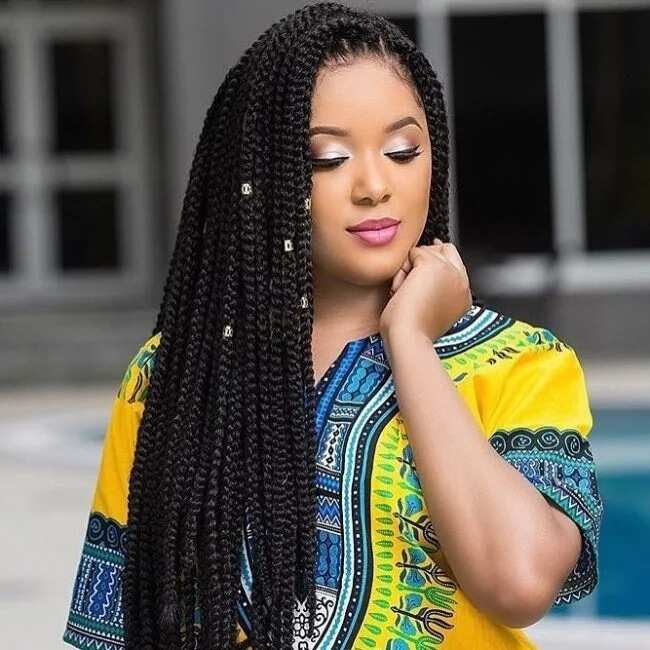 10. Large-sized braids
You can wear thick braids which will look more noticeable than thinner ones. You can do anything with them, add accessories, wrap them up in a bun or ponytail, dye them in different colours. However, if you are opting for a natural and clean hairstyle, you can just let them loose and they will still look amazing.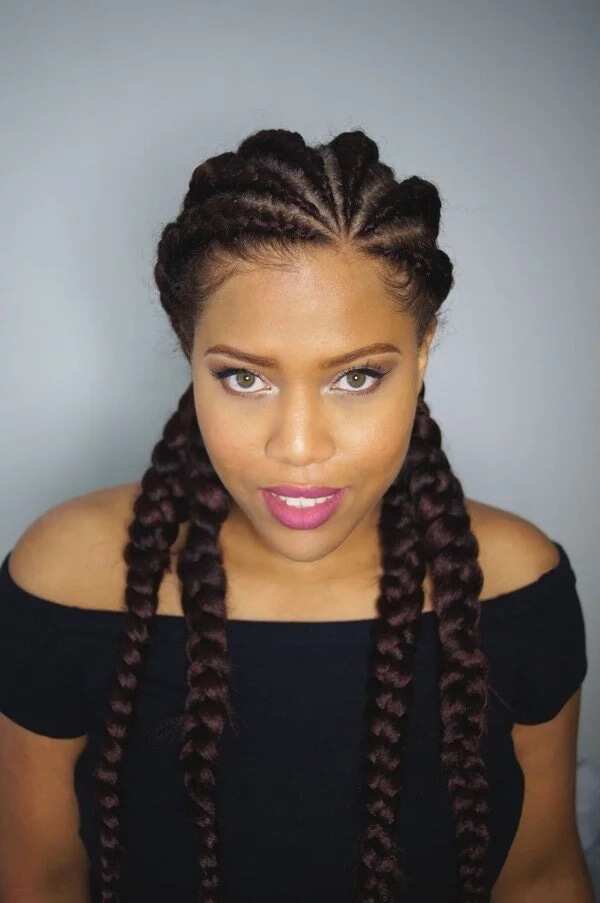 11. Highlighted braids
You can mix two colors within every braid which will give you the highlight effect. Weaving one colour together with the other does not require dying your hair, and you can get rid of it anytime you wish. In the meantime, highlights will give you volume, dimension, and absolutely unique look that you will be proud of.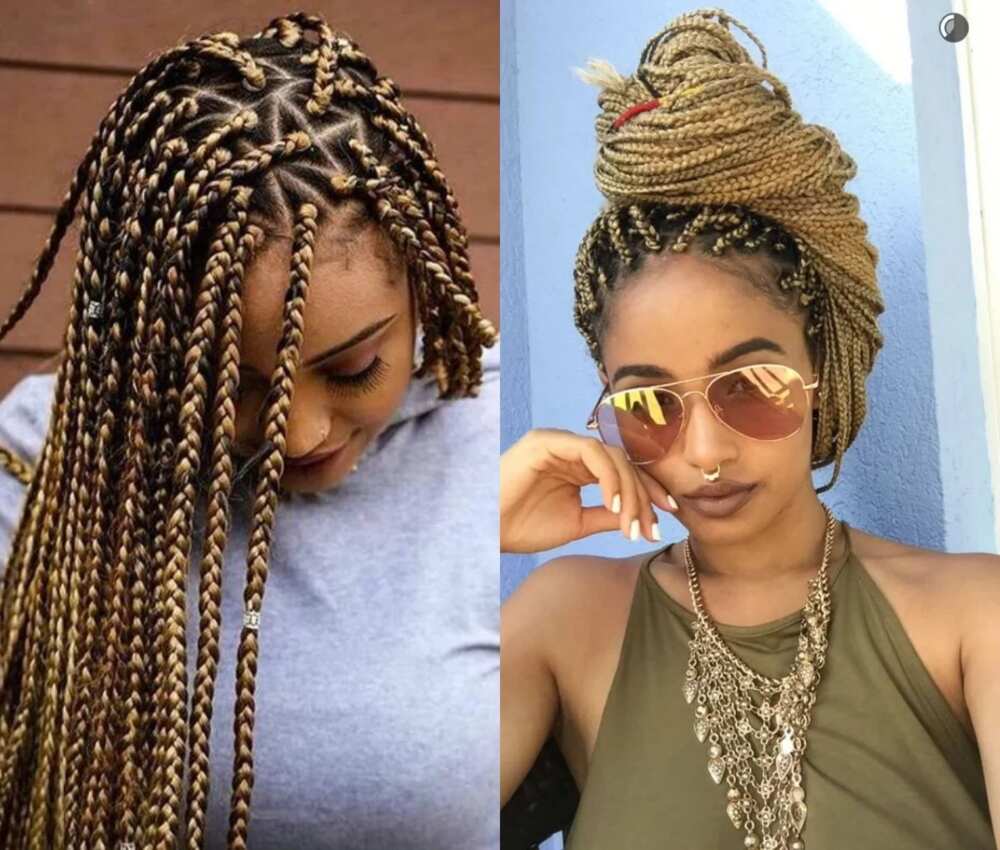 12. Mohawk
For the most rebellious and risky women, there is always an option of Mohawk! You can shave off the sides of your head and gather your braids in a fierce Mohawk where you can also weave in some new experimental colors. This is the hairstyle for the bold, so try it out!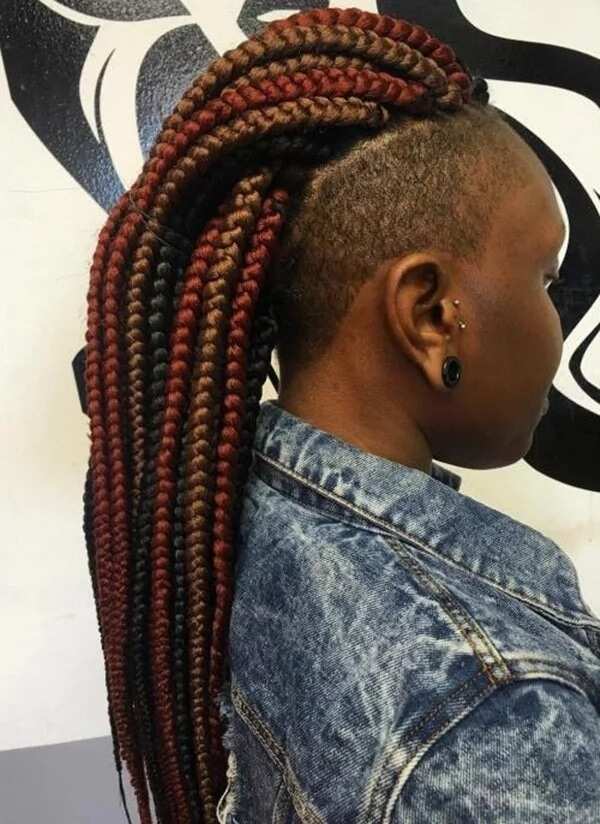 13. Classic braids
Want something more traditional that would demonstrate the mood and spirit of Africa? Classic African braids are for you: they always look neat and give an effect of volume, no matter the length. You can add any twist you like to these braids or leave them intact, and they will still look good. This is their main advantage. There is a special charm about classic African hairstyles.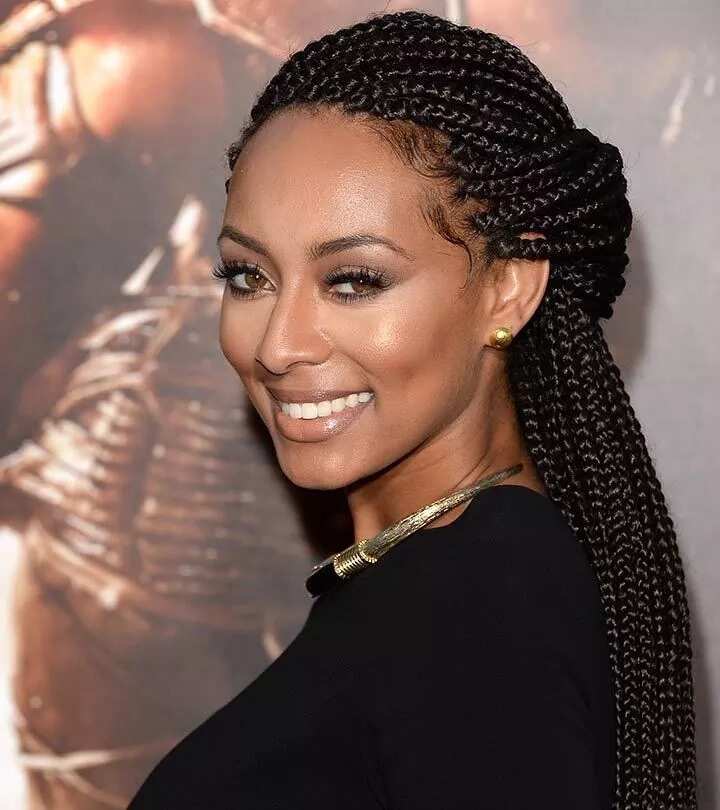 14. Big bun
The loose big braided hairstyles can often feel heavy or bother you in the important moments, and a large bun is a great solution. Besides, the bun always makes a lady look more charming.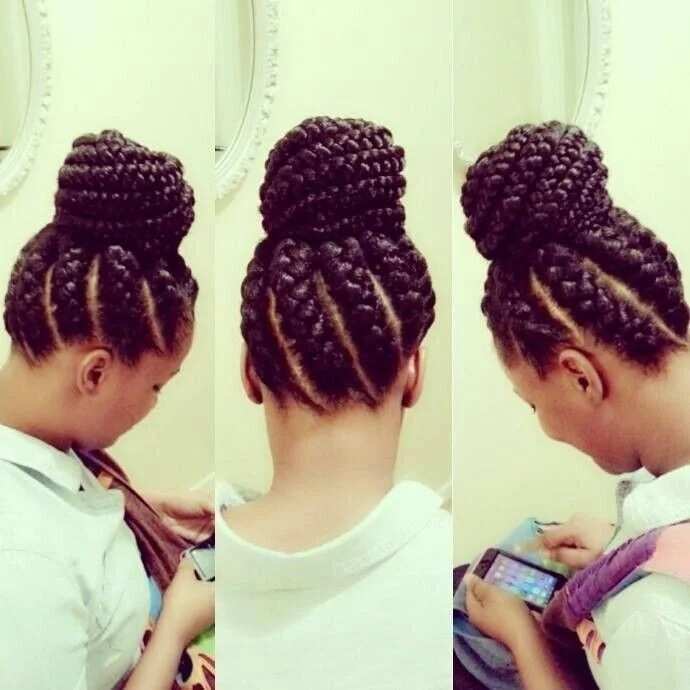 15. Big twist braids
Looking for a creative and original style? Big twist braids will be a perfect hairstyle for a stroll with friends. It will not require a lot of effort: you can create such a hairstyle just twisting two strands of hair.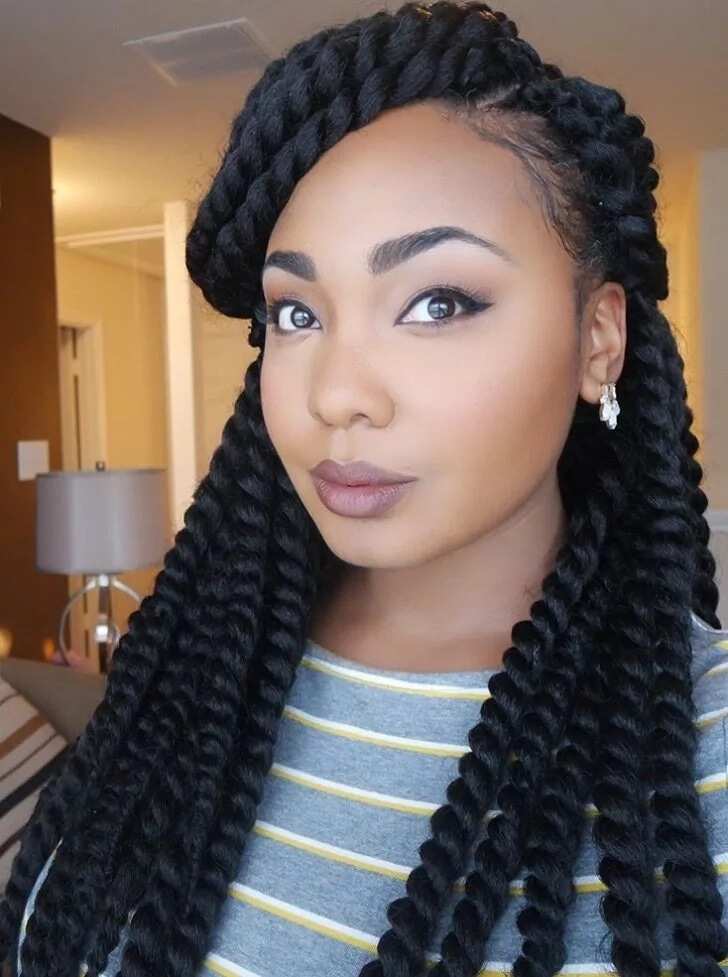 You have seen the list of the hottest trendy big braids hairstyles. As you can see, there are many ways to do your hair creatively, and you should not be afraid of experimenting!
READ ALSO: Different types of Ghana weaving hairstyles
Source: Legit.ng