After much waiting, the people of Anambra state will today, Saturday, November 18, 2017, head to the polls to elect a new governor.
The top candidates are incumbent governor Willie Obiano, the All Progressives Grand Alliance (APGA) candidate who is seeking a second term in office.
Next is All Progressives Congress (APC) candidate Tony Nwoye, who has the full support of President Muhammadu Buhari. The president, in his visit to Anambra days ago, assured voters of good times if Nwoye makes it in.
READ ALSO: Nigerians speak on upcoming Anambra governorship election
Also a tough contender is Peoples Democratic Party (PDP's) Henry Oseloka Obaze. He and his party believe that there should be a change in the leadership of the state.
For the people of Anambra, they are ready to hit the polls.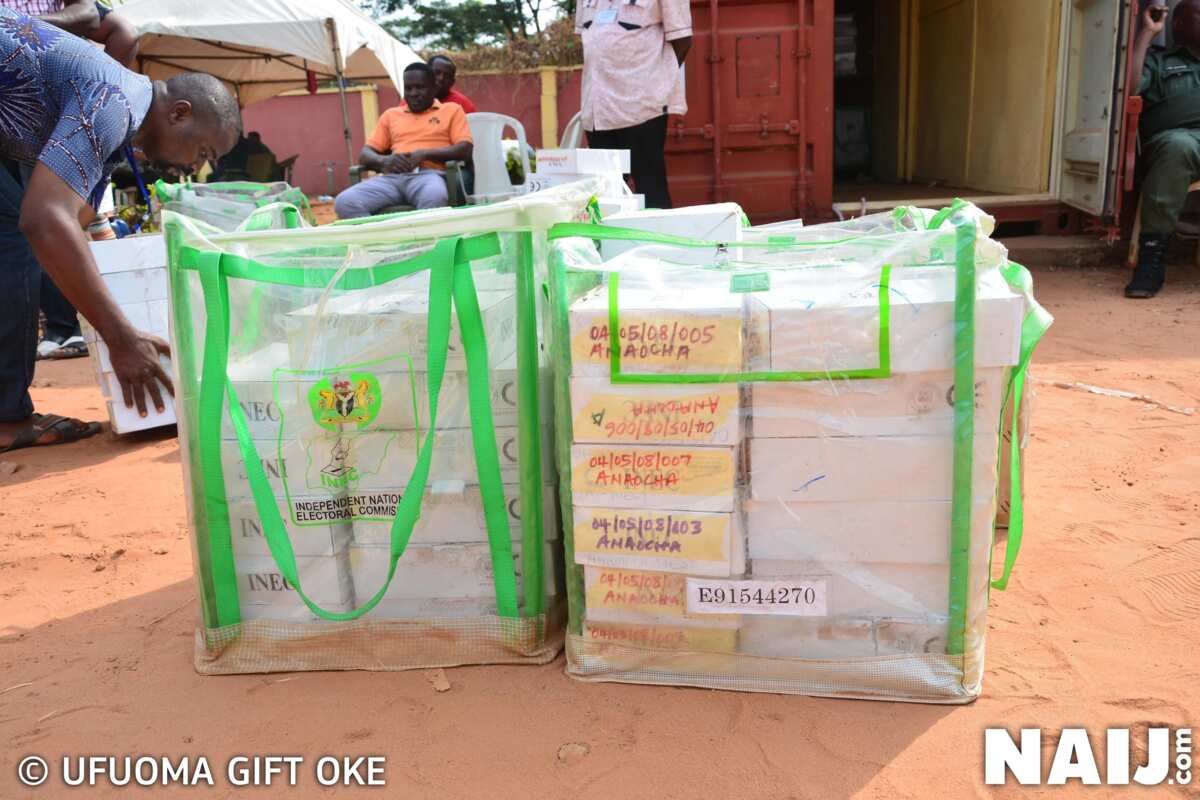 However, there were threats of boycott from supporters of some separationist groups in the southeast. It remains to be seen if the threat will be carried out.
PAY ATTENTION: Install our latest app for Android and read best news on Nigeria's #1 news app
On Independent National Electoral Commission (INEC's) part, the materials have already arrived in the state ahead of the process.
Legit.ng's duo of Jerrywright Ukwu and Gift Ufuoma are already in the state fondly called Light of the Nation to monitor the electoral process.
Stay tuned to Legit.ng for latest updates in the Anambra election.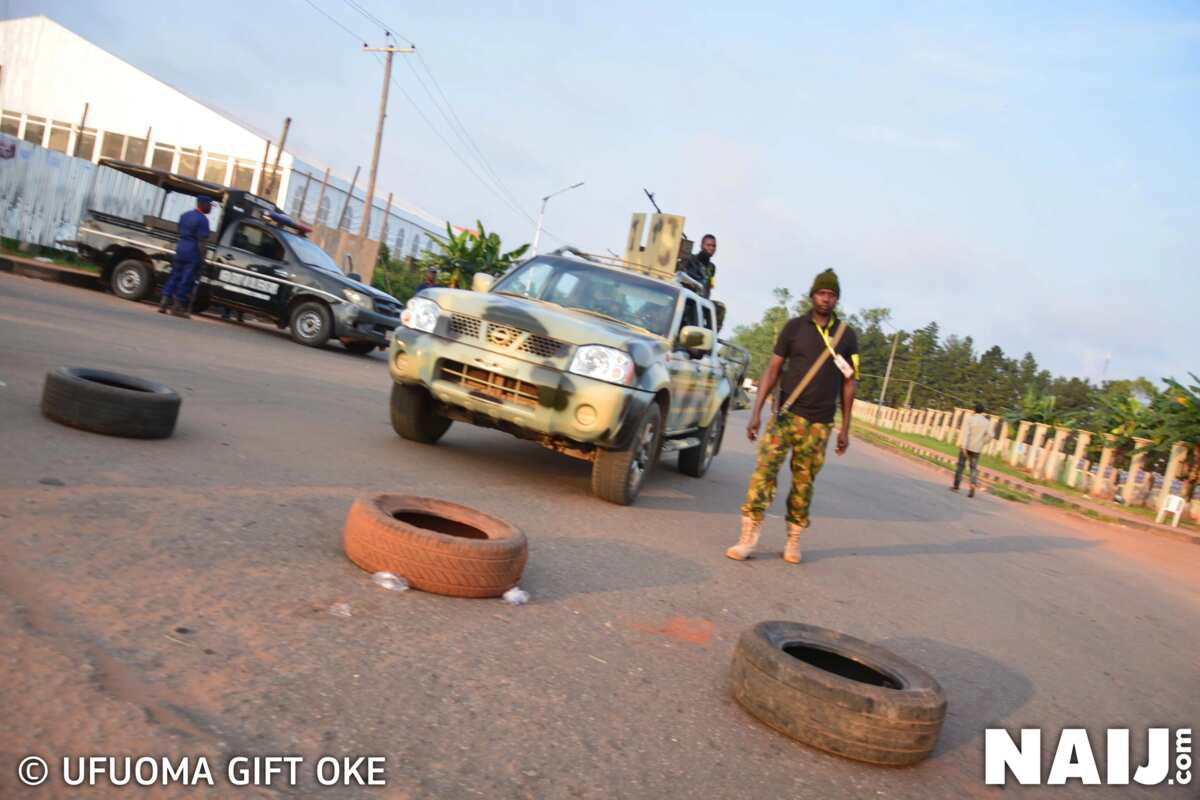 Over 400 journalists covering the election and over 600 local and international observers. Accreditation and voting to take place simultaneously
Priority given to handicap and nursing mothers. NYSC members were deployed majorly from Enugu.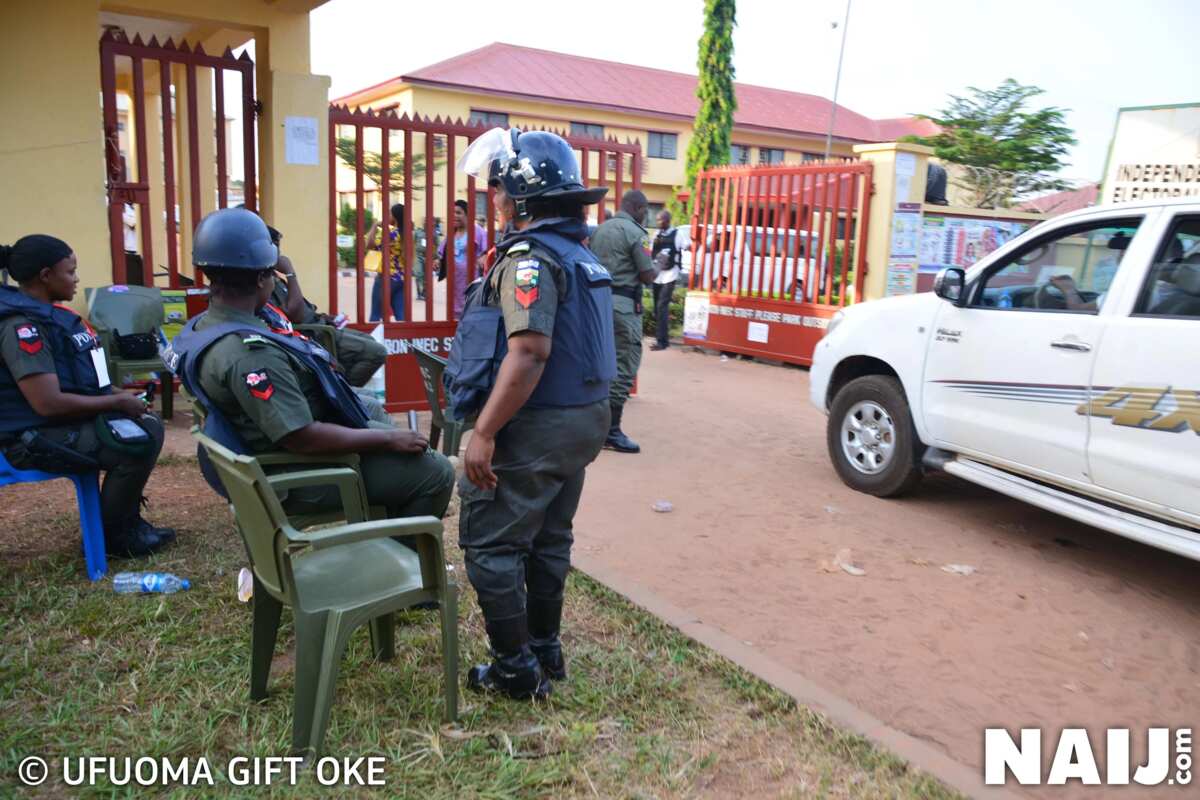 3.14pm: Voting processes are now being rounded up across Anambra. In Aniocha local government, counting of ballots has already started. Election had been scheduled to stop at 2pm at all voting centres.
1.00pm: Governor Willie Obiano has cast his ballot in the Anambra election.
Obiano is confident that he will win the election by a good margin.
He said: "I am very confident that at the end of the day, I will carry the day. I will win this election by a landslide."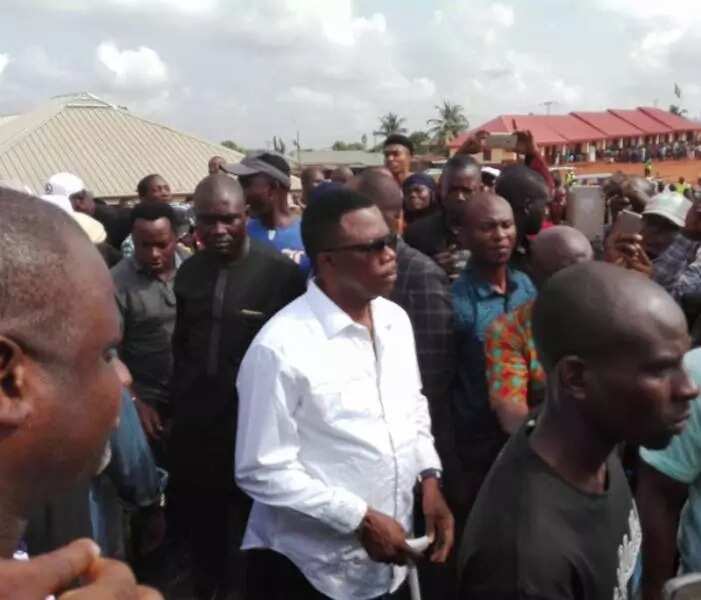 There was a mild drama when the card could read the governor's fingerprint. The chief executive was not amused.
He said: "My card was verified but they said they couldn't read my fingerprints."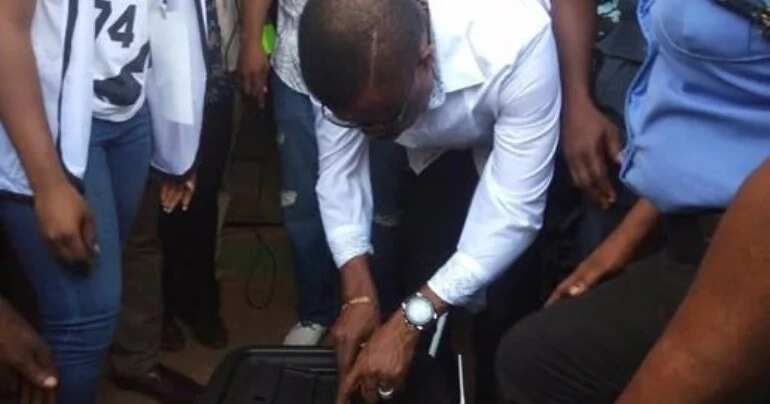 12.30pm: Elections are going on smoothly in different places across Anambra state
11.59am: Unconfirmed reports say that Army officials and other security operatives rescued a ballot box reportedly snatched by touts from PU: 04/02/07/006 (Ayamelum Omor II, Ama Agbaja I)
11.00am: An arrest has been made at the ongoing Anambra election. Officials of the Department of State Services (DSS) have arrested a man while he was trying to buy votes from voters.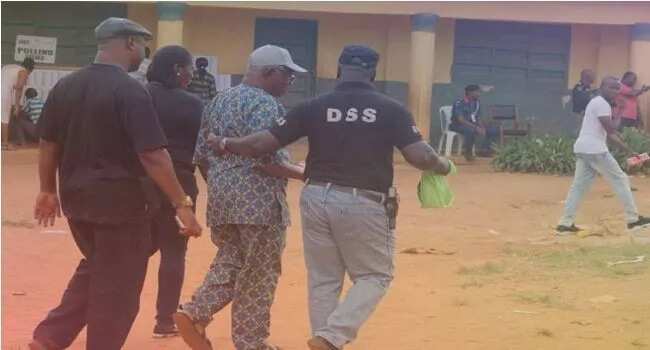 10.21am: Former aviation minister and candidate of the United Progressives Party Osita Chidoka has cast his vote his polling unit 030 at Central School 3 at about 9.55am.
He spoke to newsmen about the process so far: "We bring a new beginning. What we want here is peaceful process and it is peaceful so far. We plead with everybody to be peaceful."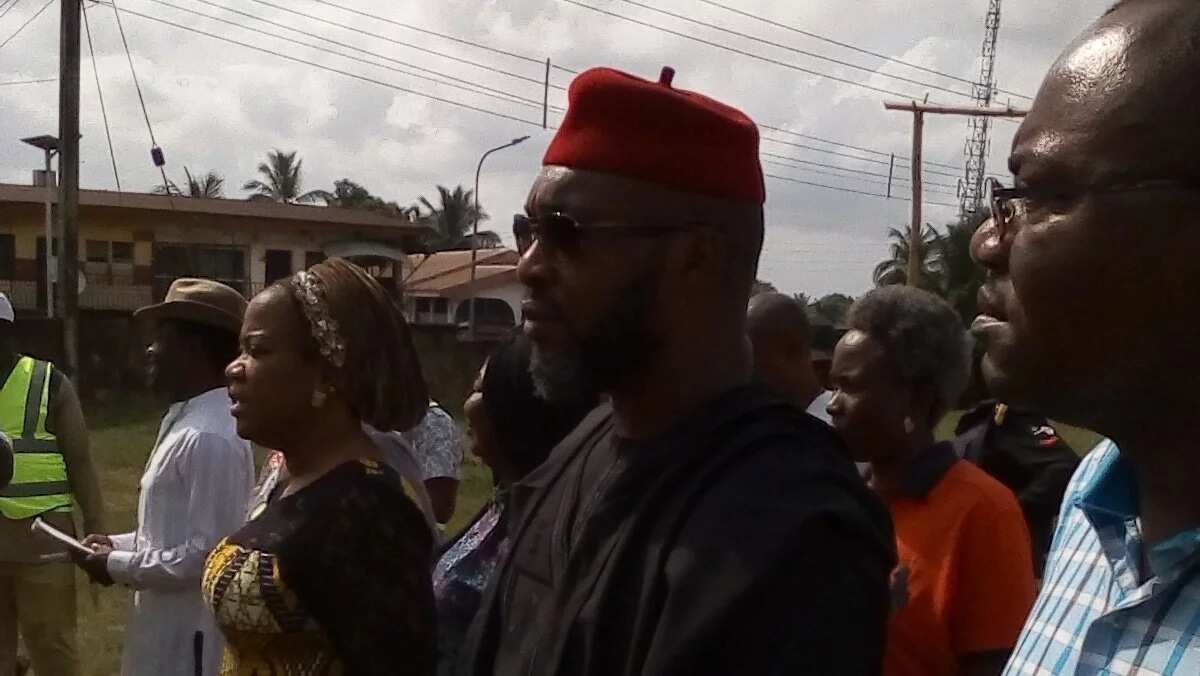 He was however had a complain about INEC. He said: "INEC is insisting of manual transmission of result which is very very unfortunate"
10.20am: At Uruagu Ward 1 at St. Mary's, voters on ground but no single INEC official around, just Red cross officials
10.11am: Card reader failure recorded at PU:04/05/01/004, Adazi Ani, I Ward, Anaocha LGA. Voters waiting are waiting patiently for it to be resolved
9.33am: Card readers are not functioning at Nsugbe 1, Polling Unit 399, Ward 001
NYSC members serving as adhoc staff for INEC refuse to allow voting despite majority having their voters card. Only APC agent is present in the ward.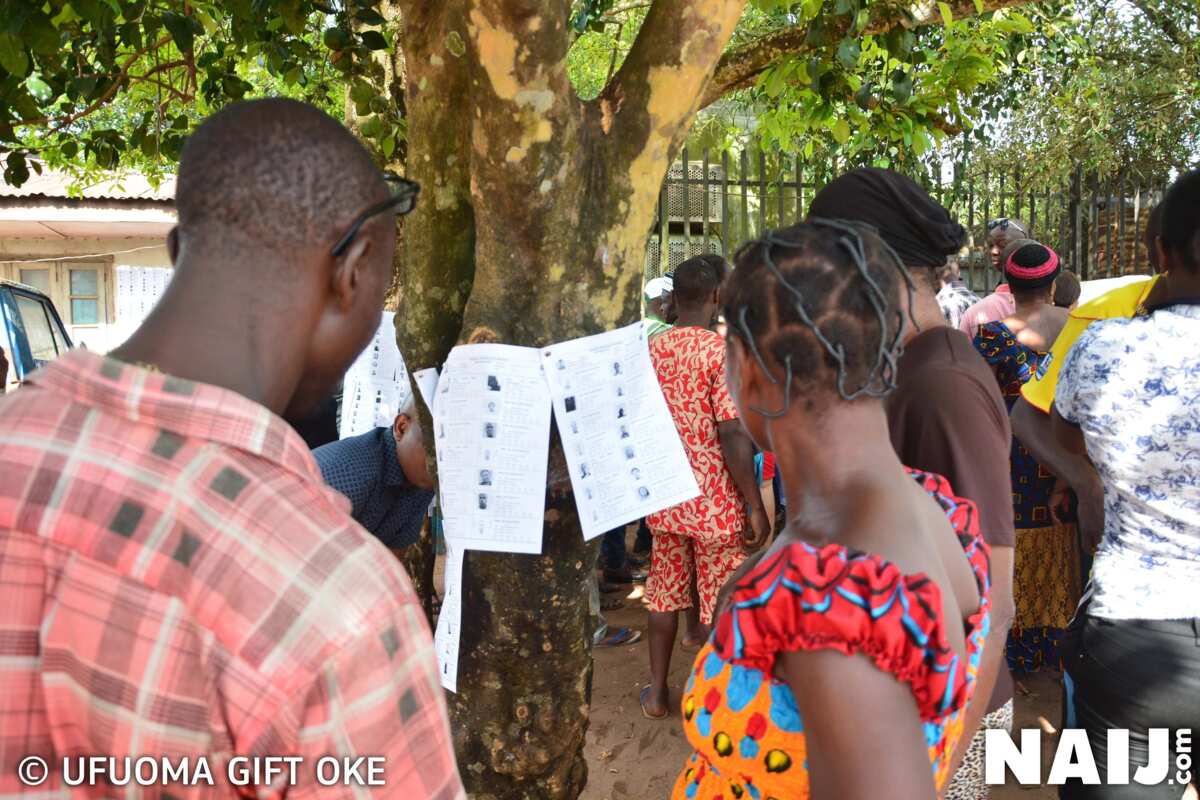 Voters are protesting at the ward as security agents make efforts to calm them down.
Legit.ng gathered that some of the voters registered in the towns and in their villages to vote, which makes them ineligible.
Many of them showed Legit.ng correspondent their voters card saying INEC should have allowed them vote in their locality.
Voting is expected to end by 2pm.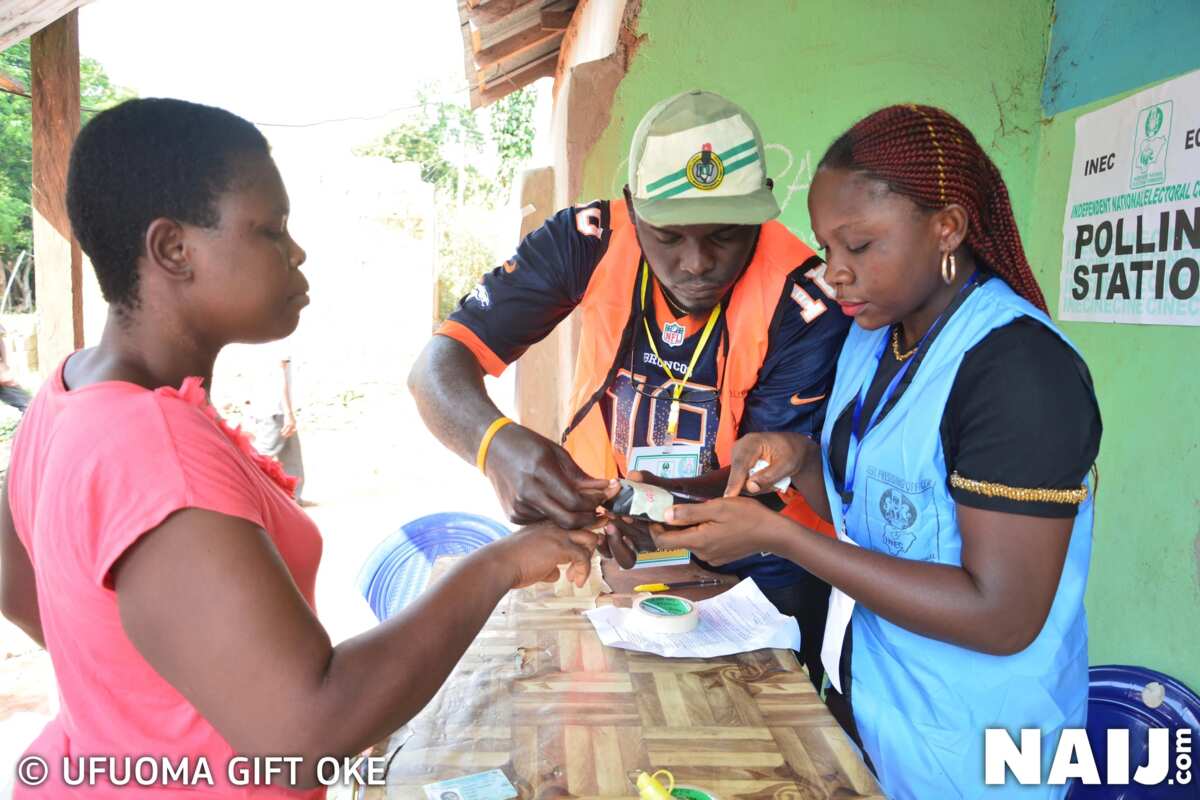 9.24am: At Eri Primary school, Otuocha 1 in Anambra East, there is a heavy turnout and the process is going smoothly so far.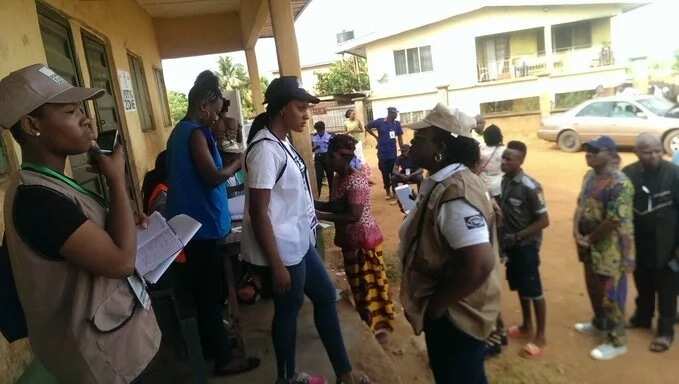 9.24am: Ward 3, Atani 1Polling Unit 007, 011 and 001 9:17am Voter Education ongoing. Accreditation and voting about to start.
9.23am: At PU 025, Ward 3 Umuowerri village in Agulu, Aniocha LGA. INEC personnel just arrived and and are setting up the unit. They are yet to paste voters information. Accreditation is yet to start
8.53am: At PU 004, 16 Nibo III, Awka south LGA Accreditation just started.
8:53am: At Central School Amawbia 2 unit 003, 002, 001, simultaneous accreditation and voting ongoing peacefully. Voters tricking in smoothly.
8.51am: PU: 001 in Anaocha LGA INEC official addressing the Voters at Ichida Ward 1.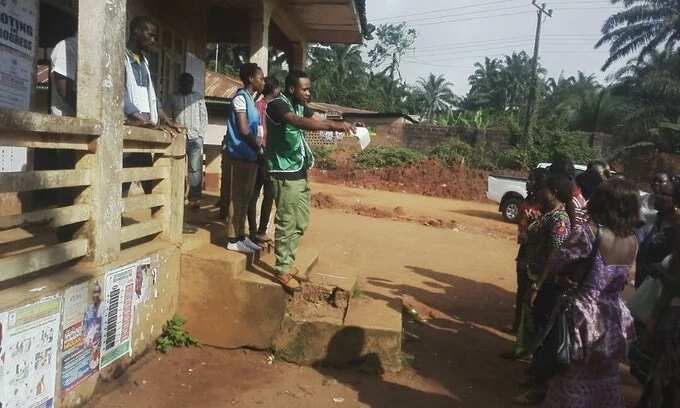 8.40am: PU 3, Ward 1, INEC officials arrived by 7.40am. Security agents present, accreditation began 8.37am Nkwelle, Awka South LGA
8.00am: Voting and accreditation begins at Aguleri 1, Ward 004. Registered voters 487.
Legit.ng spotted young boys playing football on the Aguleri-Nsugbe road. Some women in Umueri community in Aguleri LGA defy the restriction order and opened their stalls
7.12am: Election materials arrive Girls Secondary School, Nteje, in Oyi local government area
Polling Unit Code is 005. Ward 3. An election observer from Election Monitor, Kingsley Umezulike, told Legit.ng that the election materials arrived late last night under the watchful eyes of security personnel.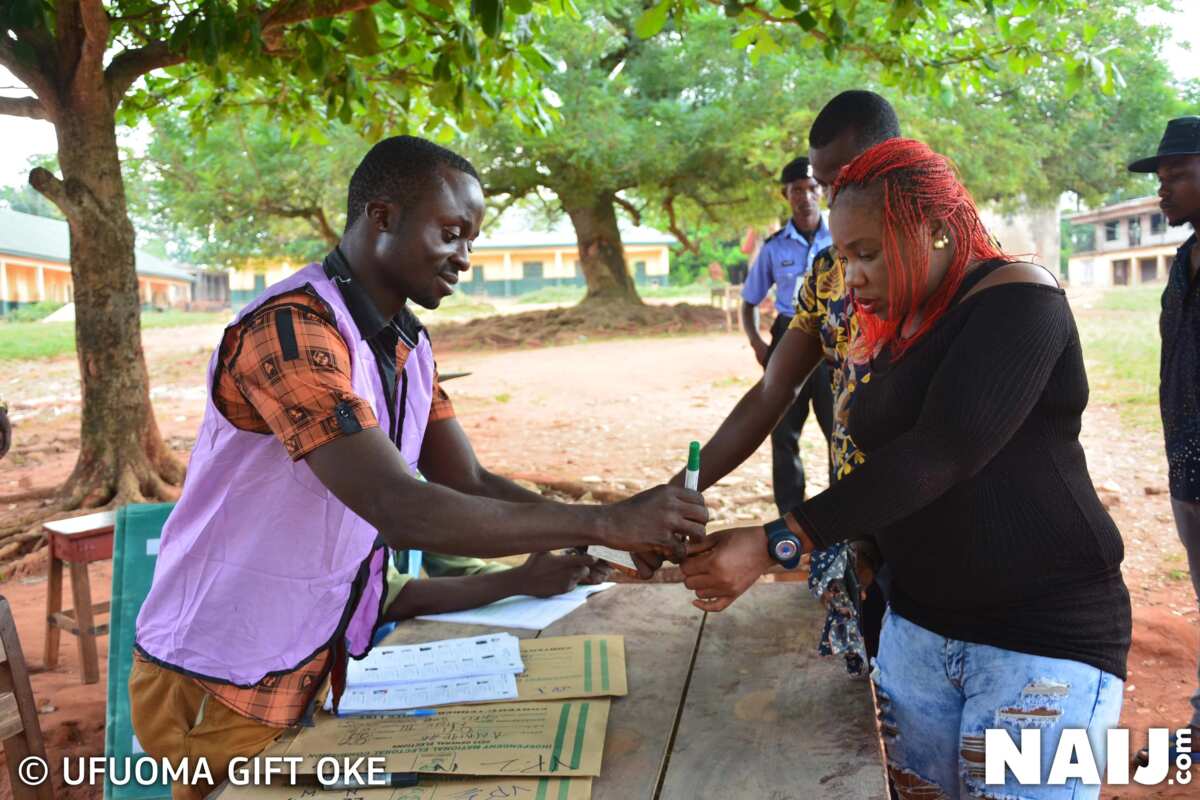 Some NYSC members deployed from Enugu told Legit.ng that logistics for their movement is very poor
Only APGA agent is present at the polling unit. Number of registered voters 846. Four policemen in each polling unit. Police Personnel are not carrying arms.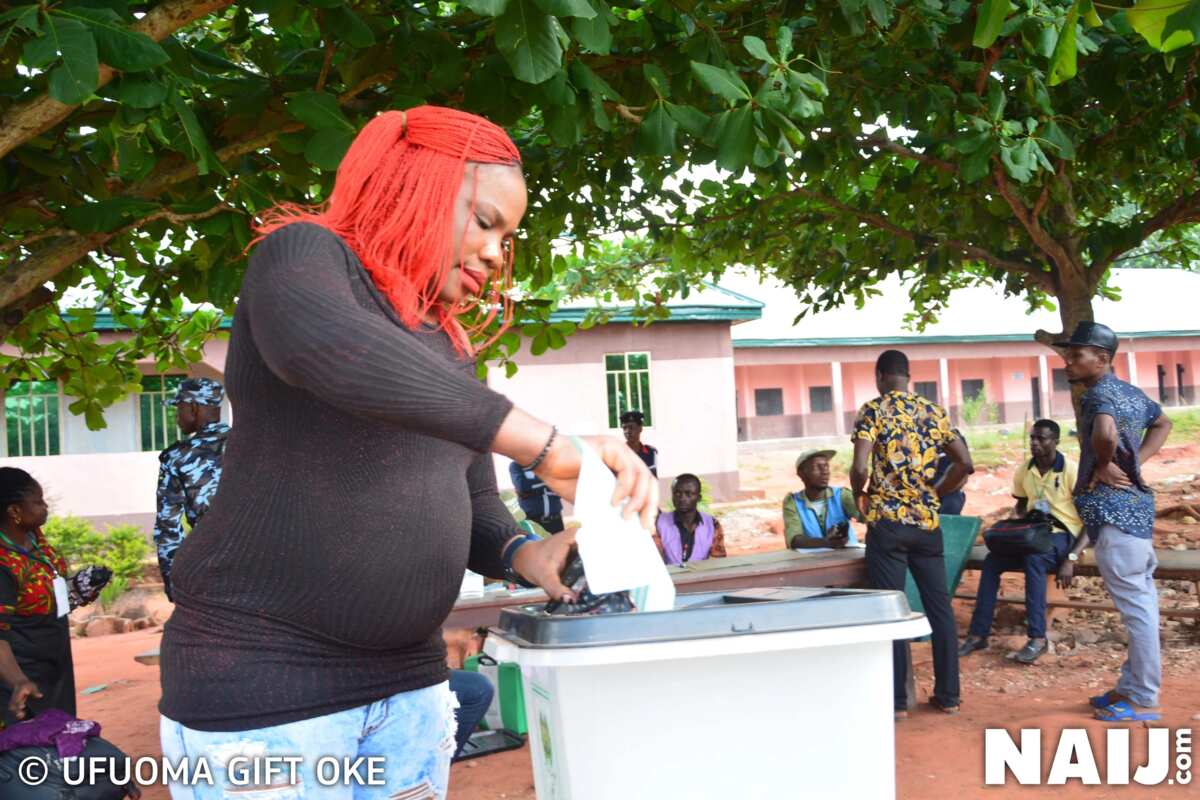 Legit.ng observed that some card readers are not functioning, but the voters are allowed to carry out their franchise provided they have their voters card.
Anambra election: Awka residents speak on who they will vote for and why - Legit.ng TV
Source: Legit.ng