Kemi Olunloyo alleges Nnamdi Kanu went on exile in an undisclosed African country
- Kemi Olunloyo, popular blogger and journalist has revealed some unconfirmed news about Nnamdi Kanu
- Following the clash between the Nigerian military and IPOB members in Abia, Kanu's whereabouts have been unknown
- According to Olunloyo, he has reportedly left the country and gone on exile somewhere undisclosed
During the Operation Python Dance in the south east of Nigeria, led to a clash between the Nigerian military and IPOB members, Nnamdi Kanu, the leader of the group disappeared.
Legit.ng reported that the Defence Headquarters said that it had no business declaring IPOB leader, Nnamdi Kanu, wanted.
This was made known by the director, defence information, Major General John Enenche at a press briefing with journalists on Friday, September 29.
Enenche also informed journalists present at the briefing that Kanu was not in military custody and so they couldn't be held accountable for him.
However, popular blogger, Kemi Olunloyo has reported that Nnamdi Kanu was on exile in an undisclosed country.
READ ALSO: Arrest Nnamdi Kanu within 21 days or face national protest - Abia lawmakers tell FG
Below is a post she made on Facebook: "A highly credible source told me that political activist and separatist #NnamdiKanu has reportedly left #Nigeria and is in a "safe haven" in a nearby #African country. He is carrying both a Nigerian and British passports."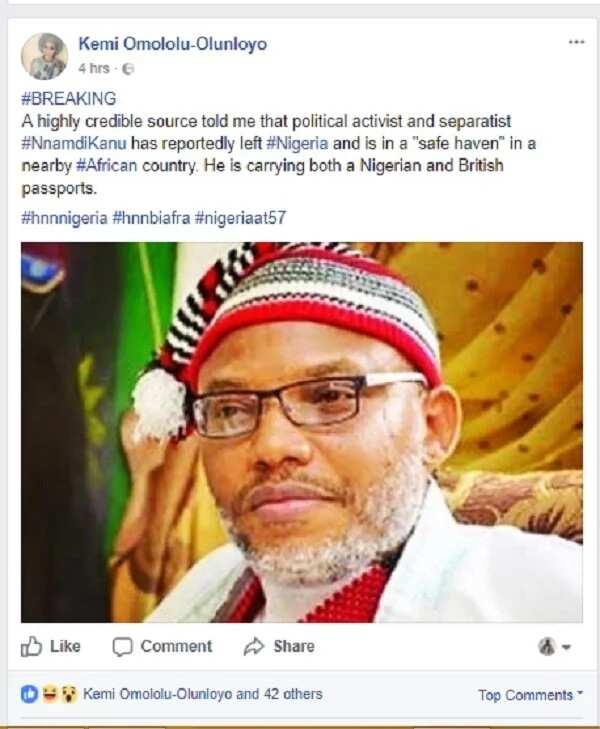 Her claim is yet to be confirmed.
Meanwhile, Nnamdi Kanu's lawyer, Ifeanyi Ejiofor has stated that sureties of the IPOB leader should not entertain any fear over the disappearance of his client.
PAY ATTENTION: Watch more videos on Legit.ng TV
In an interview, Ejiofor said the circumstances of the present case had gone beyond the sureties' control. He said the federal government have a duty to produce his client before the case makes any headway.
Watch this Legit.ng video as Nnamdi Kanu's lawyer speaks on his client's disappearance:
Source: Legit.ng