Governor Bello's assets uncovered in offshore tax havens
- Nigerian politicians continue to be mentioned as owners of secret assets and accounts domiciled in foreign countries
- The latest name to be mentioned is that of Niger state governor, Abubakar Bello
- The governor is said to have at least two offshore companies abroad
A report by Premium Times indicates that secret assets belonging to the current governor of Niger state, Abubakar Bello, have been uncovered in offshore tax havens abroad.
The discoveries were made in the notorious Mossack Fonseca documents now known worldwide as the Panama Papers.
According to the report, at least two offshore companies were traced to the governor, one of which was used to acquire a property in London.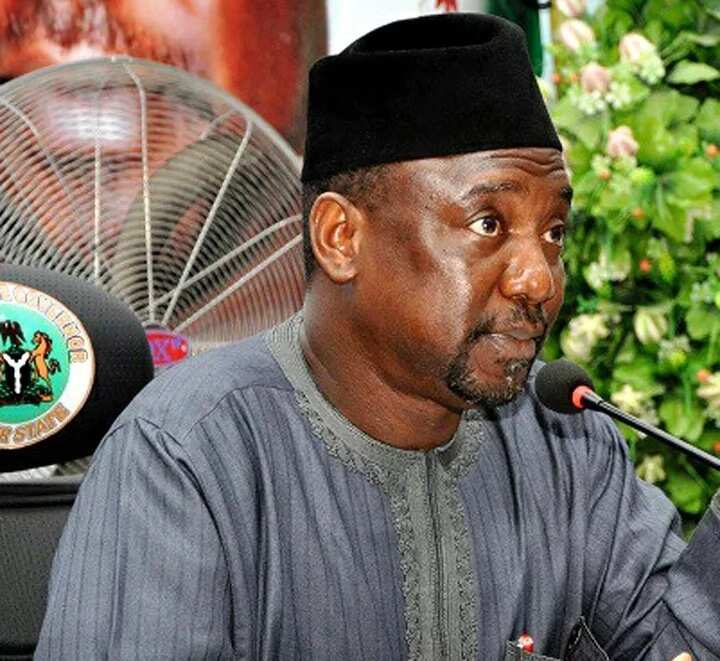 One of the companies, Best International Holding Limited, was said to have been registered in the British Virg*n Islands on May 26, 1999 with $50,000 as shares capital.
READ ALSO: N200m suit: Patience Jonathan goes to court against bank, EFCC
The company, with registration number 314717, has the governor and his son, Shehu Bello, as directors.
While the two directors of Best International Holding Limited gave their Nigerian address as 17A Wurno Road, Off Katuna Road, Kaduna, Nigeria; a Lagos address was used for the registration of a second offshore company.
Another set of Mossack Fonseca documents seen showed that Governor Bello is the sole shareholder of a secret offshore entity by the name Eyre Investments Incorporated.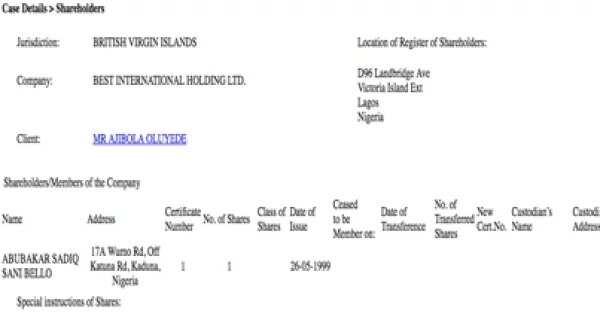 Located in Hitchin, Herts, the company was incorporated on September 3, 2007 and had Ajibola Raphael Oluyede as director with Abubakar Sani Bello as sole shareholder.
Further probe into the documents revealed that for all his offshore dealings, the governor was using the services of Oluyede, the principal partner at TRLP LAW, as his legal front.
In one of the documents, it is stated that the registers of Best International Holding Limited are kept at D96 Landbridge Ave, Victoria Island Extension, Lagos, Nigeria. An online search of this address leads directly to TRLP Law office.
Reacting to the report, the spokesman of Governor Bello, Jibrin Ndace, said that before his principal became the governor of Niger state, he had been for years an international businessman of repute doing legitimate businesses across the world.
His words: "The governor was a well-known international businessman just like Donald Trump was before he became the President of America. It is like if Dangote becomes president tomorrow; you would see their footprints everywhere because they were once international businessmen," he said.
"The difference between this governor and others is that he is a professional in politics not a professional businessman."
This revelation makes Governor Bello the sixth serving Nigerian official who has been shown to own shell companies in offshore tax havens.
The others include President of the Senate, Bukola Saraki; former Senate President, David Mark; Senator Ibrahim Gobir (All Progressives Congress, Sokoto East); Senator David Umaru (APC – Niger East); Senator Andy Uba (APC, Anambra South).
Governor Bello is the son of Sani Bello, a retired colonel and military governor of Kano state between 1975 and 1978.
The Bellos are involved in various kinds of business activities including construction, oil and gas, and communications. Governor Bello's father is said to own 40% of MTN Nigeria.
The governor is married to Dr Amina Abubakar, daughter of Nigeria's former head of state Abdussalami Abubakar and former first lady Justice Fati Abubakar.
READ ALSO: How beneficial ownership transparency will help Liberia tackle illicit financial flows - Buhari's aide
Watch this Legit.ng TV video of a Nigerian man suggesting mass burial for Nigeria's corrupt past leaders:
Source: Legit.ng