Pretty young lady Joy Nwaokike who survived ghastly accident 4 years ago is searching for a job
- A Nigerian lady who lost one of her legs in a ghastly accident is in search of a job
- The pretty lady is also interested in starting a business if she has the resources
A Nigerian lady identified as Joy Nwaokike has cried out for help on the issue of unemployment. The pretty lady who hails from Orlu in Imo state is desperately searching for a job in order to move on with her life after losing a leg in a ghastly accident.
Nwaokike wrote to Legit.ng stating how frustrated she is with things going on especially with her state of helplessness. The amputee survived a ghastly accident and lost her father shortly after then.
Life took an uneventful turn shortly after this as the lady lost the support of her living family members. According to her, her mother considers her useless she is totally dependent on them. She is constantly talked down because of her condition even though little or nothing has been done to help her.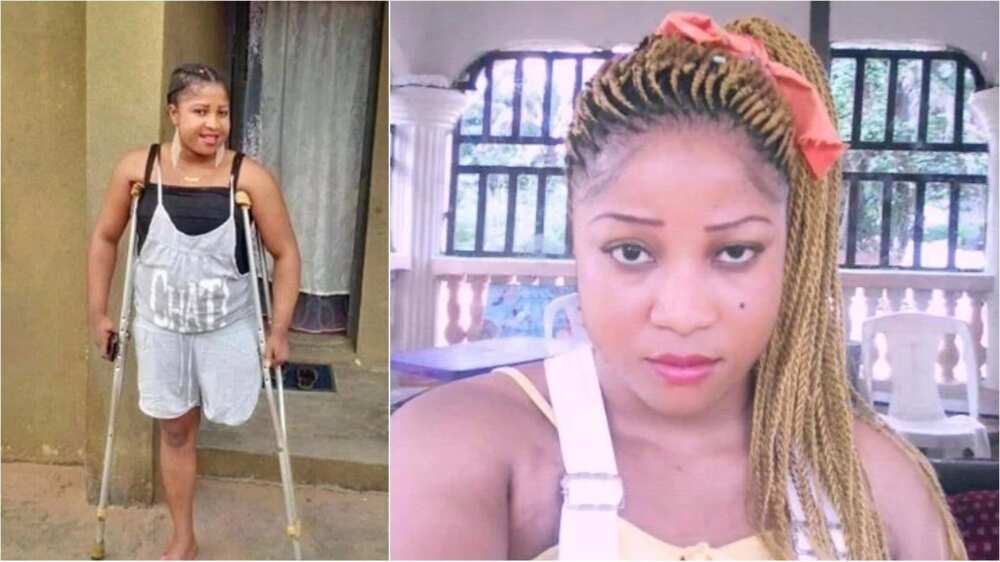 READ ALSO: Young Nigerian boy Salim Haruna constructs a National carrier (photos)
This burden of being considered a disabled and totally useless person almost made her take her life at some point. The young lady is bitter about her status as she does not want to be a beggar. She has taken the bold leap in searching for a job and would do anything to keep herself busy and productive.
Nwaokike who walks with the aid of crutches is willing to start a business if only she has the resources to kick off. She believes no amount is too small to push her and make her dream come true.
PAY ATTENTION: Install the latest android app to get updates from Nigeria's number one online news platform
Employers she had met in the past refused to offer her any job as they say she is physically unfit and may not be able to deliver to their satisfaction. Determined to succeed against all odds, the Imo born lady said she is strong and can do all things through God.
Watch the Legit.ng TV video below to see what this lady was spotted doing in Kwara state:
Source: Legit.ng