Southeast crisis: Oodua Republic Front welcomes displace people into southwest
- The Oodua Republic Front has opened its arms to receive displaced persons into the southwest
- The group was reacting to the ongoing crisis in the southeast region
- They urged the Yorubas to protect all those who settle within the southwest region
A group, the National Consultative Meeting of Oodua Republic Front, has said anyone displaced from the southeast as a result of the ongoing crisis in the region would be welcome in the southwest.
This was contained in the group's resolution after its meeting held in Ibadan, Oyo state on Wednesday, September 13.
The resolution which was signed Mr Jubril Ogundinmu on behalf of the group, stated that the activities of the Indigenous People of Biafra (IPOB) and its leader, Nnamdi Kanu, was becoming worrisome.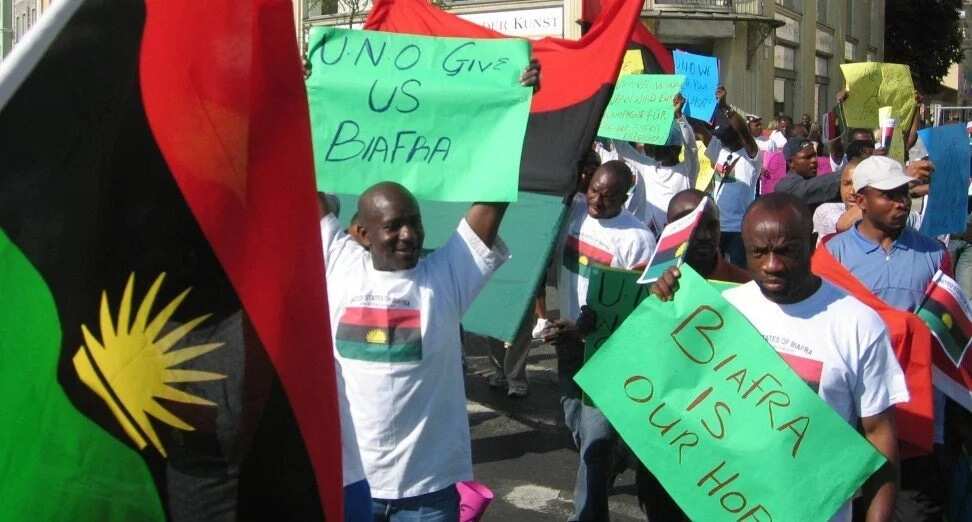 READ ALSO: United States joins Nigerians to call for end to violence
They condemned the attack on other nationalities by IPOB in the crisis that has engulfed the southeast region.
The group also decried the silence of some political leaders in the southeast on the activities of IPOB.
Part of the resolution read: "For long Kanu has adopted hate and bigotry as a means of mobilisation and provocation. We do not need to repeat some of his dangerous rhetoric's that is capable of stoking ethnic conflict in Nigeria."
The group noted that they are not opposed to the demand for Biafra by Kanu and his supporters, they however cautioned that Kanu and his group cannot impose their own conditions on the rest of Nigeria.
"We want to reassure none Yoruba living in Yoruba land of their safety and welcome to Yoruba land Nigerians who may feel unsafe in southeast Nigeria.
"We also note the ultimatum issued by the Arewa Youths, we welcome the decision of the Arewa Youths to withdraw the ultimatum, we will however welcome any Nigerian in the North who may want to relocate to southwest Nigeria.
"We seek the common humanity and solidarity of all who chose Yoruba land as home," the resolution affirmed.
Meanwhile, Rivers state governor, Barrister Nyesome Wike has warned members of IPOB to steer clear of the state and quit the attack on Nigerian citizens living in his domain.
The governor made this known via a state wide broadcast to residents of the state on Friday, September 15.
He stated unequivocally that Rivers people fully subscribe to Nigeria's corporate existence and its indivisibility.
READ ALSO: IPOB: Police step up security in the north to forestall breakdown of law and order
Watch Vice President Yemi Osinbajo lecture Nigerians on the need to live in peace always on Legit.ng TV:
Source: Legit.ng