IGP dismisses 3 policemen for illegal arrest, extortion
- Three policemen have lost their job over their involvement in illegal arrest and extortion of money from some people at Ijede-Ikorodu area of Lagos state
- Abayomi Shogunle, the officer in charge of Public Complaint Rapid Response Unit (PCRRU), said policemen were found guilty and dismissed
- Shogunle said policemen including one ASP Bayo Obadia who led the team were apprehended by his team
Inspector General of Police (IGP), Ibrahim Idris have dismissed three policemen for illegal arrest, extortion of money from three people in Ijede-Ikorodu area of Lagos state.
The dismissed policemen; AP.No 136005 Inspr. Okelue Nkemeonye, F/No. 355897 Sgt. Braimoh Sunday and F/No. 359928 Sgt. Yusuf Olukoga were attached to Area Command of the state, The Nation reports.
Legit.ng gathered that the officers who were armed pretended to be Special Anti-Robbery Squad (SARS) assaulted the victims and collected N200, 000 from them before they were released.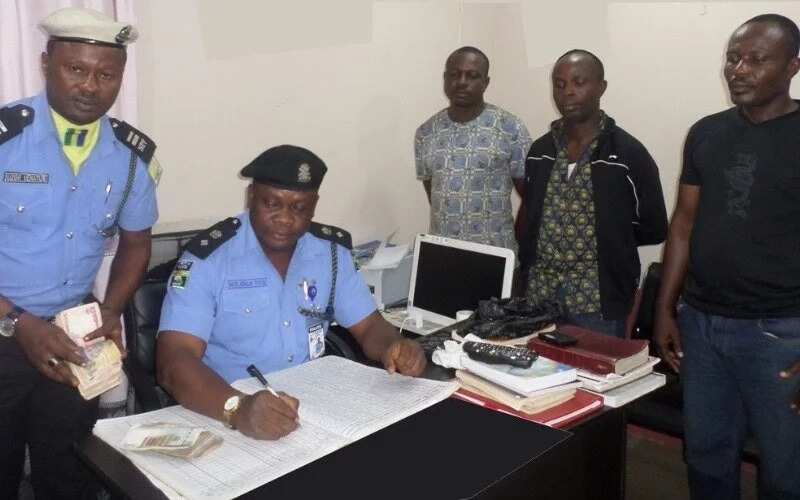 READ ALSO: 6 PDP governors to visit President Buhari in London
This was made known in a statement released by Abayomi Shogunle, the officer in charge of Public Complaint Rapid Response Unit (PCRRU) in Abuja on Monday, July 24.
Shogunle said that investigations revealed that the policemen collected N90,000 through ATM withdrawal and N110,000 through mobile bank money transfer to a third party account provided by the policemen.
According to Shogunle, the officers were found guilty and dismissed after they appeared at Orderly Room trial at the Zone Two Command Headquarters, Onikan-Yaba, Lagos.
He said the Adjudicating officer found them quilty on two charges of offence against discipline as provided for in paragraphs C (ii) Corrupt Practices and E (iii) Discreditable Conduct of the First Schedule of Police Act and Regulations Cap. P19. Law of the Federation of Nigeria 2004.
On the part of the complaint, he said: "I went to the bank this morning to deposit money to a Company's account but there was no network so i deposited the money into my personal account to do the transfer to the account later.
"When I came out of the bank, a car packed full of some SARS policemen wearing black cloth with anti-robbery squad written at the back. I was told to enter the vehicle with a gun pointed at me.
"They collected my mobile phone and asked me what I do for a living, I told them that I had just finished my youth service and I am living with my brother and I pointed my brother's shop for them to stop by and see him because he was the one that sent me to the bank, they refused to wait and they did not allow me to pick my calls and call out.''
The complaint further reads: "I received an alert on my phone with the money I went to deposit. They searched my phone and on seeing the alert, they labelled me a yahoo boy and told me that I would pay them N1Million.
"One of them slapped me, they drove us around places in Ikorodu, Ijede, Gberigbe, Ibeshe, Igbe, Ikpakodo, Itaelewa, Agric and first gate harassing people, moving them in the car and collecting huge amount from them.
"They collected N50,000.00 from me but I noticed that each junctions that we reached, people were hailing their leader by his nickname (OJ. Ojewunmi). And one by name Austin slapped me.
"They picked me up around 9am and dropped me 6pm in the evening after collecting money from me. They also used my account to collect money from the guys that I met in the car and used my ATM to withdraw from them"
Shogunle said his team was dispatched to Ikorodu where all the three dismissed policemen including AP No. 98199 ASP Bayo Obadia who led the team were apprehended.
He said preliminary investigation by the Unit revealed that all the allegations contained in the complaint sent via WhatsApp message actually happened.
"Also the four police officers who were armed on the day of the incident falsely paraded themselves as operatives of Special Anti-Robbery Squad (SARS) despite not being posted to SARS by police authorities.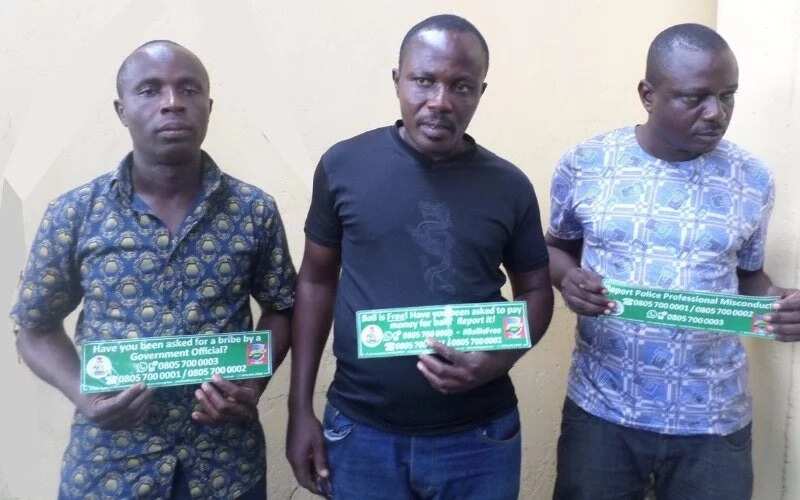 PAY ATTENTION: Install our latest app for Android, read best news on Nigeria's #1 news app
"Investigation also showed that the officers extorted a total sum of N200,000 from the young men who they tagged "Yahoo Yahoo Boys", the money was force from them via N90,000 ATM withdrawal and N110,000 mobile bank money transfer to a third party account provided by the policemen. All the extorted N200,000 was recovered by the PCRRU Investigators.
"All the arrested officers, witnesses and recovered exhibits including the N200,000 cash and printed bank statement of account were handed over to the Assistant Inspector-General of Police, Zone 2 Lagos for further detailed investigation and necessary disciplinary measures."
"The approval of the punishment of dismissal from service as recommended by the Adjudicating officer is part of the outcome of the disciplinary measures " Shogunle said.
On his part, the IGP said Unit should assure members of the public that all allegations of professional misconduct would be reported against any police officer.
He said such cases would be treated in line with relevant laws and in keeping to the "Change Begins With Me Champaign" of the federal government.
Meanwhile, Legit.ng had reported that the Nigeria Police Force dismissed four police officers attached to Ijebu-Ode Area Command in Ogun state for alleged bribery scandal.
Watch this Legit.ng TV Video of Nigeria many parents whether would support their children to join the Nigeria Police Force for obvious reasons:
Source: Legit.ng