List of commercial banks in Nigeria and their managing directors as of 2023
Due to their inability to meet the 2006 directive of the Central Bank of Nigeria, some of the commercial banks in Nigeria merged with other banks while others shut down their operations. If you want to know the names of currently operating banks, here is a full list of commercial banks in Nigeria and their managing directors as of 2023.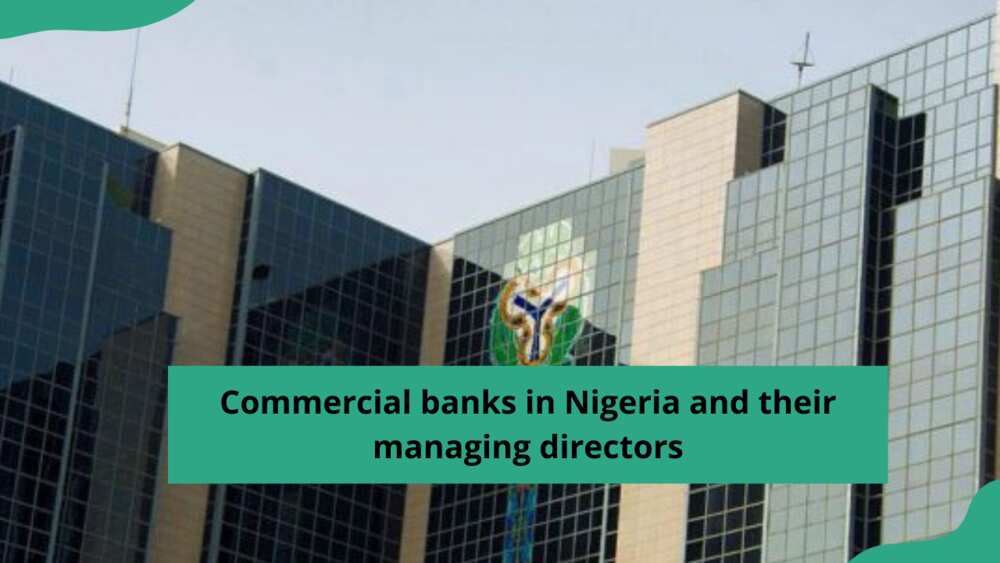 Commercial banks in Nigeria are financial institutions that offer all financial services. These services include accepting deposits, basic investment products, and giving out loans to individuals and corporate entities.
List of commercial banks in Nigeria and their managing directors
The Central Bank of Nigeria has total control of all the commercial banks and gives conditions and directives from time to time to regulate their activities.
Following some new directives from the CBN in 2006, some commercial banks that couldn't meet the requirements had to either stop operations or merge with other banks.
How many commercial banks are in Nigeria?
According to the Central Bank of Nigeria, there are 24 commercial banks in the country. Below are the types of commercial banks in Nigeria, with their managing directors.
Number
Bank name
Managing director
1

Access Bank Plc

Mr. Roosevelt Ogbonna

2

Citibank Nigeria Limited

Ireti Samuel-Ogbu

3

Ecobank Nigeria Plc

Jeremy Awori

4

Fidelity Bank Plc

Nneka Onyeali-Ikpe

5

First Bank Nigeria Limited

Dr Adesola Kazeem

Adeduntan

6

First City Monument Bank Plc

Mrs. Yemisi Edun

7

Globus Bank Limited

Elias Igbinakenzua

8

Guaranty Trust Bank Plc

Olusanya Miriam

9

Heritage Banking Company Ltd

Akin George-Taylor

10

Keystone Bank Limited

Olaniran Olayinka

11

Parallex Bank Ltd

Olufemi Bakre

12

Polaris Bank Plc

Adekunle Sonola

13

Premium Trust Bank

Emmanuel Efe Emefienim

14

Providus Bank

Walter Akpani

15

Stanbic IBTC Bank Plc

Wole Adeniyi

16

Standard Chartered Bank Nigeria Ltd

Olukorede Adenowo

17

Sterling Bank Plc

Abubakar Suleiman

18

SunTrust Bank Nigeria Limited

Halima Buba

19

Titan Trust Bank Ltd

Dr. Adaeze Udensi

20

Union Bank of Nigeria Plc

Mudassir Amray

21

United Bank For Africa Plc

Oliver Alawuba

22

Unity Bank Plc

Mrs Tomi Somefun

23

Wema Bank Plc

Mr. Moruf Oseni

24
Zenith Bank Plc

Dr. Ebenezer N. Onyeagwu
What is the role of the Central Bank of Nigeria?
Some of the major roles of CBN are:
Guarantee monetary and price stability within the country.
Authorize and manage the official currency in Nigeria.
Preserve foreign reserves to uphold the global worth of the nation's official currency.
Foster a robust financial system within Nigeria.
Serve as a financial institution and offer economic counsel to the Federal Government.
How many commercial banks do we have in Nigeria?
The banking sector of Nigeria consists of 24 commercial banks, 719 microfinance banks and 40 finance companies.
What is the difference between the central bank and commercial bank in Nigeria?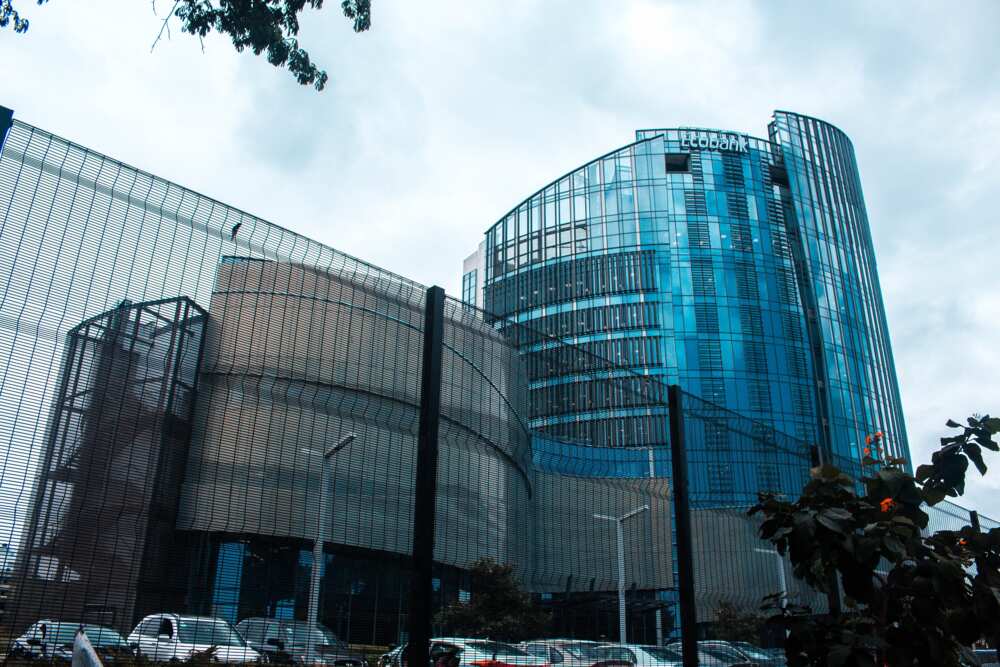 The government owns the central bank, while a commercial bank functions as a component of a nation's banking system, operating under the regulatory authority of the central bank.
Which is the best commercial bank in Nigeria?
Zenith Bank Plc once again achieved the distinction of being recognized as the Best Commercial Bank in Nigeria for the third consecutive year at the London Stock Exchange. It also secured the title of Best Corporate Governance Bank in Nigeria for the second year, as honoured at the 2023 World Finance Awards.
Which is the latest commercial bank in Nigeria?
Parallex Limited, formerly a microfinance institutionn, declared its transformation into a commercial bank.
Which foreign banks are operating in Nigeria?
Some foreign-owned banks in the country are Citibank, Ecobank, Stanbic IBTC, Standard Chartered and Nedbank.
What is the largest commercial bank in Africa?
Standard Bank maintains its status as the largest lender on the African continent, with its Tier 1 capital base growing by 5.1% to reach $11.7 billion. Additionally, it continues to hold the title of the largest bank on the continent in terms of assets.
Is there a Citibank in Nigeria?
Citi has maintained a presence in Nigeria since 1984, establishing itself as the oldest international bank in the country, with a network of service bank branches spanning the nation.
These are the commercial banks in Nigeria, according to the Central Bank of Nigeria. They are essential financial intermediaries that facilitate economic growth, provide financial services to individuals and businesses, and support the overall development of the country's financial system.
Legit.ng recently published an article on all the Sterling Bank transfer codes. Sterling Bank, a prominent financial institution in Nigeria, provides a wide array of services to its valued customers.
Utilizing the Sterling Bank transfer code, you can conveniently access numerous services without the need to visit a physical branch. These services include money transfers, checking your account balance, buying mobile airtime, and much more.
Source: Legit.ng