Several dead as trailer crushes commercial bus along Benin Express
- A tragic accident occurred on Saturday, July 1, along the Auchi Benin Expressway in Edo state
- According to a Facebook user, a truck lost its brake and plunged into people killing several of them
- The trailer belonging to a cement company crushed a commercial bus and the people within
July 1, 2017 is a day many of the people who use the Auchi Benin Expressway in Edo state will remember for a very long time, if not forever.
A trailer reportedly belonging to Bua Cement Company experienced brake failure and plunged into a commercial bus full of people killing them and other bystanders.
The Facebook user who reported the incident, posted the following: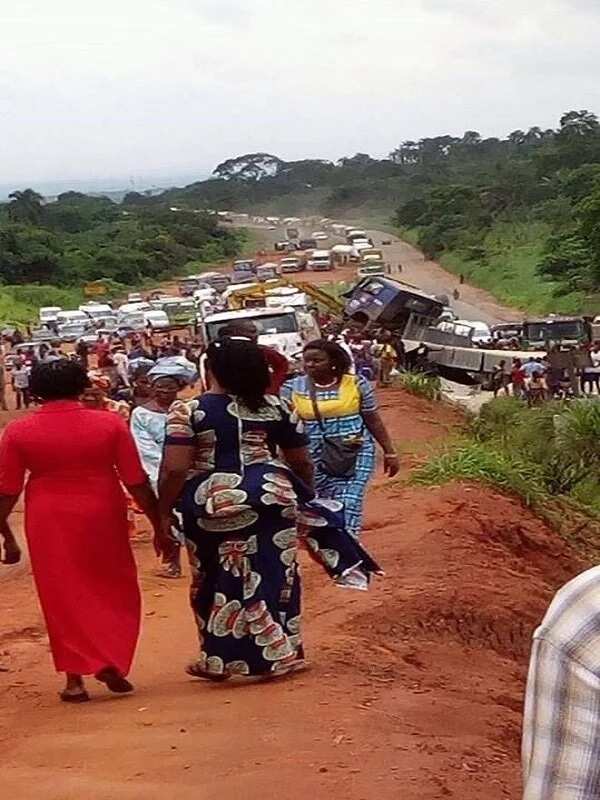 "This is Ewu, the most dangerous road(route) in the world if you ask me, passing through that narrow road and surviving it, is by God's grace, if you can escape this area I bet you, God is really by your side.
"Just yesterday It was a scene of sorrow, tears and death at the ever-busy Ewu Junction in Ewu Town, Esan Central Local Government Area of Edo State as a trailer belonging to Bua Cement Company crushed a commercial bus to a pulp.
READ ALSO: Nathaniel Bassey shares how #Hallelujah Challenge participant survives fatal car accident (photos)
"So many persons lost their lives. It's so unfortunate that the government turned deaf ears to this particular area and not wanting to do anything about it, at same time Former minister of works under Jonathan, Mike Onolemenmen and the Mr fix it from Esan land.
"It's possible they benefit from this road accident in their home town. Too bad."
Another Facebook user said:
"God help your children, my people see what happened for Ewu hill in esan central Local Gov,t area in Edo State along Benin Auchi xpress way Edo State on saturday 1/7/2017 10:15am.
"More than 45 people in the 3 transport buses from Abuja to East trailer failed break then climb and grade them like pepper."
READ ALSO: Keke napep driver rescued after accident on 3rd mainland bridge
Below are some comments from the post:
PAY ATTENTION: Watch more videos on Legit.ng TV
Watch this Legit.ng video on another incident that happened in a church situated in Abuja:
Source: Legit.ng