Northern youths demand arrest of Ango Abdullahi over quit notice to Igbos
- The Northern Youth Council of Nigeria (NYCN) reminded Nigerians that Ango ABdullahi has the capacity to escape from the country when violence occurs
- NYCN, an umbrella body for all youths in the north, declared that every Nigerian has the right to live in any part of the country
As the tension caused by the three-month quit notice to Igbo people resident in the northern part of Nigeria continues to rise, Legit.ng can report that there are pressures on security agencies to arrest Professor Ango Abdullahi, one of the elders of the region.
The Northern Youth Council of Nigeria (NYCN), a pressure group in the region has demanded for the arrest of Professor Abdullahi, spokesperson of the Northern Elders Forum (NEF), for supporting the notice.
The group also demanded the arrest of the members of the coalition that put the country in its current state through the notice to the Igbos.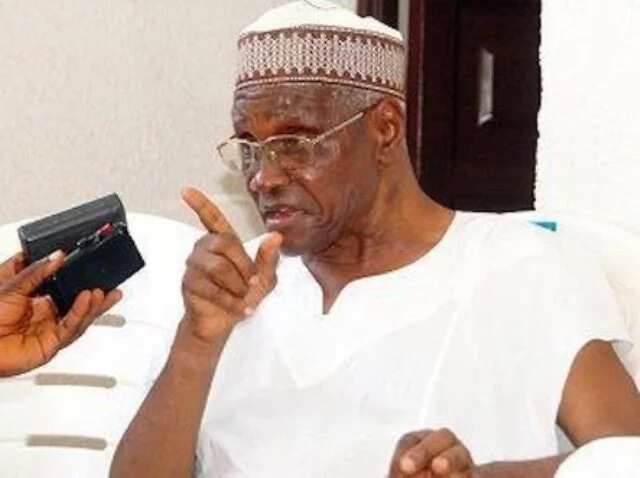 Speaking with journalists on Saturday, June 10, in Kaduna, the NYCN reminded Nigerians that Ango Abdullahi and his family would run from Nigeria if his utterance eventually leads to violence and unrest.
According to the group, in such situation, the poor would be left to suffer and die.
READ ALSO: FUTA newly approved courses
The NYCN president, Isah Abubakar, declared that the notice which was given by the coalition in Kaduna did not represent the decision of the entire north.
He also maintained that the NYCN stands as the umbrella body for all the youth organisations and has the right to make such announcement.
While dissociating itself from the quit notice, the NYCN noted that all Nigerian citizens have the right to live in any part of the country without fear.
"We are surprise with statement credited to our renowned elder and academic, Professor Ango Abdullahi supporting the uncivil and illegal declaration that Igbos should vacate the North.
"NYCN want to use this medium to dissociate itself from anti-Nigeria agenda for selfish reason. We are not happy with the development in all its ramifications.
PAY ATTENTION: Read the news on Nigeria's #1 new app
"We are calling on federal government to extend its arrest order to Professor Ango Abdullahi and other people who must have sponsored the perpetrators of such a huge inciting statement capable of throng the country into another civil unrest while the country is yet to fully recovered from the previous one several decades after," he said.
Legit.ng had reported earlier that the House of Representatives has reportedly passed a resolution asking the nation's security organisations to be alert to the threat currently taking over the unity of Nigeria.
The House condemned the three-month notice given by some northern groups to the Igbos asking that the latter returned to their states in the south-east.
While deliberating on the issue through a motion brought under a 'matter of urgent public importance' by Hon Oghene Emma Egoh, the lawmakers said Nigeria must remain one country.
Watch this video of how Nnamdi Kanu of IPOB was granted bail recently:
Source: Legit.ng