Igbos begin fleeing from north following quit notice
- Igbos have begun fleeing northern states such as Kaduna, Kano following the eviction order given by northern youths
- Those fleeing the north do not trust the government to protect them
- They fear for their lives because as some noted, none of the people who gave the quit notice has been arrested yet
Some Igbos resident in the north have already begun relocating to other parts of Nigeria, following the quit notice issued by the Coalition of Northern Youths.
Though the directive has now been rescinded, barely a week ago, the Coalition of Northern Youths had given all Igbos resident in the north a three month directive to vacate the region, and also asked Hausas in the east to return back to their places of origin.
READ ALSO: Deltans are proud Nigerians - Okowa aide
According to a report by Daily Post, during a visit to the God is Good Motor Park in Mando, Kaduna State on Thursday, June 8, the park was brimming with Igbos returning back to the east.
One of the fleeing Igbos identified himself as Ifeanyi Odozie, an electric appliance dealer.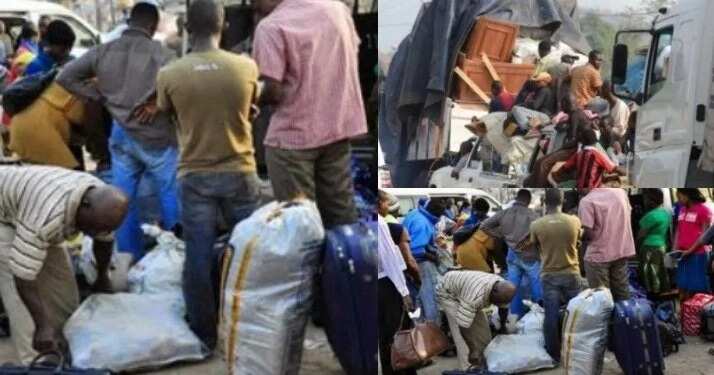 According to Odozie, he was leaving because he didn't want to put his family at risk.
He further disclosed that he did not trust the government to protect him and his family.
Odozie stated: "I have been in this place for thirty years but I think I have overstayed my welcome here. I will take my family to the village and return by next week to sell off some of my belongings here.
"The federal government won't be there to save us when problem starts.
"Since they (the northern youths) gave their order, who has been arrested?
"I also have my village, it is high time I returned home."
Another Igbo who was interviewed identified herself as Chioma Okoye, a trader of second hand clothes at the Kaduna Central market in Kaduna.
In her words: "I want to go and rest for a while. I really don't know what these people are up to. I will come back when they are ready to accommodate us."
In Kano state, the situation was the same.
An angry Igbo man who identified himself as Mazi Obiekwe angrily scolded a reporter saying, "go and ask Buhari and his kinsmen why they want us to leave their land."
Nigerians have however started reacting to Igbos leaving the North. Below is a few reactions gathered by Legit.ng:
PAY ATTENTION: Install our latest app for Android, read best news on Nigeria's #1 news app
Meanwhile, Legit.ng had previously reported that the federal government has formally reacted to the quit notice issued by northern youths to Igbos living in the north saying the Igbos are free to live anywhere in the country.
The youths had stirred nationwide uproar when they issued a statement giving a 90-day ultimatum to Igbos in the north to leave.
The minister of interior, Abdulrahman Dambazau, in a statement issued on Wednesday, June 7, urged Igbos and other Nigerians to go about their business without fear.
Watch this Legit.ng TV video asking if Biafra is achievable.
Source: Legit.ng