Governor Ayade frees 34 prison inmates to mark Cross River at 50
- Cross River has granted pardon to 34 inmates serving various jail terms in Calabar Prison
- Governor Ben Ayade did this to mark the 50th Anniversary of Cross River state
- The governor said the pardon was also based on the provision of section 212 of the 1999 Constitution
Gov. Ben Ayade of Cross River has granted a state pardon to 34 inmates serving various jail terms in Calabar Prison to mark the 50th Anniversary of the state.
Ayade said this on Saturday in Calabar in his anniversary speech to the people of the state.
He said that Cross River had every reason to celebrate 50 years of its existence as a state, considering its monumental achievements during the period.
READ ALSO: Acting President Yemi Osinbajo inaugurates Zaria water project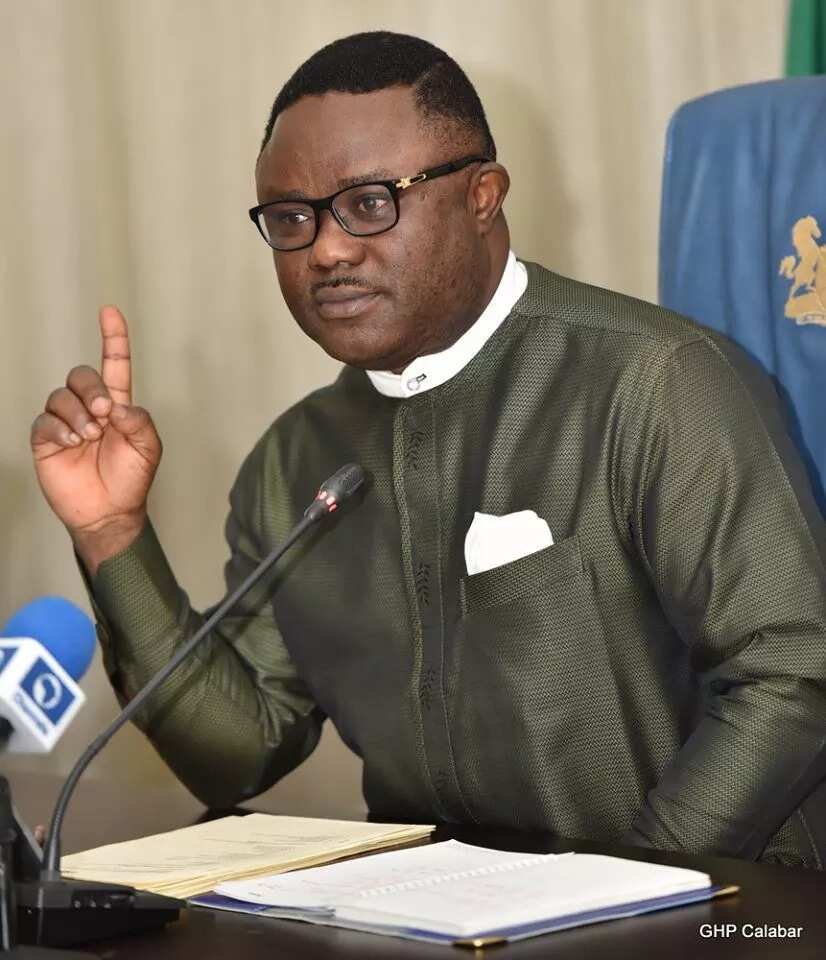 The governor said the pardon was in the spirit of the celebration and based on the provision of section 212 of the 1999 Constitution.
He said: "In the spirit of the celebration and the powers vested on me by the 1999 Nigerian Constitution, I hereby grant clemency to the following category of people serving various jail terms in the state.
"They are five people on death row; 16 prisoners serving life sentences; four prisoners who are above 60 years of age; nine convicted criminals who are terminally ill and may likely die any moment if not granted pardon.''
Ayade stressed the need for the people to always remember past leaders of the state who had made considerable efforts in moving the state to greater heights.
He said that in spite of the great challenges that have bedeviled the state, there was the need for the people to have hope for a greater future.
According to him, the state has excelled in many fields of endeavors including tourism, agriculture and forest preservation.
He added that the annual Calabar Carnival has become the greatest street party in Africa.
"I therefore call on you to stick together as we look forward to a greater tomorrow, '' he said.
Ayade had earlier performed the public signing into law of eight bills passed by the State House of Assembly, as part of the celebration.
The laws include Administration of Criminal Justice in Cross River; Citizen Right, Cross River Inland Water-ways, Cross River Scrap Regulatory Agency, Cross River Lottery ; Hawkers Right; Emergency Management Agency, and House of Assembly Commission.
The governor also used the occasion of the celebration to call on the people of the state to pray for the quick recovery of President Muhammad Buhari.
PAY ATTENTION: Read best news on Nigeria's #1 news app
It would be recalled that Cross River was created on May 27, 1967 from the former Eastern Region as South Eastern State by the then Gen. Yakubu Gowon regime.
The state was renamed to Cross River State in 1976 by late Head of State, Gen. Murtala Mohammed.
Earlier, Legit.ng reported that Governor Ayade ordered all the commissioners aide in the state to wear only clothes made from the Calabar Garment Factory.
Ayade said by June he will also join his over 2,000 aides to patronize Calabar based designers.
He said the purpose of the directive is to showcase his sincere commitment to the state and over 3,000 Cross River state youth working in the factory.
Watch this Legit.ng video of Rotimi Amaechi giving a summary of the President Muhammadu Buhari's administration below:
Source: Legit.ng