Check out 8 wonderful tips to make Nigerian chin-chin
Editor's note: Mariah Adeboboye, the Mariah Adeboboye, the Legit.ng partner blogger, in this article, explains eight wonderful tips to prepare Nigerian chin-chin.
Mariah is an amazing cook, who is passionate about her family and inspires other families to ensure best meals are on their tables on a daily basis.
She is the owner of food bog called Mariellasmenu, the platform she uses to share recipes in order to inspire people to cook for their families.
Mariah could be contacted via: +2348173155778, +2348126766674 or Mariellasmenu.
More details in Legit.ng's step-by-step guide for guest bloggers.
So my kids are at home for the holidays! Halleluia no more school runs. However, I am now faced with the daunting task of keeping them preoccupied so they don't turn my house upside down (Joy of motherhood)!
I decided to engage them in the process of making chin-chin today. I am one who loves to control all that goes into my child's mouth, I rarely buy snacks for my kids, I like instead, to make mine and pack them up in their lunch bags or place in air tight cookie jars so they can reach for some when they want.
READ ALSO: BREAKING: Osinbajo officially receives 2017 Budget Appropriation Bill
We made this chin-chin recipe together as a team today and even though the kitchen was messed up at the end, we had so much fun bonding, I found myself explaining every detail to the girls ( They asked all the questions in the world), at the end of the day, it was so worth it! they bragged to everyone that walked through our door, how they made the chin-chin themselves!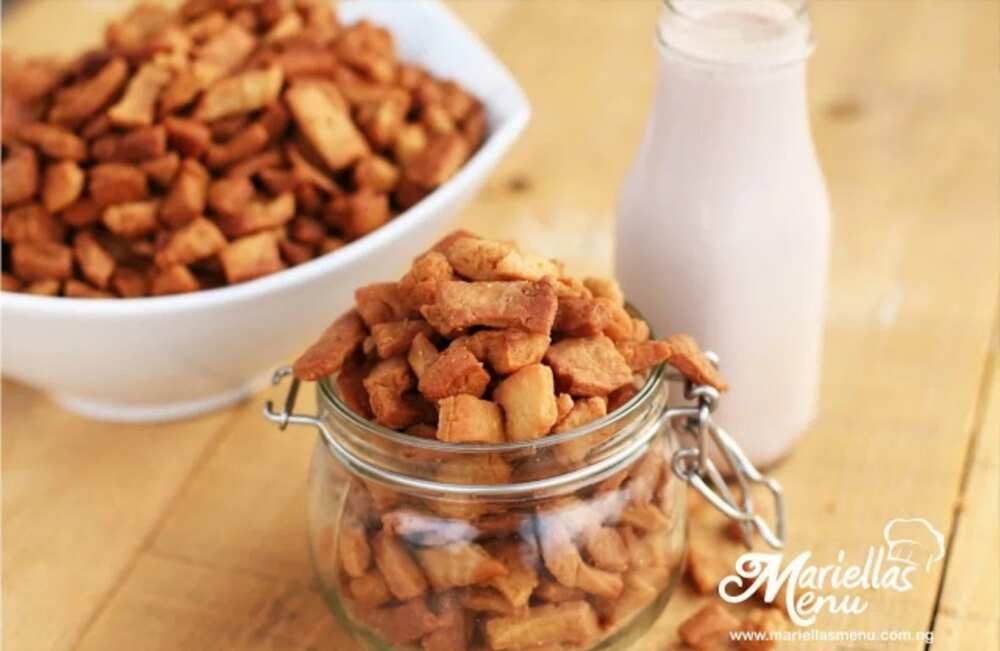 Chin-chin is one of Nigeria's most popular snack, with flour, butter, sugar, eggs as its main ingredients while other ingredients and spices such as milk, nutmeg, cinnamon and food flavors can be added in to enhance its taste, this however is due to preference.
All of these ingredients are mixed together to form the chin-chin dough, which is now cut into desired shapes and fried in hot oil. As simple as ABC!
My girls worked so hard on this recipe, especially in cracking the eggs, passing me ingredients and cutting, even though I gave them blunt table knives, they were more than happy to work with me.
Chin-chin time!
Ingredients
1) Flour 600g
READ ALSO: Check out 6 amazing ways to prepare watermelon, cucumber and mint juice
2) Butter 250g
3) Granulated sugar 200g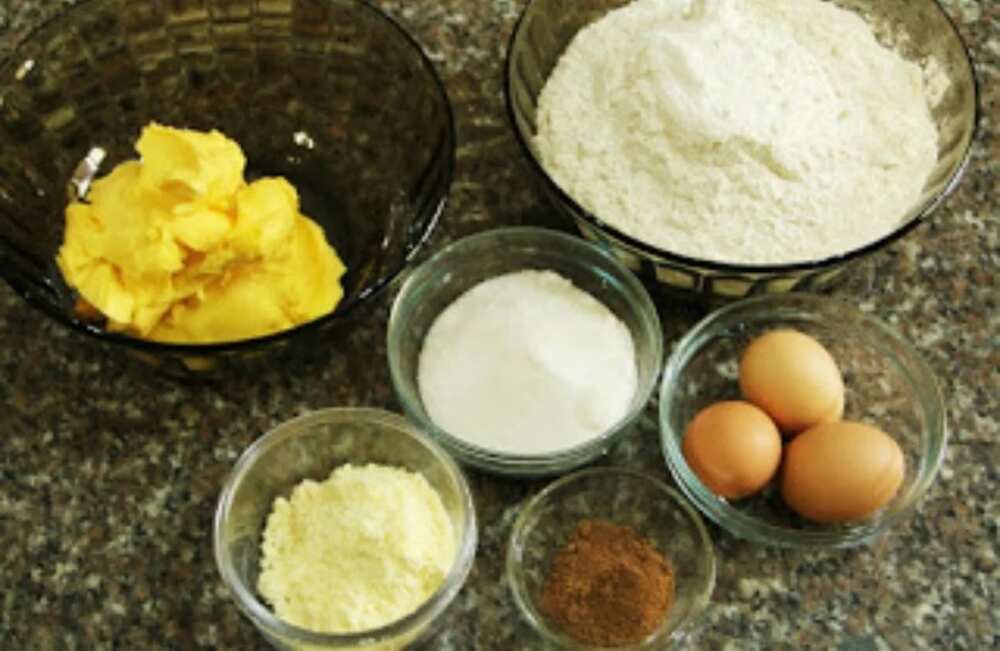 4) 2 cups of powdered milk
5) 2 eggs
6) Nutmeg 20g
7) Vegetable oil for frying
Directions
1) Add the butter and sugar into a clean bowl and cream lightly as you would when making a cake, just enough to incorporate the butter and sugar, not too much.
2) Now add the flour, powdered milk and nutmeg into the bowl, mix thoroughly with your clean hands until the flour looks like bread crumbs.
3) Crack the eggs and whisk them in a bowl, set this aside.
4) Now make a hole in the middle of the flour and pour in the whisked eggs, then work this mixture with your hands until all of the ingredients form a perfect dough'.
Cooks tip:
If you find the dough too hard, you can mix the powdered milk with a cup of water, before adding into the mixture, then, mix until the dough is soft yet stretchy. Set this aside.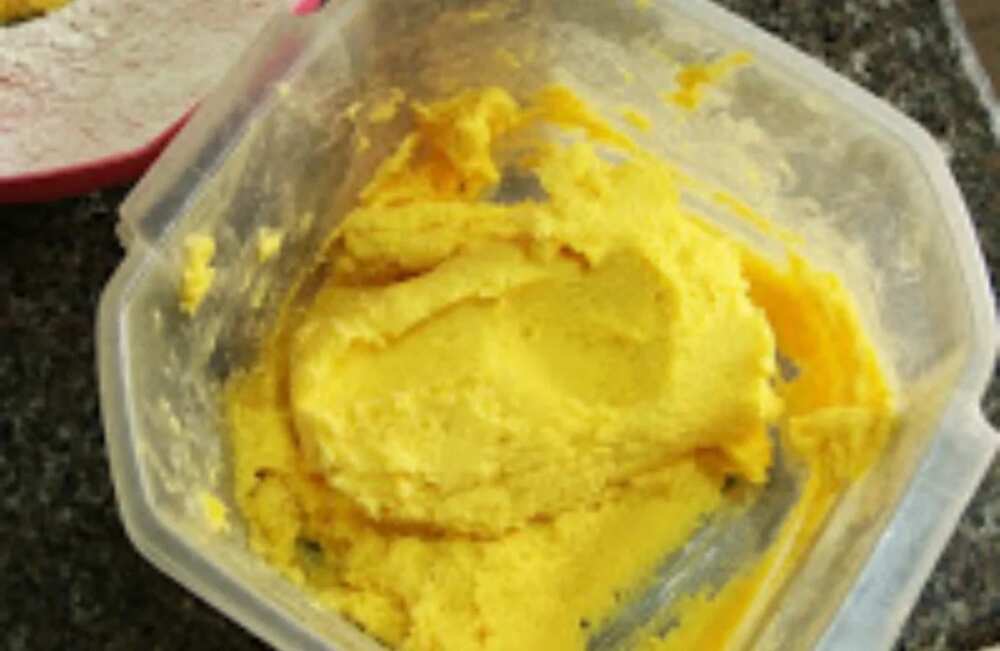 5) Flour a clean flat surface and cut a chunk of the dough, roll this out with a rolling pin and cut the flattened dough into any desired shape until all of the dough has been used up.
6) Place your oil in a clean wok on the burner, allow to heat up properly.
7) Fry the chin-chin in small batches making sure not to over crowd the pan, once it is beginning to brown, turn the chin-chin around to make sure all sides are well fried.
PAY ATTENTION: Read best news on Nigeria's #1 news app
8) Once it is golden brown, transfer from the oil onto paper towels to cool and to soak up excess oils and your chin-chin is ready to be munched! I serve my kids the chin-chin with warm bottles of cocoa powder flavored milk. Try this recipe now and tell me how it goes.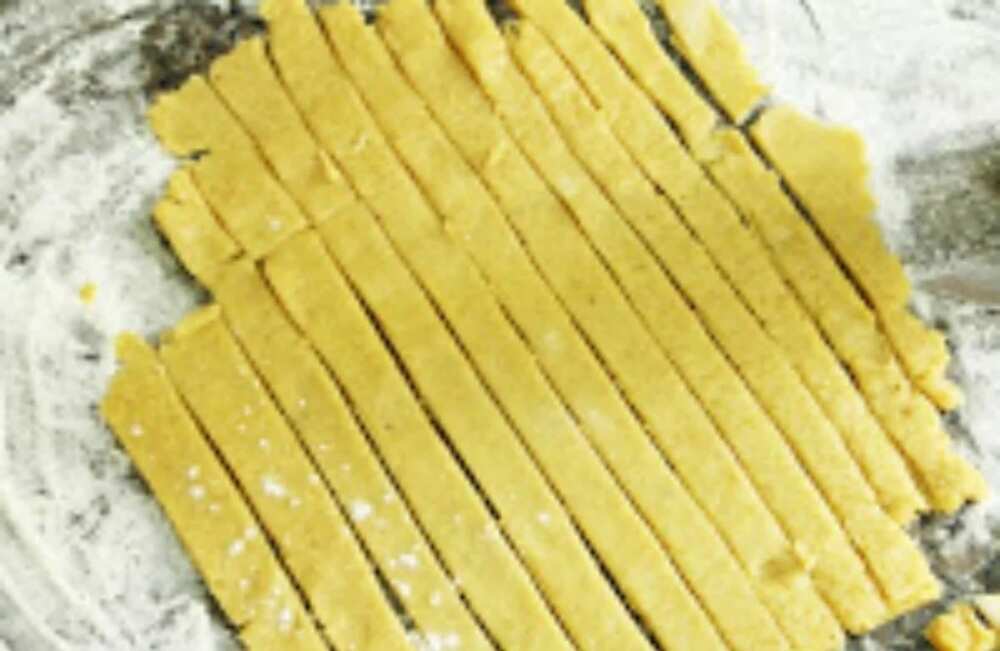 Be Inspired!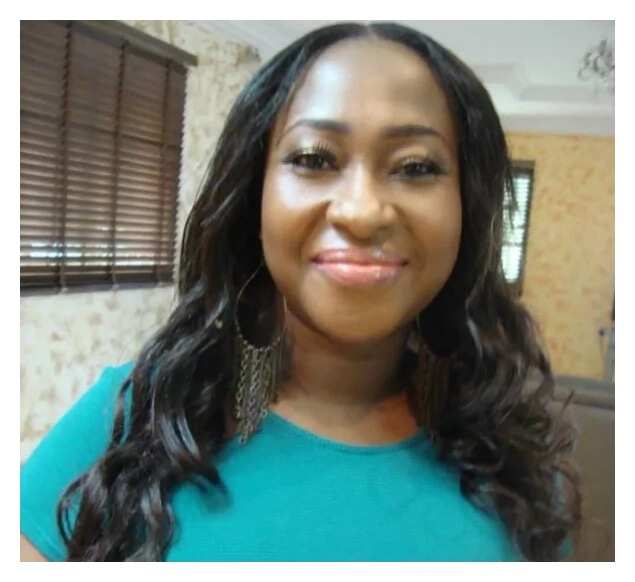 The views expressed in this article are the author's own and do not necessarily represent the editorial policy of Legit.ng.
Legit.ng welcomes writers, bloggers, photographers and all sorts of "noise makers" to become a part of our Bloggers network.
If you are a seasoned writer or a complete newbie – apply and become Nigeria's next star blogger.
Send us some info about your career, interests and expertise and why you'd like to contribute to the Blogger Network at blogger@corp.legit.ng
Also, please send us the link to your blog and three examples of your work.
More details in Legit.ng's step-by-step guide for guest bloggers.
Watch this Legit.ng video to know amazing benefits of taking cucumber:
Source: Legit.ng