I have the right to dump PDP - Fayose
- Governor Fayose has declared that he has the right to leave the PDP
- The Ekiti governor insisted that he remains a member but is already strategising for 2018 election
- He vowed to dump the PDP if Sheriff wins at the Supreme Court
Governor Ayodele Fayose has reiterated his desire to dump the Peoples Democratic Party (PDP) if Senator Ali Modu Sheriff wins at the Supreme Court as part of his strategy for 2018.
The party has been involved in leadership tussle with Senator Sheriff and Ahmed Makarfi taking the case to the Apex Court to determine who deserves to be the true chairman of the party.
READ ALSO: UK issues warning to coup-plotters in Nigeria
The Nation reports that Fayose hosted students at the Government House where he revealed that he was strategizing ahead of 2018 and would not want to be caught unawares.
He said he still remained a member of the PDP for now but would not hesitate to dump the party if Sheriff wins at the Supreme Court.
He said: "I'm still a member of PDP and the chairman of its Governors' Forum. There are no two sides to it.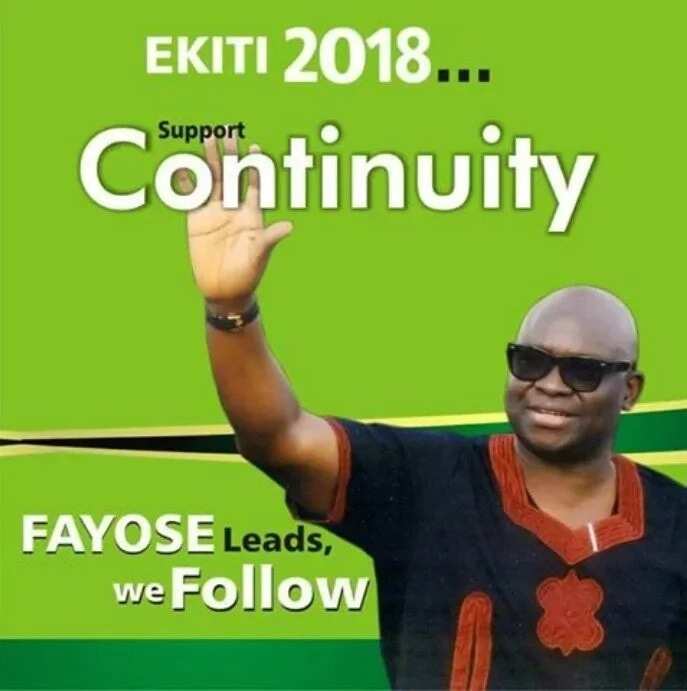 "But the strategy for 2018 election is my business. No law says I should not run on the platform of another party if PDP is no longer a right direction.
"If they are bent on destroying PDP, let them go ahead. I will never have anything to do with Senator Sheriff. The party is like a vehicle and the vehicle can't be more important than the driver."
Ahmed Makarfi who is the chairman of the caretaker committee of the PDP released a statement saying he did not ask members of the party to leave for another one.
He said: "Our attention has been drawn to a story that we advised members to defect. It becomes necessary we issue a statement because of the rumours spreading that we have directed people in Lagos State to vote for APGA. We never did so. It should be noted that we at the national level have never asked anyone to defect to another party."
Legit.ng had earlier reported that Fayose removed the logo and name of PDP from his campaign office at Olora junction, Adebayo, Ado-Ekiti.
The one storey building was repainted white, with every insignia of PDP removed.
Before repainting, the building had Fayose's picture embossed on PDP logo with the inscription: "Fayose Our Leader, Architect of Modern Ekiti."
PAY ATTENTION: Read best news on Nigeria's #1 news app
The billboard, with Fayose's portrait, reads: "Ekiti 2018: Support Continuity, Fayose Leads, We Follow. Again, It's Going To Be 16-0."
Legit.ng asked Nigerians who they would vote for between Fayose and President Muhammadu Buhari and this is what they had to say:
Source: Legit.ng