How to check if National ID card is ready for pick up? (with guide)
It is possible that your Nigeria National ID card is ready, but you do not know it. According to the National Identity Management Commission (NIMC), if you registered for a National ID card Nigeria, then you can check if it is ready online.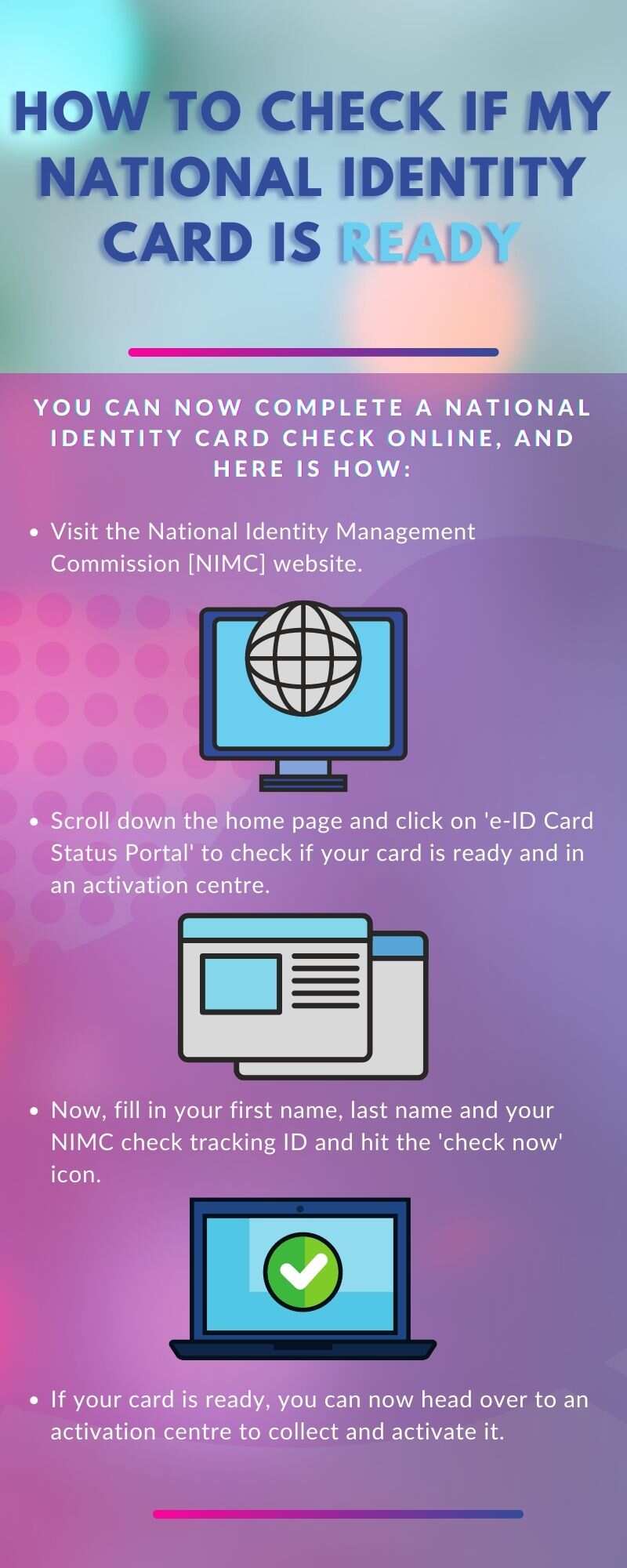 Here is the procedure on how Nigerians can check if their ID cards are ready for collection.
How to check if my National identity card is ready
You can now complete a National identity card check online, and here is how:
Visit the National Identity Management Commission [NIMC] website.
Scroll down the home page and click on 'e-ID Card Status Portal' to check if your card is ready and in an activation centre.
Now, fill in your first name, last name and your NIMC check tracking ID and hit the 'check now' icon.
If your card is ready, you can now head over to an activation centre to collect and activate it.
Requirements for the National e-ID Card collection and activation
To collect and activate your e-ID card, the following requirements must be met:
You should have received your Batch ID Number via SMS.
You should have a 4 digit secret pin for the e-ID Card activation. Do not share this PIN with anyone else.
Also, take note that your fingerprints will be used for activation.
Process of card activation
The card activation process is quite simple, and moreover, it is totally free of charge. To activate your card, the following procedure is used:
Visit the NIMC card collection centre and present the text message or email printouts received from NIMC with the batch ID.
The Card Operations Support Officer will then use the batch ID extracted from your SMS in order to sort out your card.
After sorting the card, the Activation Officer will give you the e-ID Card to confirm your names and address on the card envelope.
You are then advised to open the card envelope, take out the e-ID Card, and verify the names, date of birth and image on the face of the e-ID Card before activation is done.
If you are satisfied with the information on the e-ID card, the Activation Officer will collect the e-ID card from you for a Match-on-Card (MOC) verification.
After the Match-on-Card (MOC) verification, the Activation Officer will activate the Electronic Public Key Infrastructure (ePKI), Electronic ID (eID), International Civil Aviation Organization (ICAO) applet and Europay-MasterCard-Visa (EMV) applet using a four-digit password created by you (and only known to you).
The National e-ID card will be returned to you after the completion of activation.
Functions of the national e-ID card
It contains key information of the applicant, such as their National Identification Number (NIN), address, name and other details. This unique function is key to validating the applicant's National Identification Number (NIN) and offers the National e-ID as a strong tool for institutions offering services to their customers like the "Know Your Customer" (KYC) tool for banks and other financial institutions.
It can be used as a tool for making payments for goods and services in any part of the world.
It has your 10 fingerprints taken at the point of registration into the National Identity Database safely stored away on it. No unauthorised person can access them. The Match-on Card (MoC) is the most secure technology to authenticate a person.
The Electronic Public Key Infrastructure (ePKI) – security function facilitates secure communication between persons, users, and devices.
It is also a travel document and conforms to such standards as the ICAO just like the international passport. It provides future functionality for anyone who may wish to embark on cross border migration such as regional travel within West Africa and or other consenting countries where a visa is not required.
The eHealth function on the national e-ID card in collaboration with the National Health Insurance Scheme (NHIS) can be used to administer health insurance schemes.
The Pension applet in collaboration with PENCOM would enable citizens to manage their retirement savings accounts more efficiently.
It can serve as a voter's card.
It can serve as a self-service payment channel through which cardholders can meet their tax obligations with ease from the comfort of their homes and offices.
Details on the national drivers' licence can be accessed by inserting the National e-ID Card into a POS-like card reading device with the appropriate digital certificate.
It can be used as a travel card, in the sense that cardholders can load credits/units onto their cards in order to pay for the use of public transport.
Now you know how to check if National ID card is ready for pick up. For more helpful guides, keep reading Legit.ng.
READ ALSO: Tax Identification Number: application requirements (2021)
Legit.ng reported about how to apply for a Tax Identification Number in Nigeria and the requirements needed for the same.
According to the report, you can complete the application procedure on your own. You just need to visit an NFIRS office and request the TIN application form.
Source: Legit.ng