NIN-SIM registration: How to link NIN to your SIM card before deadline
The deadline to link your NIN to your SIM card has been pushed to 9th February 2021, but this does not mean that you should wait until the last minute to complete this process. Here is a helpful guide that will show you all the necessary steps you need to follow to link your NIN to your SIM card.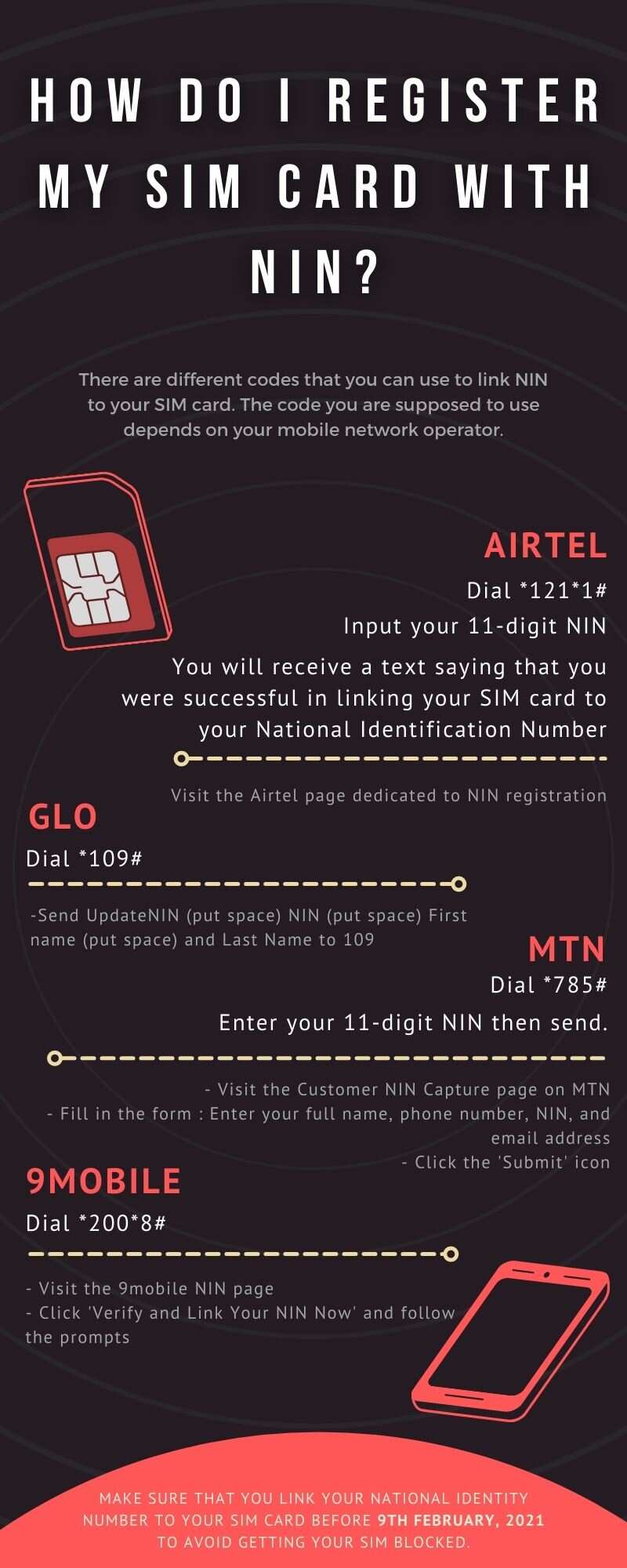 On 15th December 2020, the Nigerian Communications Commission (also known as NCC) issued a directive titled the "Implementation of New SIM Registration Rules" to all mobile network operators in Nigeria.
The initiative instructed mobile network operators to deactivate all SIM cards which had not been linked with a valid national identity card in 14 days with effect from December 16, 2020. The deadline has since been changed to 9th February 2021.
Although many Nigerians still aren't happy with the short amount of time allocated for this exercise, one thing is for sure: you need to link your NIN to your SIM card before the deadline, or your SIM card will be blocked. Don't know how to go about this? Here's a helpful guide on how to link your NIN number to your SIM card easily.
NIN registration
For those who have never registered for the National Identification Number:
The first thing you need to do is visit a National Identity Management Commission (NIMC) enrollment centre to complete the process.
To ensure that the registration process is hassle-free, download the enrollment form from the NIMC portal before visiting the NIMC enrollment centre and fill it correctly.
Due to the Coronavirus pandemic, some protocols need to be followed when visiting an NIMC centre: Always wear a face mask, sanitize your hands regularly, and maintain social distancing always.
Retrieve your National Identification Number
If you had already registered for and obtained your NIN but cannot remember it:
Retrieve it by dialing *346# using the phone number you used to register for NIN.
How do I register my SIM card with NIN?
Now, onto the nitty-gritty of it all. Here's how to link your National Identification Number to your SIM card.
There are different codes that you can use to link NIN to your SIM card. The code you are supposed to use depends on your mobile network operator.
Airtel
Dial *121*1#
Input your 11-digit NIN.
You will receive a text saying that you were successful in linking your SIM card to your National Identification Number.
OR
Visit the Airtel page dedicated to NIN registration.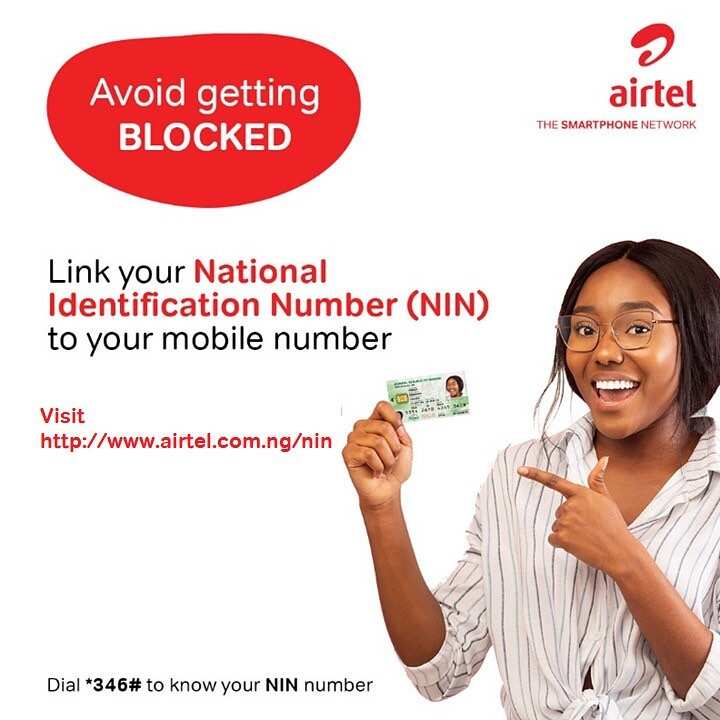 Glo
OR
Send UpdateNIN (put space) NIN (put space) First name (put space) and Last Name to 109
MTN
Dial *785#
Enter your 11-digit NIN then send.
OR
Visit the Customer NIN Capture page on MTN
Fill in the form correctly: Enter your full name, phone number, NIN, and email address.
Click the 'Submit' icon.
9mobile
OR
Visit the 9mobile NIN page
Click 'Verify and Link Your NIN Now' and follow the prompts
And that's it! As you can see, the process is quite simple if you already have your NIN. However, the procedure becomes complicated if you have never registered for NIN before.
When is the deadline for NIN SIM registration?
Initially, the deadline was 30th December 2020. Later, it was extended to January 19th, 2021 and further to 9th February 2021.
Despite pleas by Nigerians to have the deadline extended (citing problems with outdated facilities of the NIMC and the COVID-19 restrictions), the federal government has insisted that the February 9th deadline will not be changed.
Furthermore, the Nigerian Communications Commission has revealed that mobile network operators have been instructed to shut down SIMs not linked with NIN after the last day or have their licenses revoked.
What is mandatory SIM registration, and why is it necessary?
Mandatory SIM registration is an internationally-recognized policy that requires users to provide personal information such as their names, addresses, national identity numbers etc. to register for or activate a prepaid SIM card. If a country adopts the policy, users who fail to register their SIM cards face network disconnection.
Countries that have mandatory SIM registration laws include Togo, Algeria, Switzerland, Angola, South Africa, Brazil, Russia, Cameroon, Nigeria, Chad, Niger, China, and Ghana.
Mandatory SIM registration, coupled with the NIMC Verification Service, will be helpful in the tackling of crimes and in the identification and subsequent arrest of criminals and fraudsters (especially those who use their phones for their undertakings)
As you can see, the entire NIN-SIM registration process is not complicated at all, as long as you already have your National Identification Number. The procedure only becomes complicated for those people who had never obtained their National Identification Number before. All in all, make sure that you link your National Identity Number to your SIM card before 9th February, 2021 to avoid getting your SIM blocked.
READ ALSO: 11 important things Nigerians need NIN for (list)
Legit.ng recently reported about the importance of NIN for Nigerians. Did you know that you need a National Identification Number to open a personal bank account, for international passport application & acquisition, and for SIM usage?
Find out the other eight reasons why you should definitely get your National Identification Number right away!
Source: Legit.ng