Presidency not sincere about the true state of Buhari's health - Adebanjo
- Afenifere chieftain and elder statesman, Ayo Adebanjo has spoken on the ill-health of President Muhammadu Buhari
- Adebanjo said the presidency is not sincere about the true state of President Buhari's health
- He also said the presidency is taking Nigerians for fools
Afenifere chieftain and elder statesman, Ayo Adebanjo has stated that the presidency is not sincere about the true state of President Buhari's health.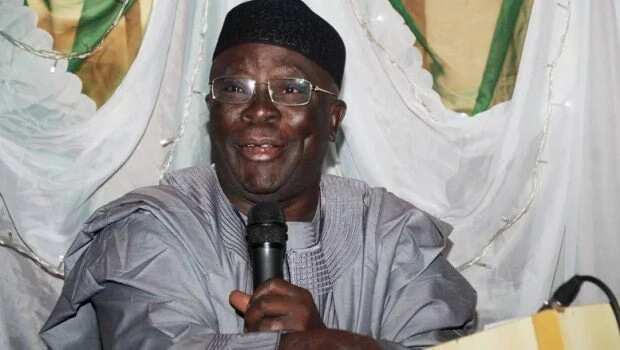 Adebanjo made the statement during an interview with New Telegraph published on Monday, February 20.
He also opined that the presidency is taking Nigerian for fools by saying the president is hale and healthy.
''The president wrote that he is extending his vacation because of some medical tests. Do you do tests for people who are hale and healthy?'' Adebanjo queried.
PAY ATTENTION: Get the latest News on Legit.ng News App
He continued: ''As a lawyer, I go by evidence. As far as I am concerned, I rely on the statement from the presidency that the president is doing some tests.
''If he is ill, I will pray for him to recover quickly. But I query people who think we are dunces. They are taking us for a ride. No man is above illness.
''As a president anything can happen to you just like any other human being. But everybody is talking about it because Buhari is the president of the country and we have a stake in his good health because if he is not healthy, he cannot govern us well.''
Adebanjo however dismissed suggestions that President Buhari's situation is similar to that of Late President Umaru Yar'adua.
He praised the president for writing to the National Assembly informing them of his medical vacation.
He said: ''So, there is a distinction between his procedure of leaving and that of Yar'Adua. But what is worrisome is the way his image-makers are managing the process of his absence through contradictory statements.
''How can you say someone is hale and healthy and at the same time say he is staying behind to get results of some medical tests? If somebody is sick, I believe the person is entitled to a sick leave and after treating himself, he can resume back to work. Somebody asked me; shouldn't Nigerians ask President Buhari to resign?
''I said no, if you are sick in the job and you go to the doctor and the doctor feels that you are weak, you don't resign, you will only ask for a sick leave to go and rest.
''So, there is no question for Buhari to resign. He has done what he should do constitutionally by writing to the National Assembly and appointing his vice to act for him constitutionally. Those who are causing the uproar are those who are managing information about him.''
READ ALSO: Abuja-based cleric advocates special prayers for President Buhari
President Buhari has been in London since January 19. The presidency had first announced that he was there for a 10-day leave. But he has since extended the leave on medical grounds.
Meanwhile, Governor Mohammed Abubakar of Bauchi state has directed religious leaders in the state to commence prayers for President Muhammadu Buhari quick recovery.
The governor said they should direct Juma'at Mosques and Churches in their domains to commence the prayers as soon as possible.
Source: Legit.ng