Coconut oil for hair growth - Top 3 homemade recipes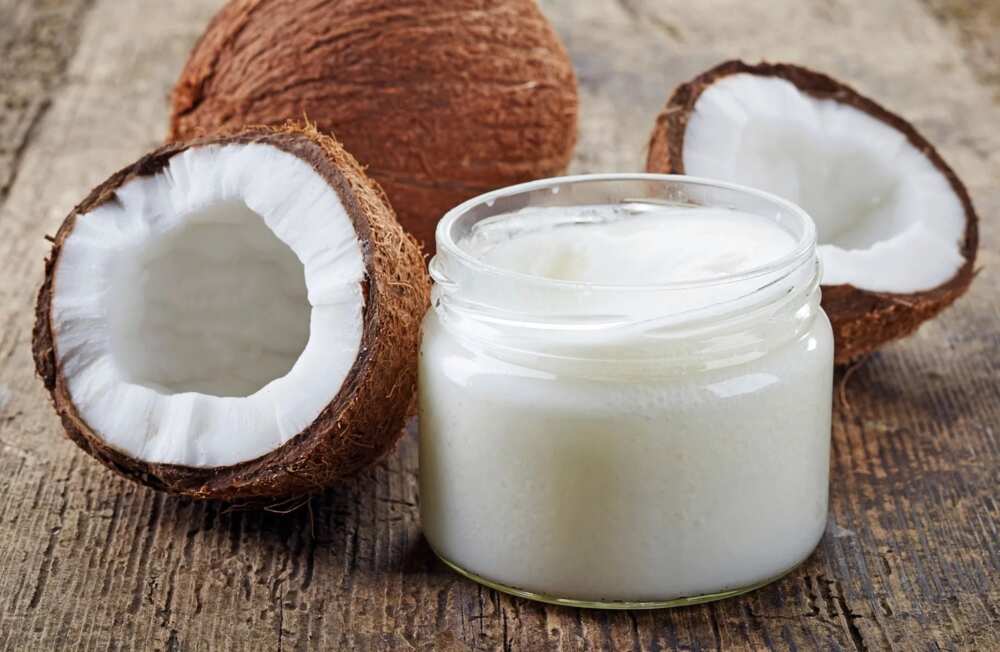 Comparing the coconut oil with any other oil it should be noted that it is more often used for rapid hair growth in numerous recipes. Coconut oil for hair growth must not necessarily be diluted; you can use it in its pure form. Coconut oil which is derived from the pulp brings only benefits to your hair.
Do any special mask for hair and let coconut oil play a major role in it. After it, your curls become stronger, shiny, silky and healthy. It's no secret that any impact on the hair causes harm. This oil is ideal for regeneration of hair after coloring, exposure to high temperatures and styling.
Is coconut oil good for your hair growth? The use of coconut oil for hair becomes the prevention of hair loss. While working on the hair bulbs, coconut oil prevents protein loss during shampooing, prevents hair breakage, increasing its elasticity and softness, and prevents split ends. As a mean for massaging the scalp, it prevents the appearance of dandruff. The next coconut oil hair mask will give you the greatest benefit melt (small amount) of oil in a water bath and rub into the scalp. Then put on warming cap (polyethylene + towel) and leave for 1.5-2 hours. This mask will save you from dry, damaged and brittle hair.
Coconut oil is especially useful for extremely dry hair, as well as damaged and brittle hair. It has such benefits for your hair: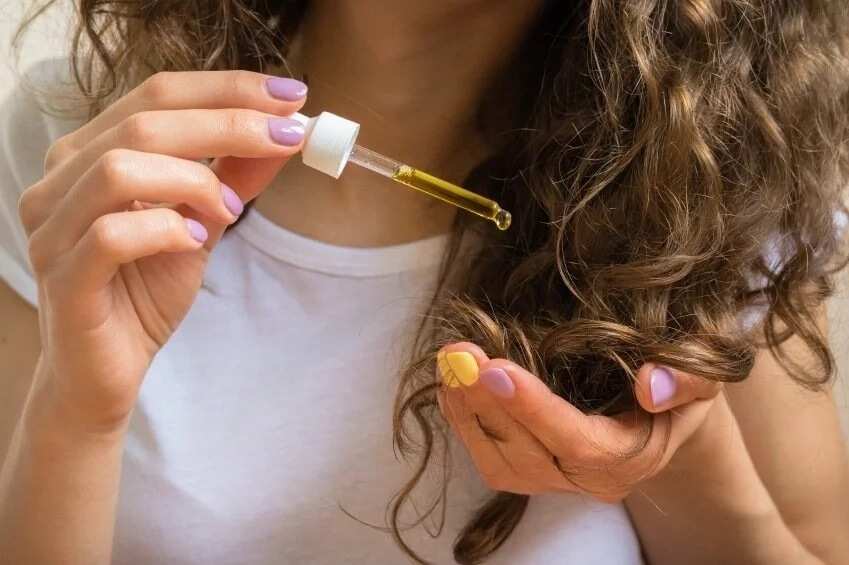 It improves total hair appearance;
It makes hair more smooth and shiny;
It improves elasticity and softness;
It strengthening the hair bulb, what prevents the hair loss;
It restores hair;
It reduces breakage;
It protects against all harmful external influence;
It prevents splitting of the ends;
It prevents the appearance of dandruff.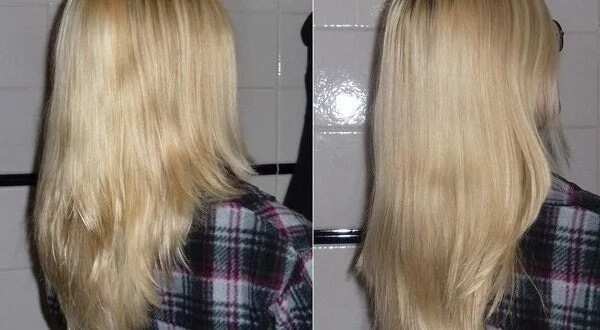 As the good hair care product coconut oil can be used with no additional components. If you rub a little oil in your curly hair, it will really facilitate the hair-dressing. To improve the condition of the curls it is enough to put coconut oil on hair and head area for thirty minutes and then wash it off using a conventional shampoo. Rubbing is recommended using warm, light massage movements. Regular application of coconut oil is useful for hair. It allows you to get rid of the section quickly. You can cook all kinds of masks with oil.
How to make coconut oil mask for hair growth?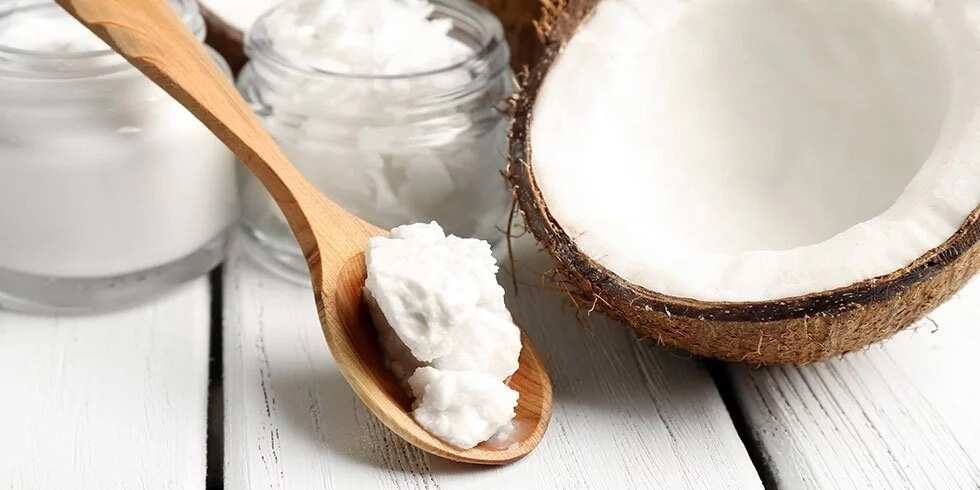 READ ALSO: How to prepare coconut rice?
Oil masks. Coconut oil works well with other oils. Mustard, castor, burdock, peach, etc are most commonly used for hair. To prepare these masks simply add a teaspoon of three different types of oils, and then heat them in a water bath or in the microwave.
Firming mask. Half of a spoon of glycerin is added to 40 grams of oil, egg yolk and about 10 ml of wine vinegar.
Nourishing mask. Get a suitable container and mash the banana there, then add one and a half tablespoons of cream or fat sour cream and 40 grams of oil. Also, this coconut oil mask can be used for hair growth.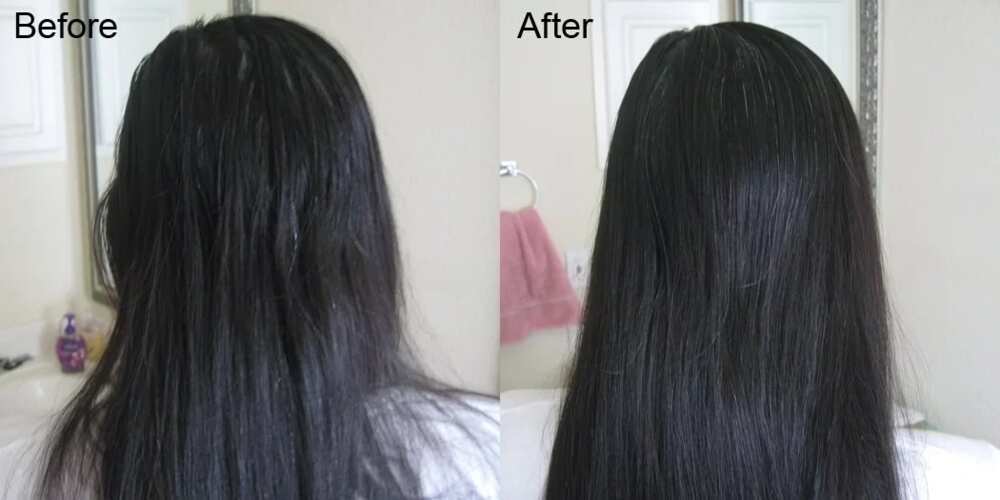 Each of the first masks is recommended to be applied on the roots, and then on the hair. You should leave it for about an hour. Your hairy head area must be wrapped with polyethylene and a towel.
Coconut oil is very difficult to wash off the hair. To make things easier, do not apply it on the strand in large quantities, as well as use it in combination with less fatty oils or with warm milk products.
Despite the fact that the benefits of coconut oil are enormous, it can harm the organism. And it becomes harmful because of the possible occurrence of food poisoning and allergic reactions. But note that harm of coconut oil will only appear when the product will be consumed in an uncontrolled, ie the prescriptions are not taken into account, amount. In all other cases, you will get only benefits. So if you want to use it in the food you need to consult an expert, who will choose the right treatment and talk about how to apply this oil, as well as the dosage.
Summing up, we can say that benefits of coconut oil for hair growth are numerous.
READ ALSO: How to use coconut oil for weight loss?
Source: Legit.ng