BREAKING: Soldiers caught in bomb explosion in Borno
Some Nigerian Army troops patrolling between Pulka and Maiduguri, the Borno state capital have been caught in an Improvised Explosive Devise (IED) explosion, Premium Times reports.
The incident occurred early on Saturday, November, 26.
Premium Times reports that the affected troops are of the 122 Task Force Battalion, Pulka, in Borno State.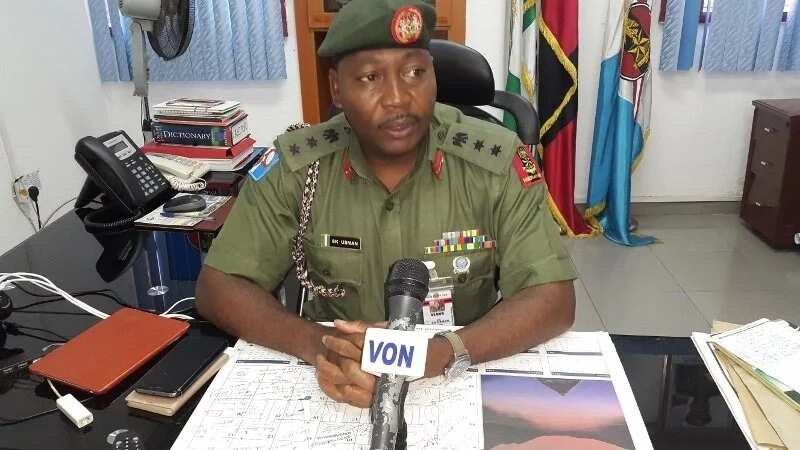 [caption id="attachment_1058835" align="alignnone" width="800"] Army spokesman Col. Sani Usman Kukasheka says the arrested female major is an impersonator[/caption]
The soldiers, it writes, ran into the land mine between Banki junction and Bama as they carried out an escort patrol from Pulka to Maiduguri.
READ ALSO: Ex-minister abducted in Buhari's nephew's home regains freedom
Five soldiers were badly injured and have been taken to Bama for first aid by a patrol team from that area.
"The distance between Bama and Banki junction is just 7km. There are troops deployed in-between yet Boko Haram terrorists still sneak in and plant mines.
"They sneak in at night and plant the mines. They know troops would always move in the morning," a military analyst was quoted as saying while explaining how the incident could have occurred.
READ ALSO: After Buhari charged him to stop Niger Delta violence, TY Danjuma falls greatly sick
Meanwhile, the Army has said that a woman arrested wearing military uniform along Gwagwalada road in Abuja on Friday, November 26 was an impersonator.
The army said Juliana Gumel was not a major, neither was she carrying Improvised Explosive Devices (IED) or with kids when she was arrested. She is now undergoing interrogation.
Mr. Usman, a colonel, said: "She claimed to be a Medical Doctor and a 'major' with a fake private soldier's outdated identity card. But not with IED. I believe Guards Brigade or the Nigeria Police will issue a formal statement on it."
Source: Legit.ng