Uruguay players share scathing message to English FA after Edinson Cavani's three-game ban
- Luis Suarez and Diego Godin were among players who shared their association's scathing statement on Cavani's ban
- Cavani was slapped with the ban after using a phrase considered offensive in some contexts
- But the players' union of Uruguay claim the FA's decision was bias and subjective
PAY ATTENTION: Join Legit.ng Telegram channel! Never miss important updates!
The Uruguay's players' union has called on the Football Association to consider overturning their counterpart Edinson Cavani's three-match ban.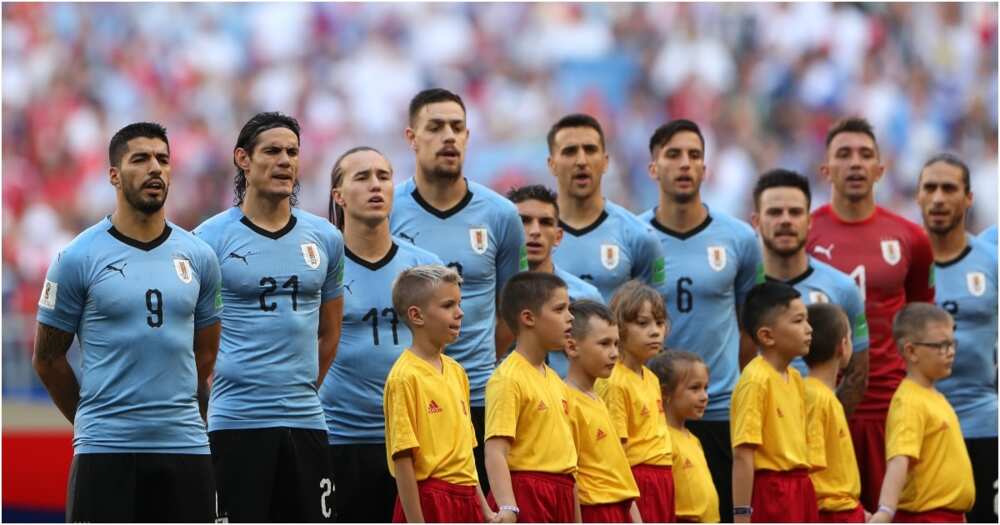 Cavani was slapped with the ban over the use of a phrase which is considered offensive in some cultures and contexts.
The alleged offence occurred on November 29 2020 but Cavani's ban was not effected until late December.
Atletico Madrid striker Luis Suarez and Cagliari Centre back Diego Godin have since shared the statement from their players' union claiming the punishment on Cavani was a "discriminatory" act.
The Uruguay Football Association (AFU) is also intent on seeing the ban overturned.
"Edinson Cavani has never committed any conduct that could be interpreted as racist," said the AFU statement.
"He merely used a common expression in Latin America to affectionately address a loved one or close friend.
The scathing statement further accused the English FA of being biased as they claimed the interpretation of Cavani's words were subjective.
"The sanction shows the English Football Association's biased, dogmatic and ethnocentric vision that only allows a subjective interpretation to be made from its particular and excluding conclusion, however flawed it may be.
"We request the FA to immediately overturn the sanction imposed on Edinson Cavani and reinstate his good name and honour in the world that has been so unfairly tarnished by this reprehensible decision."
The Uruguay FA also issued a separate statement saying, "We are convinced from our deep knowledge of the person and the analysis of the fact that he is not worthy of the [the punishment] nor the consequent moral damage."
According to the English FA, the post shared by Cavani constituted a breach as it referenced a race, whether he intended it or not.
Cavani shared the message after helping his side to a dramatic win over Southampton in November.
Immediately after the ban was confirmed, he issued a statement saying he would not contest the FA's decision but maintained the expression was one meant to show compassion in his culture.
Earlier, Legit.ng had reported how Bruno Fernandes who currently plays for Manchester United was named in the Premier League team for the year 2020 considering his superb performances for the Red Devils.
Although the Premier League in England was disturbed by the outbreak of COVID-19 which made the League body to suspend football, but action later resumed and Liverpool won the title.
It was an incredible record for Jurgen Klopp to help Liverpool to win the Premier League title after 26 years that the club had waited.
3 interesting footballing moments between Maradona and Nigeria | Legit TV
Source: Legit.ng