Anambra Governorship Election Debate: Live Updates as Andy Uba, Soludo, Valentine Ozigbo Go Head to Head
Ahead of the November 6 governorship election in Anambra state, a debate has been set up to quiz the top candidates about their plans for Ndi Anambra if elected.
Though there are 18 candidates participating in the election, the debate which is organised by Arise News TV focuses on the candidates of the All Progressives Congress (APC), Andy Uba, the All Progressives Grand Alliance (APGA), Charles Soludo, and the Peoples Democratic Party (PDP), Valentine Ozigbo.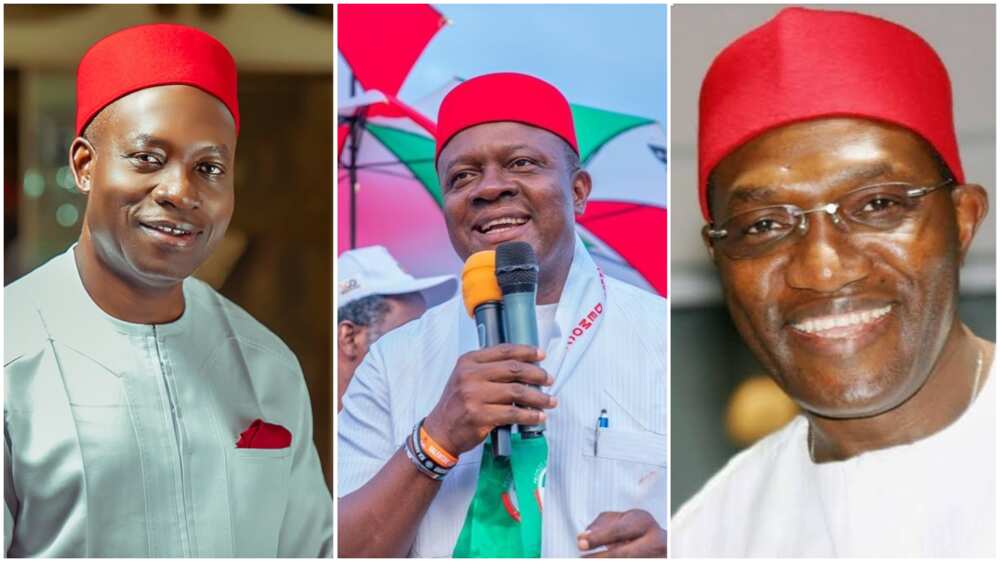 From 12pm to 3pm on Monday, November 1 (today), the three governorship candidates will go head to head answering critical questions about what they plan to do for Anambra and why they should be voted to succeed Governor Willie Obiano.
Legit.ng will monitor the debate live and bring to you important highlights that you should not miss. Stay tuned.
The symbolic handshake
All the three candidates embrace one another, laughing. Uba is heard saying it's not a do or die affair.
"You were begging me to come to APC," Soludo told Uba jokingly.
Ozigbo's closing remark
Ozigbo said Anambra needs someone coming from the right party; he said the PDP is the party that is dear to the Anambra people's hearts.
He said Anambra does not need people that are tired and retired.
The PDP candidate said he will rule Anambra in a way people will say he has done better than any other governor in the history of the state.
Uba's closing remarks
"If elected, I will build a coalition government. I will conduct LGA in six months," Uba said.
He said he didn't claim to be a professor but will assemble a powerful team to deliver good governance.
He believes the APC will win.
Soludo's closing remarks
I am building a hospital; I am constructing a road, I have adopted a school, other candidates have not done that.
God has blessed me; I want to help the remainder of my life to help Anambra. Financial Times of London described me as a great reformer.
I am prepared for the job.
Ozigbo speaks
The PDP candidate said he has the best experience required to become Anambra governor. He said he worked in banking for 17 years, become the CEO and president of Transcorp.
Ozigbo said he will also build a powerful team, saying no one can know it all.
Uba, Soludo tackle each other again
Soludo said "thank you" to Uba if truly he ever facilitated his appointment as the CBN governor.
The APC candidate said he built a vocational school and handed it over to the state government but failed to make use of it.
Out of school children in Anambra
Ozigbo said the APGA government has done nothing to improve education.
The PDP candidate said he has three agendas.
Affordability
Quality
Relevance (ensuring updated curriculum, etc)
Training the teachers and holding them accountable
Partnering with the private sector.
Senator Uba, the APC candidate, said education has collapsed in Anambra.
His plan:
Compulsory free basic education
Employ the best teachers and pay them well
Education matters
Soludo said he is not just a professor but also runs a school with about 900 pupils.
"You have come to my terrain," Soludo said.
For education, Soludo said he will review the curricula and ensure it is in tune with the 21st century.
He also spoke on regulation and supervision.
Soludo said his focus will be to make public schools as competitive as private ones.
Health matters
Ozigbo speaks on increasing efficiency and holding people accountable in a bid to reverse medical tourism.
He talked about providing infrastructure and making sure health practitioners are well trained.
The PDP candidate also talked about creating an enabling environment to ensure health practitioners of Anambra origin abroad come home to work.
On his part, Soludo about 75% of health facilities is private driven. He said Anambra has done well in terms of COVID-19 management.
His first approach: lifestyle change campaign.
Second approach: Heavy investments, working with the private sector and Anambrarians who are health practitioners and investors abroad, scaling up health insurance, personnel and remuneration of health personnel, etc.
Senator Uba, the APC candidate, said he will establish three different health zones.
Upgrading health facilities, ensuring better remunerations, bringing health investors, health insurance scheme, etc.
In terms of the COVID-19 pandemic, he said Anambra is not doing well enough, especially in terms of vaccine administration.
Climate change: Anambra enviroment
Ozigbo said the environmental situation in Anambra is worrisome. The PDP candidate said he will deploy resources and leverage the power of the private sector and multilateral resources to fix it.
He also talked about recycling and renewables.
On his part, Soludo said he is the only one with plans for the environment.
He said he has visited the gully erosions, adding that they need huge financial resources to fix. He also talked about flooding.
Soludo said he has a master plan for gully/flooding and will work with coastal states and the federal government to address it.
He spoke on the responsibilities of individuals, state governments and federal governments.
Soludo said partnership is very important in dealing with environmental issues.
On his part, Uba said the situation is a catastrophe. He said he will plant trees, he also said he will build gutters.
Soludo and Uba tackled each other again.
Improving revenues
Uba said there is a lot of leakages in government. He said local governments are being paid far lesser than what is allocated to them by the federal government.
He said the state government is just giving LGAs what they need to pay salaries.
Foreign investors
Senator Uba said he will provide security and give tax incentives.
Soludo tackled him, saying tax incentives are not under the power of states.
The APGA candidate said he will provide gas-powered industrial parks, fix roads and provide security.
Ozigbo, the PDP candidate, said he will fix roads, leverage the gas infrastructure, etc. He said investors will start coming when you provide enabling environment.
On IPOB again
On IPOB again, Uba declined supporting or condemning the group. He said engagement is the right step to take.
Soludo said he is a pan Nigerian. He, however, said the IPOB deserves to be heard; dialogue.
Ozigbo said there are certain things that IPOB does that he supports. He, however, said he does not support the group's extremisms.
On Anambra's debt profile and gas
Uba and Soludo tackled each other again.
"When you left the CBN, the economy collapsed," Uba said.
He said he will develop gas infrastructure and develop the industrial parks to ensure people are employed.
Still on economy
Soludo said will work on ramping Anambra's IGR if elected. He said he has done that before at the national level.
He cited his award as best central governor as proof that he has the expertise to ramp up the IGR and come up with other creative financing methods.
He said will set up an Anambra development fund ($200 million for a state and later ramped up to $1bn).
Ozigbo speaks now.
"I am a chartered accountant," the PDP candidate also boasted.
He said there was a failure of regulation when Soludo was the CBN governor.
Ozigbo said he will cut wastes. He said Anambra was in debt despite Obiano inheriting billions in cash.
Question moves to economy and infrastructure challenge
Soludo admitted that there is a road challenge that needs to be fixed. He said will declare a state of emergency on roads; continuing from where Obiano stopped.
He also said he will launch an urban renewal agenda if elected.
He also said he has thought through how the road constructions will be funded.
"Soludo is a theorist," the PDP candidate Ozigbo said.
On infrastructure, he said he has announced what he will do on road. He added that he will leverage the private sector in fixing the infrastructure.
He also admitted that government revenue alone cannot fix the infrastructure.
Ozigbo added that he will also cut unnecessary waste to get funding.
On his part, Senator Uba said he will also declare a state of emergency on roads.
"Soludo speaking long English here," Uba said.
He questioned the APGA candidate about what he has been advising presidents about.
The APC candidate also said he will ensure the state's airport becomes effective, saying it's not working at the moment.
What will you do with IPOB?
On IPOB, I am on record speaking, I visited Nnamdi Kanu in 2016 in Kuje prison, with prominent people to ask for his release in line with a court order, Soludo said.
Summarily, he said dialogue is the best solution to the IPOB issue.
Ozigbo said Kanu is a product of leadership failure. He also urged for dialogue and called for Kanu's release.
On his part, Uba said he believes in engagement. He said agitations are a result of joblessness.
Ozigbo speaks
He tackled the claims made by Soludo, saying Anambra is broken and he is here to fix it.
Uba's turn to react and approach on security
The APC candidate, Senator Uba talked about dialogue and creating a vigilante.
"I was not involved in any kidnapping (of a governor)," Uba tackled Soludo.
He said he was not in Nigeria when the incident happened.
Uba said he will set up a response team and with a dedicated number that residents can call when there is a crisis.
Uba and Soludo tackled each other.
"I made sure you are the CBN governor," Uba told Soludo.
"Do you have a certificate, when did you graduate," Soludo tackled Uba.
Uba responded: "Yes, I have a certificate, I graduated in 1974."
Soludo accused Uba of forging his secondary school certificate, Uba denied.
Soludo asked to react to Uba and speaks on his plan on security
Soludo said Uba only engaged when he wanted to contest the election in 2007. He said Uba was in Senate for eight years but never talked about IPOB and security.
He said the insecurity in Anambra was orchestrated by the PDP.
Soludo also tackled Ozigbo. He claimed Anambra has the lowest unemployment/underemployment rates, citing the NBS data.
Ozigbo's turn on security
Ozigbo said security is the most important. He said both APC and APGA have failed.
He disagreed with Soludo over his earlier comments on Anambra state's economy.
The PDP candidate said the economy needs to be fixed.
"I was part of EndSARS," Ozigbo said.
He also talked about the creation of state policing.
Andu Uba's turn: Voter apathy
"Voter apathy has always been the norm in Anambra," Uba said.
He tackled Soludo for saying he may have answers on the insecurity in Anambra state.
The APC candidate recalled how he engaged non-state actors in 2007 to ensure peace prevailed and the election was held.
He said Governor Willie Obiano has refused to do that.
Uba said Soludo should explain what he meant to the public, saying he and his party are not violent.
Factors causing insecurity in Anambra, how do you tackle insecurity?
Soludo answers. He said the insecurity in Anambra is a recent phenomenon. Soludo said Uba may be able to speak on the reason behind the rising insecurity.
The APGA candidates talked about three buckets in tackling security: Military action, dialogue and prosperity/jobs for youths.
Soludo also said security in Anambra is politically motivated. He added that he is satisfied with the deployment of security personnel.
First question: Are you satisfied with the security arrangements?
Are you satisfied with the security arrangements?
Ozigbo said he is satisfied with the development of security personnel so far. He, however, said he is not satisfied that it took that long before action was taken. He also lamented about the killings in the state again.
Opening remark by Ozigbo
Ozigbo tackled the APC and APGA over the insecurity. He said it's not enough to observe a minute's silence but to fix the insecurity.
He also talked about his experience in the private sector and how he will use it to ensure Anambra catches up with the rest of the world.
Opening remark by Soludo
Soludo also prayed for the souls of those killed in the state.
The APGA candidate said Anambra must be looking for a transformational leader in "these uncertain times".
He offered himself as the candidate who has the expertise to lead Anambra state.
"I became a professor in my 30s," Soludo stated.
Soludo said he has served three presidents; Obasanjo, Yar'Adua and President Buhari.
He also reeled out his academic certificates saying he didn't forge his secondary school certificate, in what appeared to be a shade to a rival candidate.
Opening remark by Senator Andy Uba
Uba asked for a minute's silence in honour of Dr Chike Akunyili and others killed in the past few weeks. Other candidates agreed.
The APC candidate recalled how he won the governorship election in 2007 and how he was removed by the Supreme Court on the premise that Peter Obi had not finished his tenure.
National anthem as the three candidates take the podium
All three candidates, Uba, Soludo, and Ozigbo have been invited to the podium. The recitation of the national anthem is ongoing.
Two sections of the debate
The debate has been divided into two sections: (1)Security and economy and (2) Health and education matters.
Andy Uba, Charles Soludo and Valentine Ozigbo now in attendance
The attendance of the three governorship candidates, Andy Uba, Charles Soludo and Valentine Ozigbo, has been confirmed.
The moderators set for the debate
Dr Reuben Abati and Ngozi Alaegbu are ready for the debate. However, the governorship candidates have not been sighted yet.
Anambra governorship election debate: Stage set
The podium is being set. Any moment from now, the debate will commence. It will be moderated by Arise News TV's Reuben Abati and Ngozi Alaegbu.