Sheesha Finance Announces CEX Listing and Partnership with MEXC Global Exchange
Introduction:
We are thrilled to share exciting news from Sheesha Finance, the leading decentralized web3 Venture Studio based in Duabi, UAE, as they proudly announce their recent CEX listing and strategic partnership with MEXC Global Exchange. This significant development marks a major milestone for Sheesha Finance and underscores its commitment to expanding its reach in the web3 industry.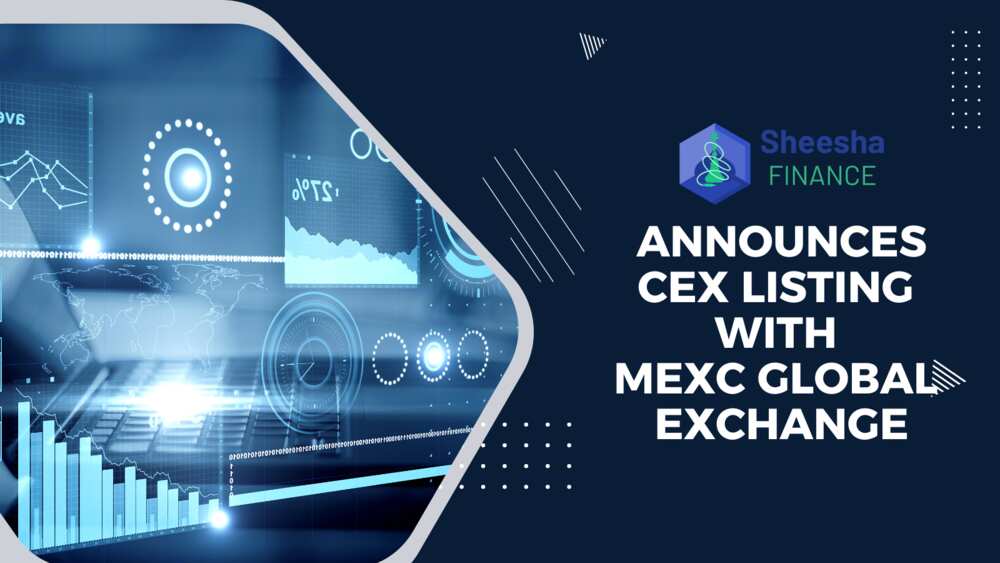 CEX Listing:
Sheesha Finance has successfully secured a highly sought-after listing on a prominent centralized exchange (CEX). This listing presents an exceptional opportunity for the project to enhance its visibility, attract a wider user base, and increase liquidity. With this new listing, users and investors will now have convenient access to Sheesha Finance's unique and ever-growing suite of web3 products and services.
Partnership with MEXC Global Exchange:
In a strategic move to further strengthen its position in the market, Sheesha Finance has formed a partnership with MEXC Global Exchange, a well-established and reputable cryptocurrency exchange platform. This collaboration will facilitate the integration of Sheesha Finance's liquidity and staking solutions with MEXC's expansive trading ecosystem, enabling seamless access to the Sheesha Finance ecosystem for MEXC users.
The partnership with MEXC Global Exchange signifies a significant step forward for Sheesha Finance, as it opens doors to a vast network of traders and investors on the MEXC platform. By leveraging MEXC's extensive user base and global market presence, Sheesha Finance aims to broaden its community and introduce its unique DeFi offerings to a wider audience.
Benefits of the Partnership:
The partnership between Sheesha Finance and MEXC Global Exchange brings forth several advantages for users, both from a liquidity and staking perspective. With increased accessibility and exposure to the Sheesha Finance ecosystem, users can now take advantage of the innovative DeFi products offered by Sheesha Finance, such as token staking, access to private placements in new exciting projects and NFT lotteries.
Moreover, the collaboration paves the way for cross-platform initiatives, fostering seamless integration and interoperability between Sheesha Finance and MEXC Global Exchange. This synergy will enable users to enjoy enhanced liquidity options, simplified asset management, and a more comprehensive trading experience.
Future Prospects:
With the CEX listing and the partnership with MEXC Global Exchange, Sheesha Finance is poised to scale new heights in the web3 space. These strategic moves reflect the project's dedication to offering robust and user-friendly solutions for the decentralized finance community.
As Sheesha Finance continues to expand its network of partnerships and embrace new opportunities, it solidifies its position as a leading Venture Studio in the web3 ecosystem. They remain committed to empowering users with innovative financial products, secure staking options, and a vibrant community-driven platform.
Conclusion:
The CEX listing and partnership with MEXC Global Exchange mark a significant milestone in Sheesha Finance's journey, signifying its commitment to growth and global expansion. By joining forces with a reputable exchange and expanding its reach through centralized listings, Sheesha Finance is set to unlock new avenues of growth, liquidity, and adoption within the DeFi industry. With its user-centric approach and groundbreaking solutions, Sheesha Finance is well-positioned to reshape the future of web3 startups.
Take action now and seize the opportunity to trade on MEXC Global Exchange! Visit https://www.mexc.com/exchange/MSHEESHA_USDT to purchase the MSHEESHA token and be a part of the Sheesha Finance revolution.
Don't miss out on the chance to explore our innovative DeFi solutions, unlock liquidity options, and join a vibrant community dedicated to reshaping the future of decentralized finance. Trade on MEXC today and embark on your journey towards financial empowerment with Sheesha Finance.
[Sponsored]
Source: Legit.ng