Did INEC Chairman's Son "Run Mad" in Saudi Arabia? Fact Emerges
Unsubstantiated claims on social media targeted the family of Mahmood Yakubu, chairman of INEC, following Nigeria's 2023 general elections
One of the claims on social media alleged that Yakubu's son went mad in Saudi Arabia due to drug and alcohol abuse
However, Africa Check investigated the claim and found out there was no evidence to support it, adding that Yakubu's spokesperson labelled it as "fake news"
Following the conduct of the 2023 general elections in Nigeria, the family of Mahmood Yakubu, the chairman of the Independent National Electoral Commission (INEC), has become a target of unsubstantiated claims on social media.
A Facebook post circulating in Nigeria in May 2023 alleged that Yakubu's son ran mad in Saudi Arabia.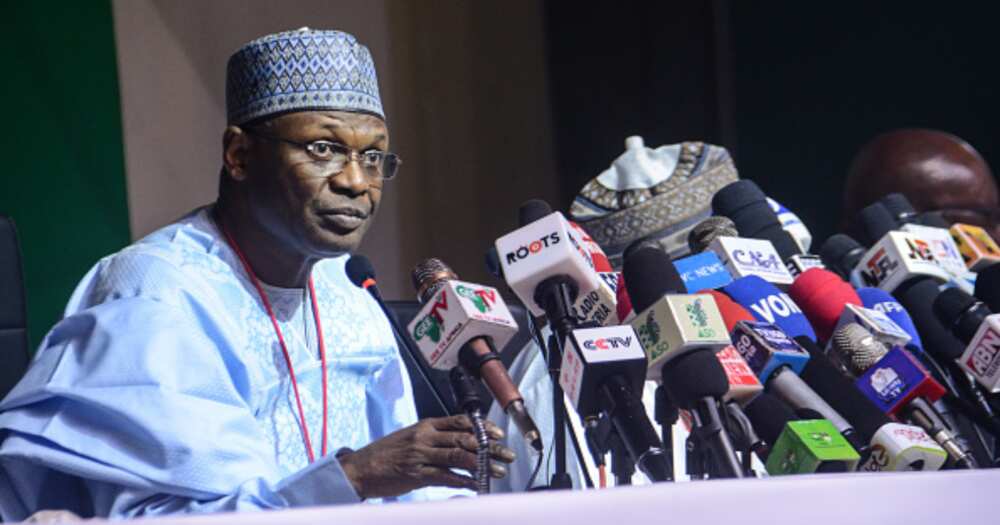 The post includes a link to an article that attributes this situation to drug and alcohol abuse. The news article linked in the Facebook post cited an unidentified Saudi Arabian news agency as its source.
Additionally, the article alleged that the Saudi Arabian government has asked the INEC chairman to take his son to England for treatment.
It, however, further claimed that Yakubu's family was unable to seek treatment for his son in the UK and the US due to a supposed ban related to this alleged role in undermining the 2023 elections.
The claim regarding Yakubu's son and his alleged mental health issues also appeared in multiple sources, including here and here.
How true is the claim that the INEC chairman's son "run mad"?
Africa Check, a fact-checking organisation, has investigated the veracity of the claim.
According to the organisation, Yakubu's spokesperson, Rotimi Oyekanmi, labelled the claim as "fake news" and urged readers to disregard it.
According to Yakubu's chief press secretary, the information from the news article is unfounded.
"The claim is "fake news, please disregard", Oyekanmi was quoted as saying.
Meanwhile, the claim of a UK and US visa ban against Yakubu and other Nigerian politicians is also debunked by Africa Check.
The report concluded that the viral claim about the mental health of the INEC chairman's son in Saudi Arabia is false, adding that there is no evidence to support it.
INEC chairman Yakubu, Wike, Uzodimma, MC Oluomo, others on US visa ban list? American government reacts
In another report, the United States embassy in Nigeria said the alleged list of Nigerians issued visa ban is fake.
The US embassy in Nigeria said the viral list did not emanate from it, adding that individual visa records are confidential, according to its law.
Source: Legit.ng