BREAKING: Emefiele Using His Position To Punish Politicians, Powerful Governor Raises Allegation
Godwin Emefiele has been accused of targeting politicians with the introduction of the cash withdrawal limit policy
According to Governor Ahmadu Fintiri of Adamawa state, the CBN is doing this because he lost the opportunity to win APC's presidential ticket
Going further, he called on President Muhammadu Buhari to amend the constitution to allow for a true federation
In what can be described as a stunning development, Governor Ahmadu Fintiri of Adamawa state has levelled serious allegation against the Central Bank Governor, Godwin Emefiele.
According to him, Emefiele is targeting the political class with the cash withdrawal limit, Punch Newspaper reports.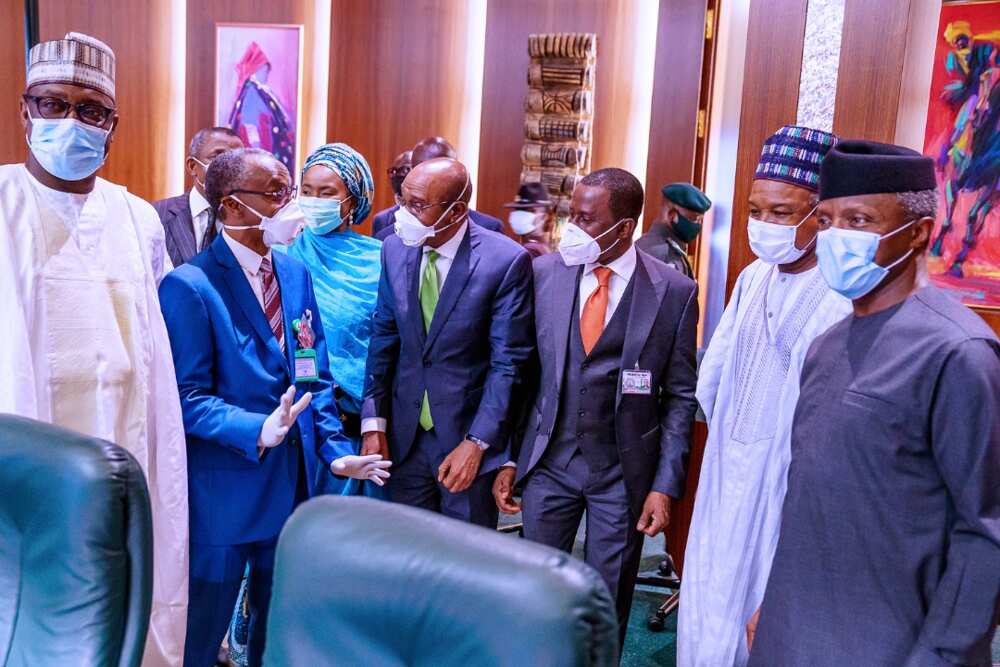 Going further, Governor Fintiri said the policy coming shortly after Emefiele's uneventful foray into politics which had been prematurely truncated, could only have been retaliatory giving that the policy was likely to worsen poverty among the citizens.
He said:
"What is breeding poverty? Economic policies. Look at the one that is about to be implemented by the Central Bank which would further throw the country into poverty. Nobody is saying the economy shouldn't be cashless. Take time and do it systematically. We shouldn't do it as if some people wanted to be politicians and they were denied the opportunity, then they use their office to punish the politicians."
Going further, Fintiri also reiterated his call for true federalism. Also he maintained that there needs to be restructuring of the current system that would allow autonomy to the states and local government.
Trouble for CBN governor as lawmakers make stong decision over cash withdrawal limit policy
Meanwhile, lawmakers of the House of Representatives have summoned the governor of the Central Bank, Godwin Emefiele, over the recent cash withdrawal policy announced by the apex bank.
Emefiele was summoned to appear before members of the House of Representatives by 11 am on Thursday, December 15.
The lawmakers unanimously agreed that Emefiele has to throw more light on the redesigned naira and the cash withdrawal policy announced by the CBN. The CBN in a recent memo announced a new cash withdrawal limit for individuals of N20,000 per day and N100,000 per week from the Automated Teller Machine (ATM).
The new memo by the apex bank also directed that the policy will take effect across the country from January 9. This policy is a wide deviation from the current N100,000 per day withdrawal from the ATMs across the country.
Source: Legit.ng