Christmas Giveaway: APC Senator Releases Full List Of Those Who Got Credit Alert From Him
The Senate chief whip, Senator Orji Uzor Kalu, on Saturday, December 11, gave an update on his ongoing giveaway exercise to lucky Nigerian who answered some selected questions correctly.
The All Progressives Congress (APC) via his Facebook page on Saturday noted that one common factor among the beneficiaries is that they got the correct answerers and provided their actual bank account details.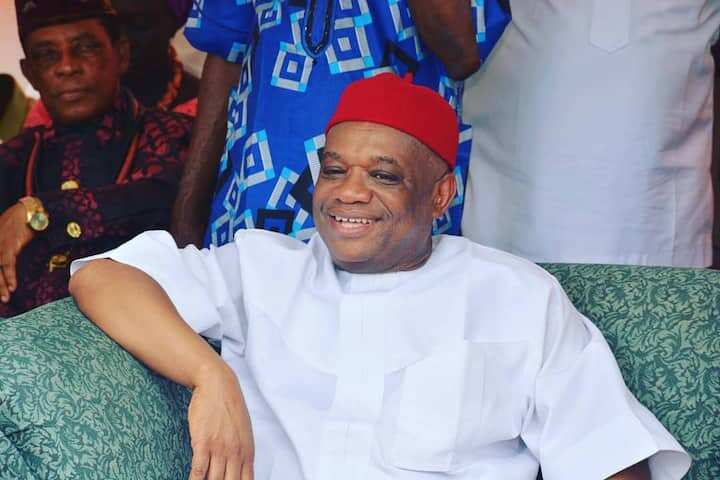 Senator Kalu gave their names as follows:
Shamsu Buhari
Prince Nnaemeka
Mustapha Salihu Tozai
Black diamond Phillip (Tolefe Ugo)
Chiemezuo Nwokedi
Brightest Okuta
Debbie Shmuel(Samuel Tochukwu...)
Sunday Nzere
Gideon Augustine Dogara
Akpemie Idolor
Sam Akpadu
Nzewi Uju Anyadiegwu
Bonnie Egejuru
Rude Chidiebere Moses
Promise Audu
Orji Onyinyechi Lilian
Tomi Rotimi
Ijeoma blessing Chibuzor
Chidozie Miracle
Jennifer Amaka Chinyere
Chimezie Humphrey Ogwumike
Mbombo Princewill
Obasi Charles
Andy Frank Austine
Nnewi Uju Anyadiegwu
Sam Akpadu
Senibo Kelvin Fyneman
Amarachi Nwanyi Oma
Onah Samuel Uchechi
Ojukwu Jenny Akuabata
The Kel Meek (Ukauwa B.C)
Tarilado Imbazi
Eze Festa Afam
Jack may Valentine
Azu Stanley Chika
Grace Okonkwo
Ikpe Gideon
Udonta C Charles
Umar Faruk Abdullahi
Linus Eze
Allow John Ishie
Emeka Okonkwo
Tonye Young
Adamu Usman
Udoh Peter
Andy Lare
Ikokwu Chukwuemeka
Adeniyi Tony
Vera Osim
Gift Sandy George
Joseph Uche Chekwas
Olayinka Ola
Peter Onuh
Olaneewadu Oluseyi
Ngozi Thompson
Zino Otobo
Glory Williams
Adedayo Geoffrey
Mbombo Princewill
Sadiq Dauda
Olusola Abdulsalam
Eze Festa Afam
Zikora Audu
Nnaemeka Kelvin Kalu
Imbazi Tarilado
Ukwueze Chinaza J
Chibuike Edward
Adams Abdul
Gideon Augustine Dosara
Akoma Ugochukwu Ogbonna
Ofem Precious
Shibayan Duekazah
Blessing Fordee
Onyebuchi Johnson Okafor
Collins Effiom
Wisdom Mgbeahuruike Genexix
Yusuf Ibrahim
Okechukwu Kennedy
Xavier Bassey
Stephanie Ufedo
Kay Nanny Jay
Loolo Dorka Lah
Nnaemeka Kelvin Kalu
Ebuka Ibe Capable
Kate Victor
Justice Smart
PAY ATTENTION: Install our latest app for Android, read best news on Nigeria's #1 news app
Christmas token for coke: Influential APC senator confirms ongoing giveaway to Nigerians
Meanwhile, Kalu had spoken on his plans for a giveaway to Nigerians after the local football club, Enyimba, won its opponent on Saturday, December 4.
The senator who did not disclose the amount to be given said the actual number of beneficiaries of this kind gesture is 300, adding that the selection process was rigorous.
Kalu noted that those who were not lucky the last time should look forward to Saturday, December 11.
Source: Legit.ng