Grammy-Nominated Artist, Tems to Headline Novel Concert at Livespot X Festival
Nigerian music superstar Tems is set to headline her first concert in Nigeria in two years on December 16, 2021, at the Livespot X Festival. The artist who is fresh off hugely successful bodies of work will be performing at the first-ever week-long concert experience in Lagos.
Just on Tuesday, November 23, 2021, Tems bagged the 2022 Grammy nomination award " Best Global Music Performance" category for a feature on Wizkid's smash tune "Essence".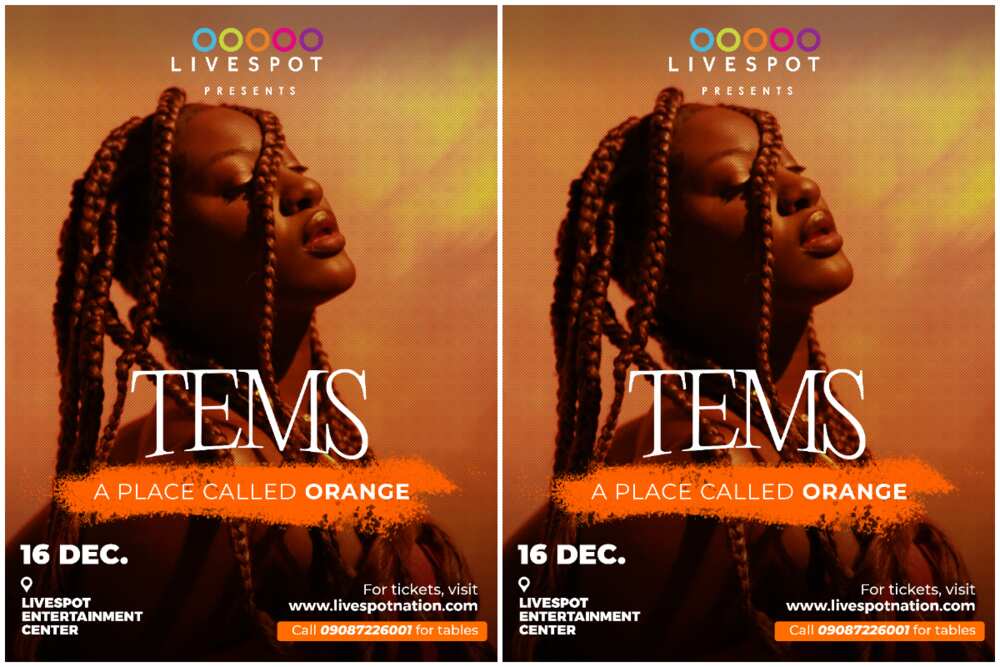 Still reeling off of the excitement of her album "If Orange was a Place", a Billboard Hot 100 hit song, several nods from BET, MTV, The Headies and a Drake feature, Tems is one of the fastest-rising acts out of Africa and the song "Essence", featuring her, also became the first Nigerian song to spend a year on Billboard World Album charts.
Tems will build on the success of past editions of Livespot360's produced concerts featuring Kim Kardashian, Ciara, Cardi B and more as she has assured that her music lovers and fans will be treated to her best performance yet at the concert "A Place Called Orange," taking place at the Live spot Entertainment Center in Lagos. In her words "LAGOS All I can say is it will be special".
Livespot360 has also revealed that the Livespot X Festival will give Nigerians an exciting end to the year while being fully compliant with the current pandemic era. The concert series which is targeted at a diverse audience will feature concert days tailor-made to suit different categories of attendees with exciting multi-sensory experiences and several established artists billed to perform.
With no other major week-long concert experience to look forward to this December, fans have a lot to expect from Livespot X Festival. The six-day event will also feature other music superstars due to be announced soon.
According to CEO, Livespot360, Deola Art Alade, the 2021 edition of Livespot X Festival will be "a multi-day hybrid convergence of everything X-traordinary, X-citing and X-clusive, that celebrates urban pop-culture. After a tumultuous 24 months, we're excited to give Nigerians a string of hybrid events that feature headline acts performing live, special acts, pristine sound, world-class lighting, immersive experiences, exotic cuisine and much more."
With the postponement of Livespot X in 2020, the creative collective has promised an experience that is designed to meet and exceed the expectations of Nigerians, especially during Detty December.
"We were looking forward to hosting Nigerians at Livespot X Festival last year but with the ebb in COVID-19 cases, it was only right to suspend our plans," Deola said.
With over 50 performances planned and over 30,000 attendees expected over the 6 day period, the Livespot X Festival promises to be a concert experience unlike any other as Chief Creative Director, Livespot 360, Darey Art Alade, says "with the year coming to an end, everyone is yearning to make the most out of the festive season by safely engaging in activities that will make them forget the travails of 2020 and 2021 and cherish every single moment moving forward. Livespot X Festival is determined to bring some cheer and happiness to the ever-bubbly city of Lagos through several X-clusive, and X-citing experiences, that will uplift our spirits and birth a positive vibe as we hope for a better 2022."
Livespot X Festival is an exclusive annual project of Livespot360. Livespot360 is a 360º creative solutions company, unified by a passion for developing disruptive ideas. Combining digital marketing and tech innovation, advertising and media, tv, radio & print production, experiential marketing and entertainment for the Nigerian and African audience, Livespot constantly pushes the quality and performance bar higher.
(SPONSORED)
Source: Legit