Dangote Leads List of Top 5 African Billionaires With Biggest Wealth Losses in 24 Hours With N525bn
Aliko Dangote, Africa's richest man, has lost about N525 billion in the last 24 hours
Dangote leads the list of other 5 African billionaires with vast fortunes slashed off their net worth.
Other billionaires include South African Nicky Oppenheimer and the Sawiris brothers, Naguib and Nassef
Economies in Africa have become very volatile for businesses and entrepreneurs, with industrialists bearing the brunt of the economic policies of governments.
Recently, the Nigerian government decided to unify the exchange rate and float the local naira, which wiped off the country's vast fortunes of many billionaires.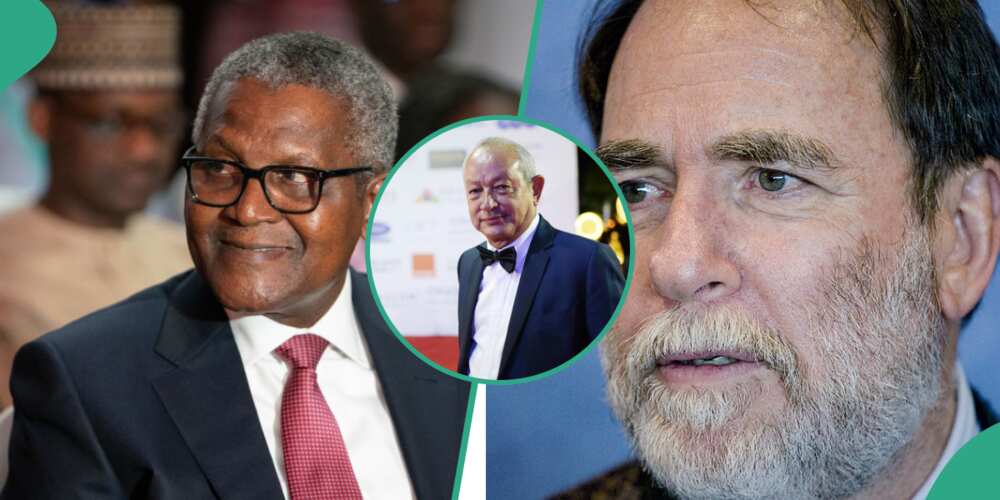 Naira float destroys fortunes of Nigeria's wealthiest
Before that decision on June 14, 2023, most Nigerian billionaires ranked among the first 500 in the world, with Dangote leading the pack with over $21 billion in net worth.
His counterpart and BUA Group Chairman, Abdul Samad Rabiu, was worth about N7 billion but has now stagnated at $5 billion. Nigeria's third richest man and Chairman of Globacom, Mike Adenuga, ranked among Africa's top seven wealthiest.
Dangote, Rabiu, and Adenuga are not the only billionaires in Africa impacted by heavy losses due to economic decisions.
Dangote leads biggest losers in Africa
According to the Bloomberg Billionaire Index, other African billionaires such as Johann Ruppert, recently displaced by Dangote as Africa's richest man, have also lost fortunes.
The report said Ruppert lost about $1o million in 10 days due to stock volatility.
It also stated that other African billionaires like South African Nicky Oppenheimer lost $150 million.
Others are Egypt's Naguib Sawiris, with a $99 million loss; Nassef Sawiris, with an $8.4 loss; and Natie Kirsh, with a $95,000 loss.
Nigeria loses 3,000 dollar billionaires in 2023
A recent report by Legit. ng said Nigeria lost about 3,000 dollar billionaires.
The report was disclosed in a Wealth Report complied by Henley and Partners.
It said that Africa's five biggest economies' wealth markets include South Africa, Egypt, Nigeria, Kenya, and Morocco.
The wealth report noted that these economies account for 56% of the continent's high-net-worth individuals and over 90% of Africa's billionaires.
The wealth categories are split into millionaires - persons with a net worth above $1 million; centimillionaires with a net worth above $100 million; and billionaires with a net worth above $1 billion.
According to the Report, South Africa has 37,800 millionaires, 98 centimillionaires, and five billionaires.
Rabiu Bounces Back, Joins Dangote Again in List of 500 Richest Men as wealth rises by N986m in 24hrs
Legit. ng reported that Aliko Dangote has been joined again by Abdul Samad Rabiu in the Bloomberg Billionaires Index of the 500 wealthiest men in the world.
Bloomberg Billionaires Index tracks the assets of the world's wealthiest billionaires using their investments in various companies.
Since June 2023, Rabiu has been out of the index following the naira devaluation, severely affecting his wealth.
Source: Legit.ng